Did you ever consider downloading a YouTube video and converting it to MP3? You're in the right place if you answered yes. Read on to discover how you can accomplish this with the best YouTube to MP3 Converters.
Google is the leading search engine, with YouTube coming in second. Millions of people create YouTube material every day, providing many possibilities for how to view content on YouTube.
Converting YouTube videos to MP3s involves obtaining the video from YouTube and then converting it into an audio file. A solid video-to-audio converter should deliver a top-notch sound quality. Once finished recording, you can store it on your computer, phone, tablet, or MP3 player for future use. It's that easy. A number of these kinds of applications are typically available to the public free of charge, with no registration required. However, It's important to be cautious when utilizing the free YouTube to MP3 converters because they are filled with malware. Choosing a paid solution from the ones I provide below is the best way to prevent this problem.
This article is my attempt to assist you in finding the best YouTube to MP3 Converters on the web, and I wish you the best of luck!
Let's get started.
The Top YouTube To MP3 Converters are as follows:
Here are the two top tools for converting YouTube videos to MP3.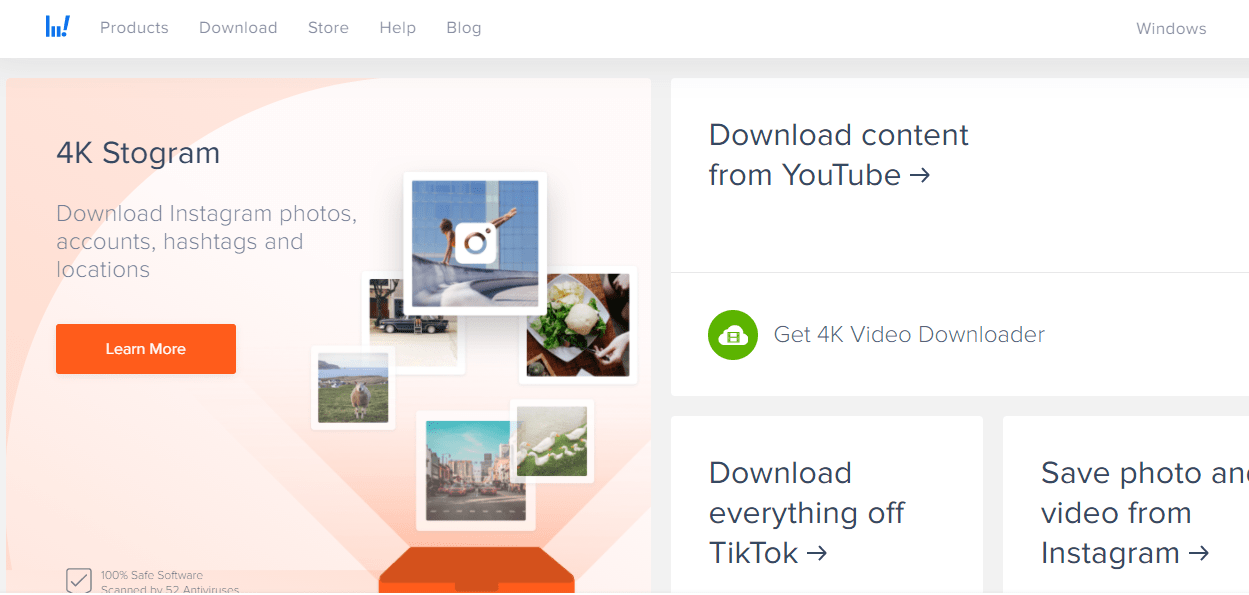 You can save complete YouTube playlists and channels in MP3, MP4, FLV, MKV, 3GP, and M4A. This program comes in two editions. There is the free version and the paid premium edition. The free version is great because it lets you download videos for free but it has limitations like limited downloads and the number of concurrent downloads.  If you have a problem with these constraints, you can purchase the premium edition. On top of the basic features, the premium edition provides a variety of other bonuses, such as unlimited downloads, no advertisements, and channel subscriptions, along with priority assistance.
Key Features:
It has a simple and clean user interface
It is compatible with Windows, Linux, Mac, and Android
Allows you to download age-restricted video content
You can download videos in different resolutions
Enables you to download your favorite playlists
Allows you to extract audio from video
Supports all common formats like MP3, M4A, OGG, and others
Video Subtitle Download
It enables you to extract audio from video clips.
You can download videos from a number of platforms like Youtube, TikTok, Facebook, Vimeo, Dailymotion, etc.
You can download videos that are blocked from your region using the in-app proxy setup
Pricing:
4k Video Downloader has three different pricing options to choose from
Personal License for only $15. This grants access to all the app's features and enables you to use it free of restrictions.
Pro License for only $45. This unlocks all features, The best choice for individuals who want everything and anything extra
If you have ever wished to download music playlists and other videos in their full resolution, 4K Video Downloader is an excellent program.
Our team has tried a lot of Youtube to MP3 applications, but this one is clearly the best one we've ever tried. 4K Video Downloader is strongly recommended by us!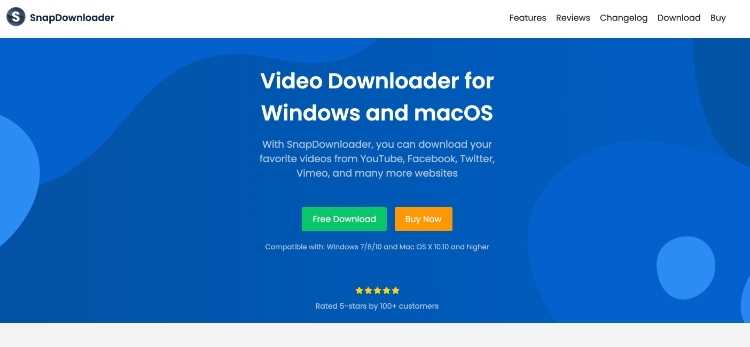 SnapDownloader is a video downloader that enables downloading from more than 900 websites. It can download videos from YouTube, Dailymotion, Facebook, Twitter, Vimeo, and Instagram. SnapDownloader is by far the most popular YouTube to MP3 converter. It can quickly download video files in MP3, MP4, and other formats. From mobile devices to computers, and from smart TVs and many other devices you can listen to music or watch videos downloaded with SnapDownloader anywhere you go.
The app has several fantastic features that make the downloading experience all the more enjoyable. You may schedule your downloads, have videos start downloading in bulk, trim videos, and download subtitles in a number of languages from YouTube.
It's also a full-fledged YouTube video downloader, so you can avoid using anything else for your video downloading needs.
Key Features:
You can download your favorite videos from any website in MP4 and MP3 the most popular media formats.
The software does the work for you, and it does it fast. A video's audio is automatically downloaded when you download the video.
SnapDownloader runs on both Windows and macOS operating systems with Ubuntu compatibility coming shortly.
Nearly all major video platforms are supported, including YouTube, Facebook, Twitter, and Vimeo.
Get the highest quality videos! You can save videos in 8k, 4k, 1080p, 720p, and more on YouTube.
Download your favorite YouTube playlists and channels in few seconds with only a few clicks of a button.
Multiple videos can be queued up for download and can download in the background.
You may plan downloads of videos with SnapDownloader to be completed at a certain day and time, making it very beneficial for people with restricted internet bandwidth.
No need to struggle with any complicated proxy servers or other elaborate solutions, just install a proxy in the app to overcome geo-restrictions and grab stuff that's otherwise off-limits in your area.
24/7 Customer Support
The $54.99 Family Edition lifetime offer is an amazing deal.
What else is Included?
For its lifetime and yearly licenses, SmartDownloader offers a 30-day money-back guarantee.
The monthly license provides customers with a 24-hour money-back guarantee
Free lifetime upgrades
24/7 Customer Support
SnapDownloader is a great Youtube to MP3 converter that can be used on different platforms. It is easy to use and contains a visually pleasing interface. Windows and Mac computers should have this tool installed because it has the capacity to download videos from more than 900 websites.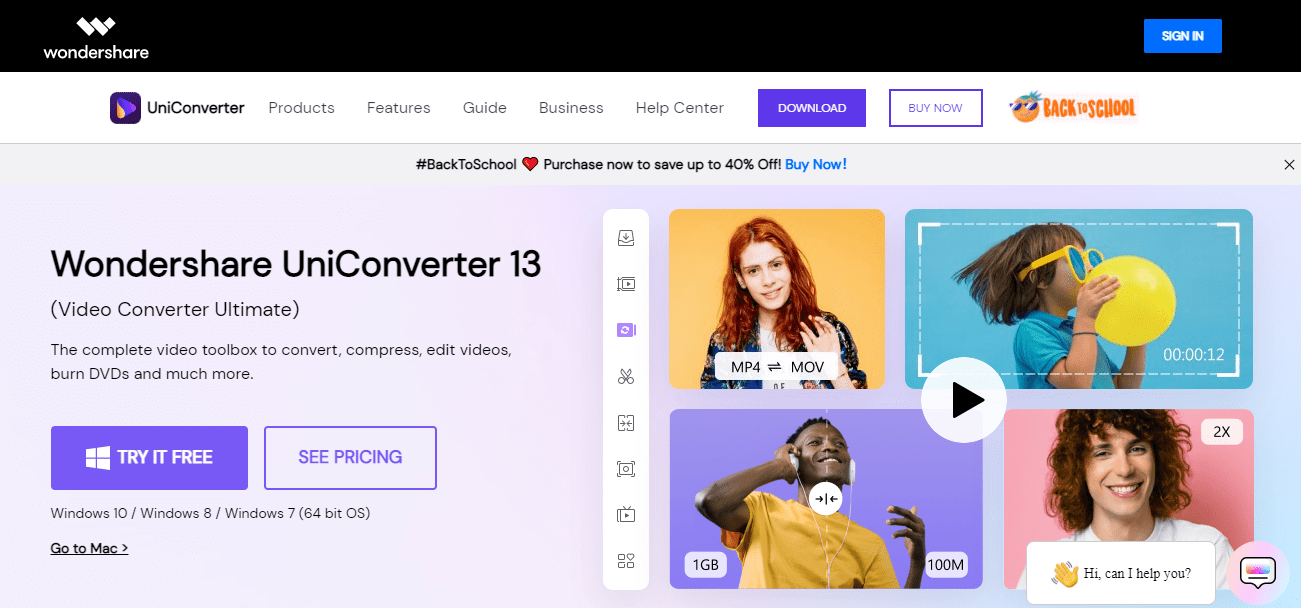 Wondershare Uniconverter is a robust video converter that includes a slew of essential functions. It may be used to convert, compress, edit, and burn DVDs among other things.
UniConverter from Wondershare is an excellent video converter and one of the best applications for downloading and converting YouTube videos to MP3.
It is a high-end conversion package that is able to process practically any type of video format now in use. It can be used by expert video editors as well as novices. The product is user-friendly enough for novices to learn with just a little practice.
It is not actually a free software, but you may try it out with a short trial or purchase it. The Free software version has a small number of supported video formats and solely downloads videos from YouTube.
Key Features
Very easy to Merge multiple videos into one.
CD and DVD burning support
High-speed conversion mode
Capture MP3, video, and subtitles from websites.
You can get videos from Vimeo, Dailymotion, YouTube, Facebook, and similar platforms, and then convert them to different formats.
Play media files in +1000 formats.
Compress videos
Pricing:
Wondershare Uniconverter lacks a free version, however, a free trial is available. The trial version of the video converter will give you the most basic functions.
Wondershare's UniConverter has three pricing plans shown below under the "Individual License" that apply to most customers. There are also commercial licenses.
Perpetual plan for $79.99 a (One-Time Fee) – A perpetual license is a non-expiring license and it continues to permit indefinite access to the existing UniConverter version.
The 2 year plan at 55.99/Year
The Annual plan at $39.99/Year.
If you're looking for a YouTube to Mp3 converter, you should consider the Perpetual plan. As you can see, it's a better deal than the other plans.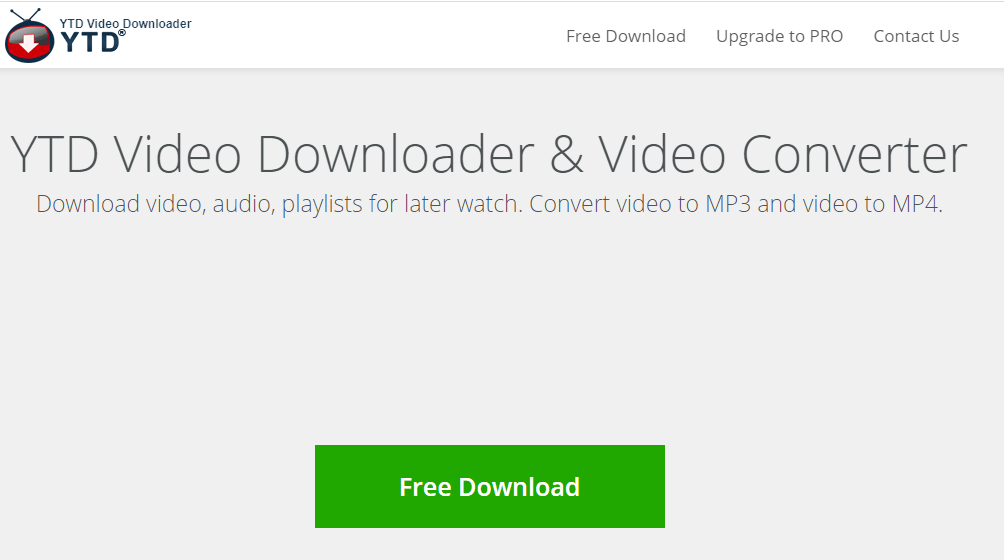 You may download videos from streaming sites and convert them to MP4, 3GP, MPEG, and even AVI format.
You can download High Definition (HD videos) Videos
Paid subscription plans provide bulk downloading.
Videos can be downloaded and converted into a number of formats, including MP3, 3GP, AVI, FLV, MOV, MP4, and WMV.
You can get free video downloads from 50+ sites.
Super easy to use and fast
Automatic resume/retry when internet connection fails
A full-featured video player for instant playback
The free edition doesn't allow multiple video downloads or conversions at once and has intrusive ads.
Pricing:
Select the YTD Pro subscription that is right for you:
5. Freemake Video Converter.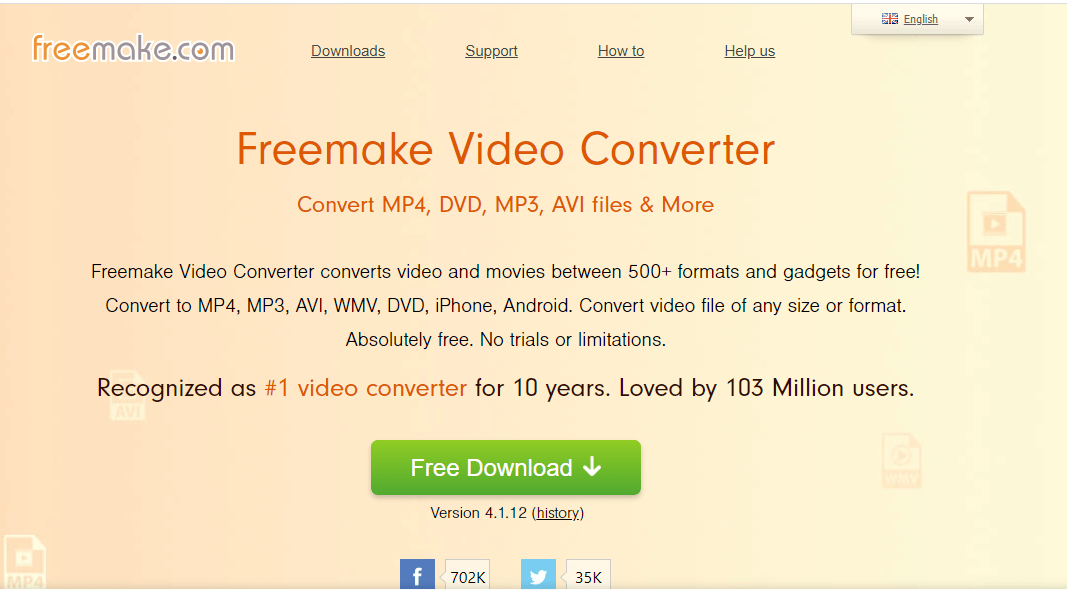 Freemake Video Converter is a free video conversion utility that is perfect for anyone wishing to convert videos into all output formats. It supports over 500 data formats, including MP3, MP4, AVI,WMV, 3GP, DVD and many others.
Freemake features many useful functions, but one especially significant aspect is its ability to download videos from streaming platforms such as Youtube and convert them to formats like MP3.
Key Features
Clean and intuitive graphical user interface
Freemake lets you download videos from sources like YouTube, Vimeo, Dailymotion, and many other platforms
Its able to Merge video files.
You can Import subtitles and convert videos With subtitles
You can convert and save your files in formats like MP3, MP4, AVI, WMV, MKV, and many other formats
Embed Video To Websites Online
There is a free version
There is a watermark on the free version.
Pricing:
When you download and use the Freemake Video Converter free edition, you can convert files without restrictions; however, the converted clips will have a logo added to them. Freemake Remove Branding Pack is available if you do not want the Freemake watermark to appear on your output videos.
The 1-week trial is $0.95
There is also the 39.95 dollars per month subscription
A non-expiring license is $59.95
6. aTube Catcher.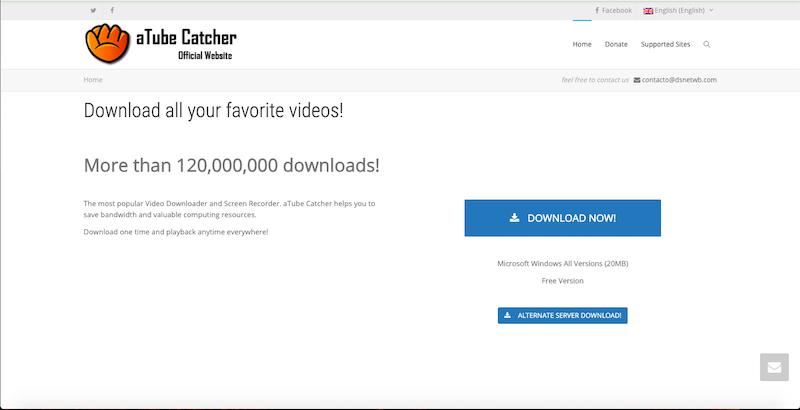 Pricing:
aTube Catcher is completely free to use.
Only the Windows platform is supported by aTube Catcher.
7. Y2mate.
Key Features:
There is no need to create an account. There is nothing more to it than inputting the URL of the video you wish to convert and download. To begin the conversion process, select the format you want to convert to and then click "Start."
The program is compatible with a variety of video formats, including MP4, MP3, MV4, 3GP, WMV, WEBM, FLV, and others.
The service allows you to upload the converted files to your DropBox or Google Drive account.
You can download and convert videos from sites such as YouTube, Dailymotion, and Facebook.
Every browser is supported, including Internet Explorer, Chrome, and Firefox.
It also provides browser extensions to make downloading faster.
Offers multilingual support
Y2mate is 100% free.
8. YTMP3 – YouTube to MP3 Converter.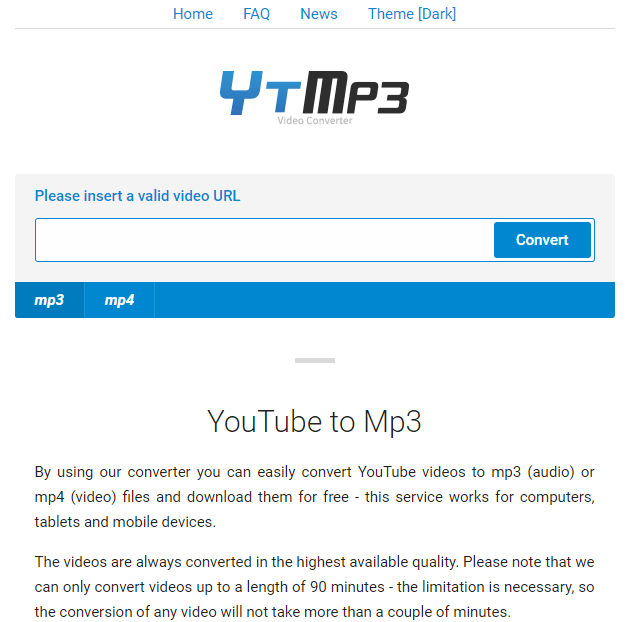 With YTMP3, you can convert YouTube videos to MP3 or MP4 files, and you may download them for free on PCs, tablets, and mobile devices. Additionally, this free program is compatible with any type of devices, such as PCs, smartphones, and tablets.
To transform a video into an mp3 file, simply paste your copied URL into the designated search box and press the "Convert" button to transform the video to mp3.
Key Features:
It features a clean, intuitive, and easy-to-use interface.
You can convert and save the files in MP3 and MP4 formats.
The utility does not allow you to modify the quality of the files, but the software's built-in code ensures high-quality files at all times.
Unlike other online video to MP3 converters, YTMP3 converter has no video conversion restrictions.
The process of setting up an account with YTMP3 does not require registration.
It is compatible with devices running Windows, Mac, or Linux, as well as Android, iOS, and other platforms.
You can utilize YTMP3 to upload the converted files to your Google Drive and Dropbox, so you can have access to them later.
This software provides superior download and conversion rates.
It is entirely ad-free and safe from viruses.
Some of the disadvantages of the tool are that it does not offer batch processing and does not enable one to change the quality of the audio file.
Pricing:
It is completely free to use.
9. Any Video Converter (AVC).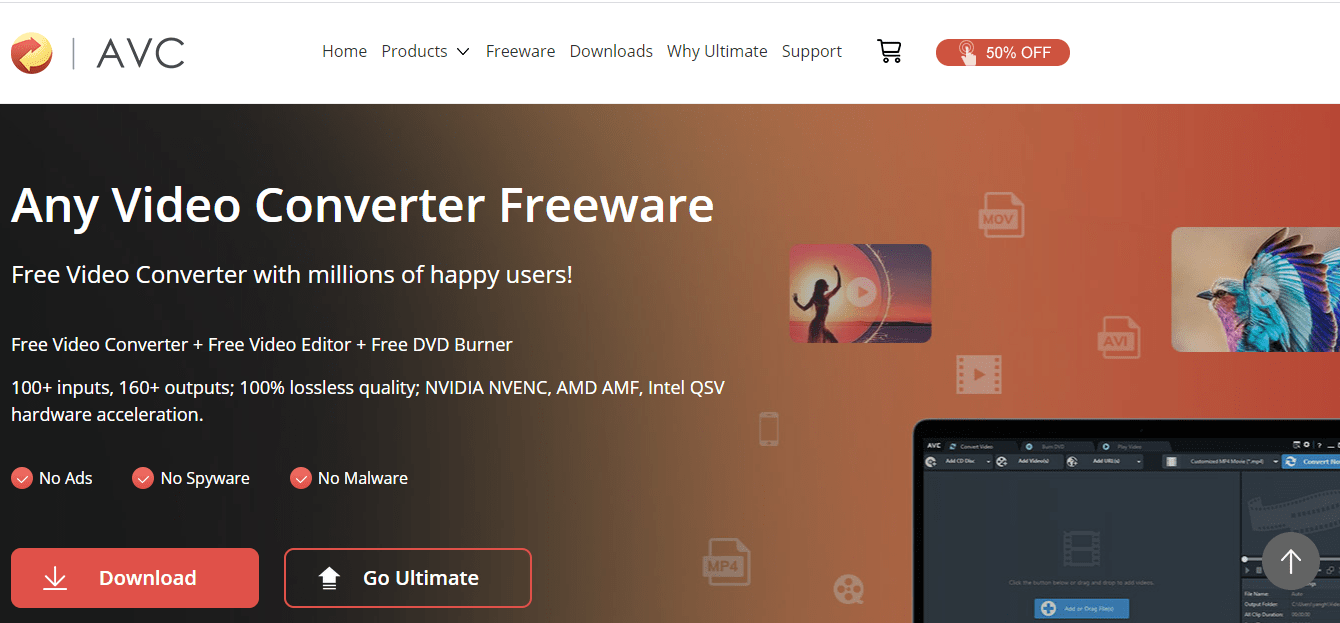 Any Video Converter is a program that takes videos from your computer or online and converts them into MP3 or virtually any format you need. You can download files from websites such as YouTube, Vimeo, Facebook, and Dailymotion. Any Video Converter is simple to use and provides greater variety and capability than the majority of video converters out there.
Key Features:
The interface is easy to use
You may download videos from platforms such as Facebook, Vimeo, YouTube, Dailymotion, and a number of others.
All-in-One Free Video Converter
Conversion at a high rate with excellent output quality
Any Video Converter has the ability to rip audio tracks from CDs to MP3, WAV, and other formats.
Users can save videos, download them, and burn them on DVDs, should they wish to.
It enables batch conversion
Generally speaking, it's a decent free app, and worth taking a look at if you regularly need to convert video files to run on other devices. To use it you need to install it on your computer.
Pricing:
The Windows version of Any Video Converter (Ultimate), which sells for $49.95, and the Mac version, which goes for $54.95, are both available. You may also try out some of the capabilities in the free download version of Any Video Converter.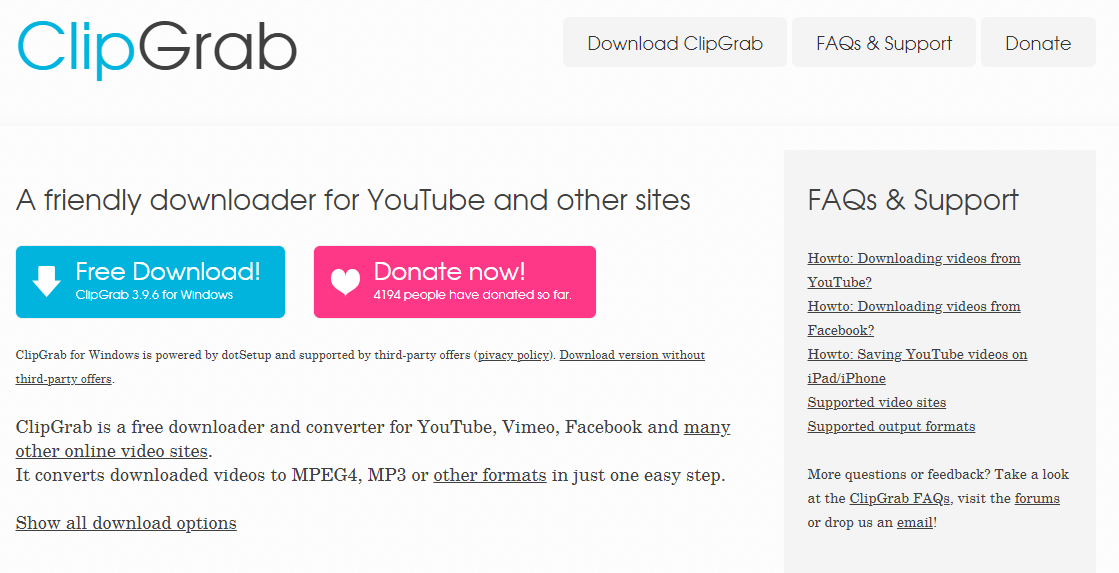 ClipGrab is a free online video downloader and converter that enables you to save YouTube, Vimeo, Facebook, and several other video clips. After downloading videos, it converts them into MPEG4, MP3, or other formats in only one step. To use it you need to download and install it.
Key Features:
This app makes it possible to get videos from platforms like YouTube, Dailymotion, Vimeo, Facebook, and many others, as well as convert them to other formats like MP3
In addition to HD 1080p and 720p, videos can be downloaded in standard definition (480p, 360p and 240p).
ClipGrab also features an integrated and simple-to-use search feature for YouTube videos.
It supports practically all devices and players and is also the easiest way to download videos to your iPad or iPhone.
A completely free and simple-to-use YouTube downloader is available for Windows, Mac, and Linux systems, known as ClipGrab.
When you use ClipGrab, you can select the video quality of your saved files.
Pricing:
ClipGrab is 100% free
Best YouTube to MP3 Converters: Conclusion.
YouTube to MP3 converters have proven to be a great help in the conversion process. These applications let you transform any YouTube video into an MP3 file. All the tools included in this guide are well-made and very practical, so you may pick and choose whichever one you like to work with.
What to look for in a YouTube to MP3 converter? They are a lot of MP3 converter tools online, but many of them are worthless. Before you make a decision on the converter tool you want to use, it is important to examine the following:
Audio Quality.
Batch download capabilities
Support for Different File Formats
Speed
Ease of Use
Cross-Platform Software – That can work on say Windows, Mac, Linux, iOS, and Android.
Able to download from various platforms such as YouTube, Vimeo, Facebook, etc.
Each tool has its own special features and performance. Take your time and thoroughly look over all the best  YouTube to MP3 converters and make sure you have chosen the best one for you.