We use affiliate links. If you purchase something using one of these links, we may receive compensation or commission.
Backlinks are an important part of any SEO strategy. They help to improve your website's ranking and visibility in search engine results pages. However, acquiring high-quality backlinks can be difficult and expensive. Or is it? In this article, we will share some tips from SEO experts on how to get backlinks for free! Follow these tips and you'll be on your way to improving your website's SEO!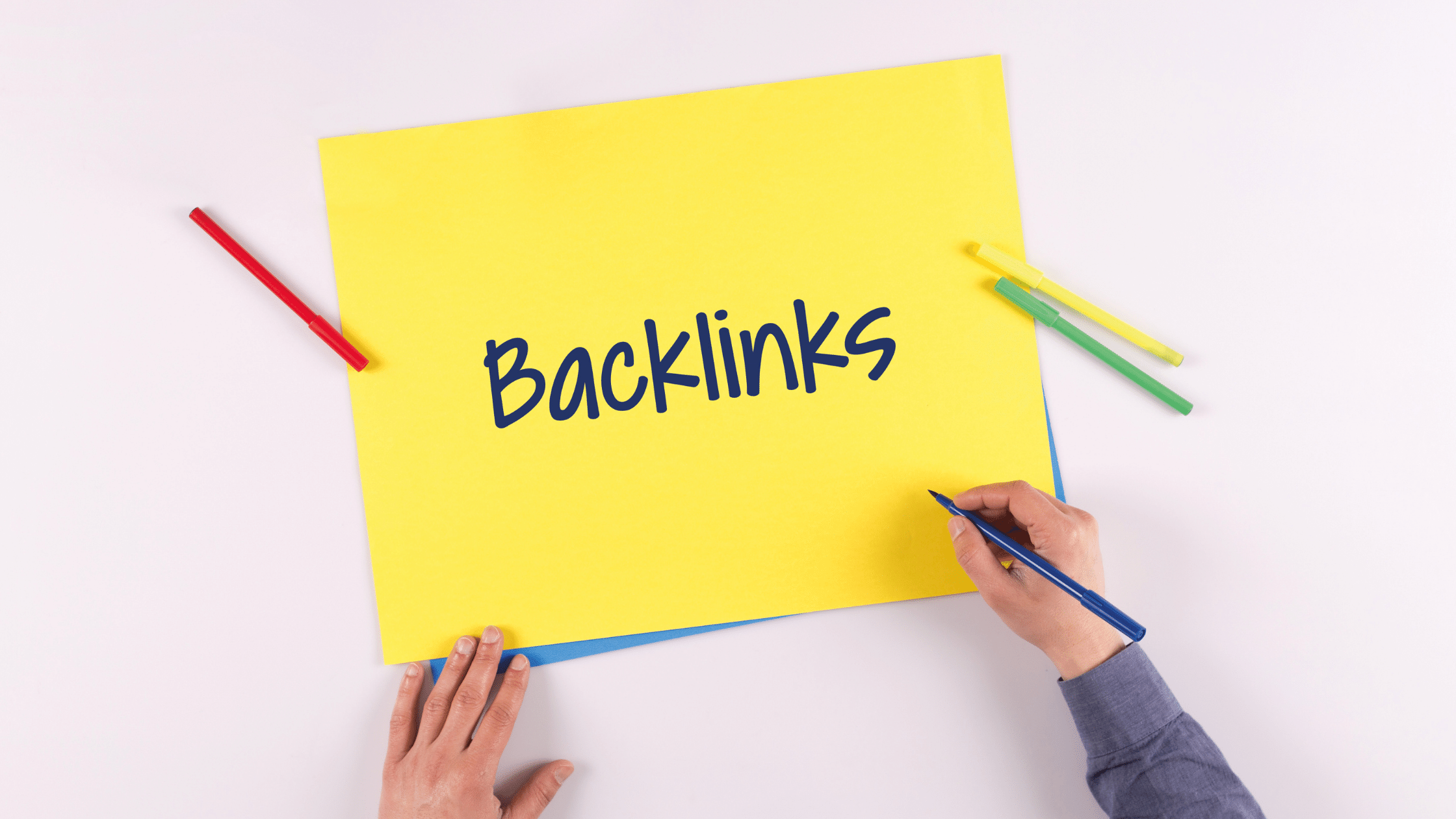 What Is a Backlink?
A backlink is a link from one website pointing to another. The raw number of links to your site is an important factor in the Google algorithm, so building links to your site over time will help it achieve higher rankings.
Backlinks are important because they increase the reputation of your page or website by associating you with other authoritative websites. This is the primary way that Google evaluates your site, both for individual pages and for your site as a whole.
The better the websites linking to you, the more power they have to influence you in the eyes of search engines. The best links are ones coming from relevant sites with high page rank (PR) or trust flow (TF). The higher your link juice is worth, the higher your rankings will be on all search engines!
Good backlinks take time to grow naturally but it's really not that complicated if you put some effort into it – remember there is no harm in trying! It might take a little bit longer than you expect but it will definitely be worth it eventually! If you're serious about SEO then you are going to have to put in some work.
Are Backlinks Important?
Backlinks are one of the most important factors which Google uses to rank websites. While this is not the only ranking signal, it is certainly up there in terms of importance. Many SEOs will tell you that backlinks are what give a website its authority. The more links that point to your site, the better off your site will be in search results. This does not mean that you should simply go out and buy any link that you come across. Paying for an irrelevant or spammy link can get your site penalized in Google's eyes, so they have to be earned naturally through great content and real engagement with other blogs and websites around the web.
This being said, even if you do manage to earn some links naturally, it certainly will not hurt to make a list of websites that you'd like links from and brainstorm ways to get those sites to link back to your site.
One awesome way which I've seen is through guest blogging on other blogs within your niche. If you can produce awesome content for another blog then they'll most likely be willing to offer a link back in return or even just promote your post on Twitter or their Facebook page (usually if the article gets tons of clicks/shares). This will give you great exposure and drive traffic back also!
Don't try and buy links as this is against Google's Webmaster Guidelines and could result in penalties for your website. Also, don't underestimate the power of natural links. Just be smart about them and build links from sites that will actually add value to your site.
How to Tell If a Website Is High Quality
There are several factors that Google uses to determine whether or not a website is high quality. Some of these factors include:
The age of the domain name
The number of links pointing to the website
The quality of the links pointing to the website
The relevance of the website's content to your website's content
The number of visits to the website
What is a High Quality Backlink?
Not all backlinks are created equal. A high-quality backlink is a link from a website that is relevant to your website's content, has a high Domain Authority (DA), PageRank, and receives a lot of traffic.
How to Get Backlinks for Free
Now that you know what a backlink is and why they are important, let's discuss how you can go about getting them for free. Here are some tips from SEO experts on how to get high-quality backlinks for free:
Guest Blogging
Guest blogging isn't dead. In fact, it has never been more alive and well than right now in 2022.
For those who don't know what guest posting is, it's a way for website owners to get links from other popular websites by pitching them an article or blog post you've written that they'll put on their site if they approve it. The best part is that there are no tricks to this strategy at all…you write something awesome and find a good link opportunity and then ask the website owner if he/she will add your link to their site. You can also use tools to help you find places where your content might be accepted such as: http://www.linkody.com/ or http://www.guestpostengine.com/
Then you just need to approach the website owner and ask them to consider adding a link from your site in exchange for a link on your site that is relevant to their audience OR, maybe instead of a backlink they would be interested in exchanging links with you. You can also use 350 Free Guest Posting Sites Where You Can Submit Guest Posts
Submit Your Site to Web Directories
Web directories are the same as human-edited web directories. They are similar to search engines where editors review sites submitted to them and categorize these sites based on their areas of interest. When users search for specific terms in these directories, they get a huge list of websites that can help them with what they need. These lists are usually ordered according to the number of votes or quality of content submitted by visitors through voting or short reviews.
One thing you should know about direct ties when dealing with search engines is that it makes use of backlinks . A backlink is simply an outgoing link from your website that directs traffic to another site or resource on the Web. This gives value to the linked website because it will be able to achieve some form of publicity. If you choose to use web directories as a backlink strategy, we highly recommend that you submit your site to those that are focused on the same type of niche as yours.
For example, if you've got an information site about Italian cooking and restaurants in Italy, then submitting it to general directories like DMOZ or Yahoo Directory will not do much for you since these sites cover other niches such as arts, recreation and lifestyle categories. On the other hand, submitting your website to premier-directory sites such as Ezilon can give it more weight because they focus on similar niches such as travel and tourism.
I'm sure you've looked for blog submission sites to submit your blog content. Here is a list of blog submission platforms you may use to promote your posts and improve traffic.
HARO (Help A Reporter Out)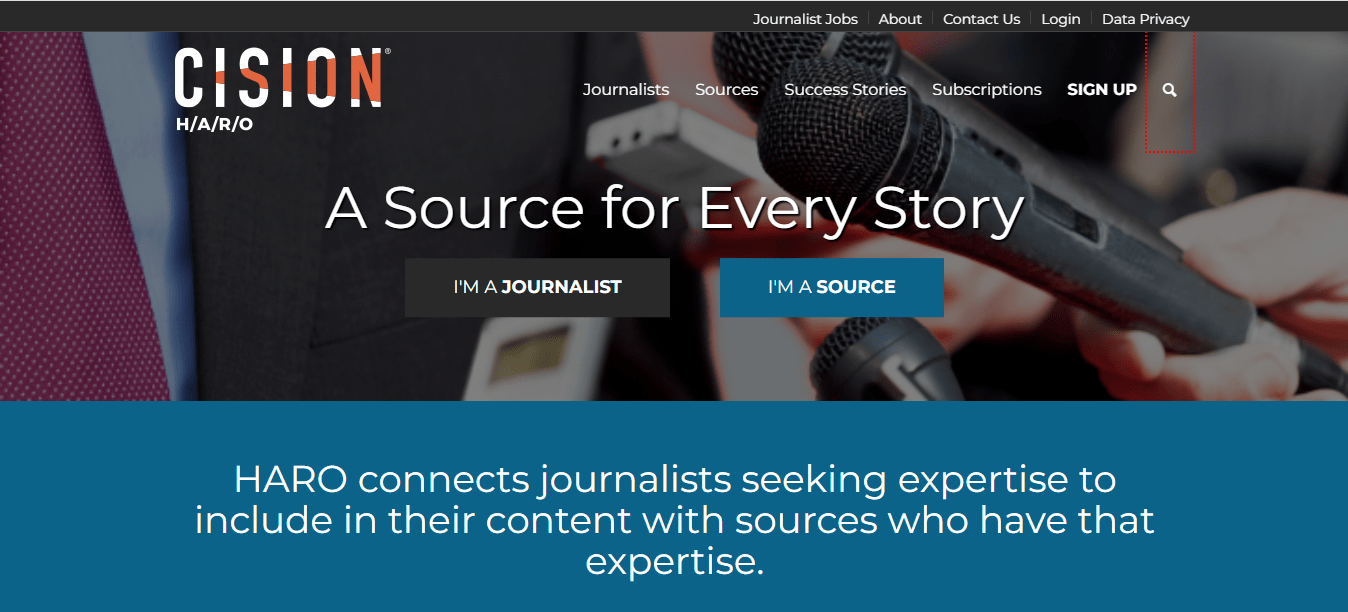 I get this question asked daily, by SEO's and marketers alike. "How do I get backlinks from HARO?" "Is there any way to get a link to my website?" "How can I build authority with HARO?"
If you're an expert and you want to connect with journalists, you can do so through HARO, or "Help A Reporter Out."
To achieve their publication deadlines, journalists are constantly on the lookout for new information and perspectives.
As a blogger, your expertise can be published by a journalist, which will draw attention to your blog.
It's a win-win situation for you and the journalist because you'll get a chance to earn a backlink from a media outlet.
The most important rule to follow on HARO is to only answer questions that you are knowledgeable about. Because you want backlinks from sources that are relevant to your niche, this also works in your favor.
There are two other very important rules that need to be followed when using HARO:
1) You may not request a link anywhere in the body of your email. Your only option is to ask for their professional opinion or feedback on a topic relevant to their industry, along with "how this might impact my target demographic". If you do ask for a link, they WILL NOT post it, and furthermore they have an option in their notification settings specifically designed to flag solicitations like yours.
2) You cannot even imply in any way shape or form that you have something for them in return if they quote you. If they ask if you have anything to offer for their time, the answer is "No". "Can I buy you lunch?" is not an appropriate question either.
Manual Outreach
Outreach is a process of finding relevant websites that are related to your niche and then contacting site owners asking them to link back to your website with a do-follow link. To build profitable links, you need to know 3 most important things:
1) Which Keywords Your Competitors Are Ranking In First Page For? With this information at hand, you can create content with these keywords and submit it on high domain authority sites which have been indexed by Google. This will increase the traffic from SERP.
2) Where these Competitors Got Their Backlinks From – Find out the top 30 backlink sources for , locate all those places where they got their links from and then start reaching out manually to these sites asking them to link back to your webpage. You can use tool like Semrush to find the backlinks.
3) What is the Authority of These Websites – The final step would be checking out the authority score of these sites and then reaching out accordingly. You can use Domain Authority Checker, Ahrefs or SimilarWeb for this purpose.
Now, I will show you how you can manually find websites that may link back to your website if you do outreach properly:
First find out your competitor's backlinks. Simply log in to a backlink checker tool like Semrush and paste the URL of your competitor. You will get a list of all their backlinks.
See below: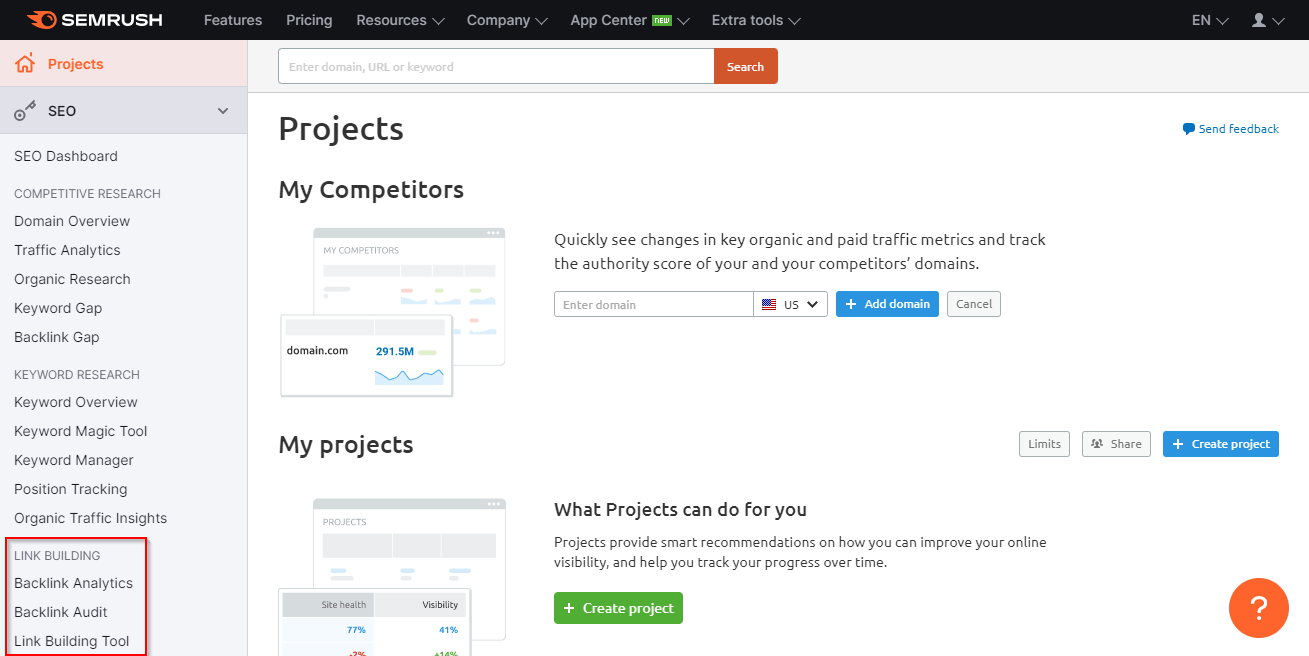 This is just one method of doing manual outreach. There are many other effective ways to get links using this technique. For instance, you can use social media websites like Facebook or Twitter or forums where people talk about similar topics related to yours for getting relevant outreach opportunities by engaging with them online under suitable tags/topics/categories etc. You can also search relevant threads on Reddit or Quora related to your industry and start commenting on these posts asking users whether they would like your website to link back to their page.
Finding relevant websites and key influencers is the most difficult part in outreach. Now if you want to fully automate link building process, you can use outreach tools like Buzzstream or Ninja Outreach which will make reaching out much easier by finding everything in one place.
Broken link Strategy
The broken link strategy is a backlink building technique that is very easy to implement. Simply put, it means finding broken backlinks of your competitors and either pointing them back to your site.
There are 2 main techniques for finding backlinks that are no longer working:
1) Using the "site:" search operator with Google's results. For example, type in "site:myblogcompetitor.com" (without quotation marks). Then go through the Google result pages looking for dead backlinks on your competitor's website.
2) Using backlink monitoring tools. The advantage of this method is that you can get a list of all dead backlinks from your entire backlink profile. The disadvantages are that you have to pay for some of the tools. Ahrefs provides a neat broken link tool that enables you to find all the broken links pointing to a specific site in your backlink profile.
You may use a tool like Hunter.io to find the admins' contact information after you have collected the broken link information. Using this tool, you can find the contact details for almost any website or blog.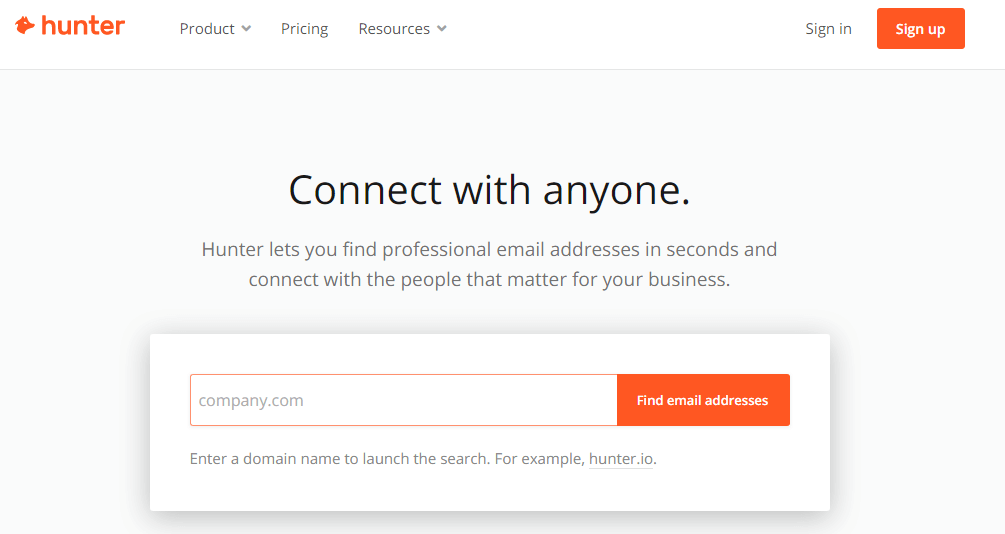 After finding the admin's email, you can start an email campaign asking the site's webmaster to update/remove their link to your competitor using one of these outreach email templates.
Here is an example of an email I personally use.
Feel free to experiment with it, but don't forget that the most important aspect of email outreach is to be as personal as possible.
Subject:
Hey [First Name], hope you are doing well. My name is Oli and I'm a long time reader… I noticed that you have a link from your website pointing to my competitor's page ([URL]). Unfortunately, this link doesn't work anymore and therefore Google considers it as broken. Since your website is about [TOPIC], I figured that maybe you could replace the old link with a new one pointing to my own site ([LINK]) instead? Thanks for getting back to me! Cheers, Oli
The outreach email usually gets a 20% open rate and a 5% click-through rate.
If you are successful with one site, you can try the same with another competitor's website. However, don't spam people! Spammy/automated outreach wakes up anti-spam instincts in most world-class webmasters and is of no use for building relationships with them.
Commenting on Relevant Blogs and Forums
Commenting on relevant blogs is a great way to get high-quality backlinks for free. When you comment on a blog, be sure to include a link back to your website. Not only will this help improve your website's SEO, but it will also help you build relationships with other bloggers.
When commenting on blogs, be sure to:
Comment on blogs that are related to your industry
Write thoughtful comments that add value to the discussion
Include a link back to your website in your comment signature
Another great way to get backlinks for free is by participating in relevant online forums. When you participate in forums, be sure to include a link back to your website in your forum signature. This will help you get exposure to a new audience and increase the number of backlinks pointing to your website.
Final Thoughts
Getting high-quality backlinks for free can be challenging, but it's definitely not impossible. By using the methods outlined in this article, you'll be on your way to building a strong backlink profile for your website. Thanks for reading our get backlinks for free article!
Below are two lists of sites with instructions on how to get free backlinks.