Steam is developed and operated by Valve Corporation. It is one of the most prominent digital distribution platforms for PC gaming enthusiasts. The platform Boasts of an extensive library of games, software, and downloadable content.
Steam offers a vast and diverse world of entertainment for millions of gamers worldwide. To become a part of this thriving gaming community and gain access to a multitude of gaming experiences. You'll need to create your own Steam account.
In this comprehensive guide, we will walk you through the step-by-step process of setting up your Steam account. We will make it easy for both newcomers and those unfamiliar with the platform to join in the excitement.
By the end of this guide, you will be equipped with all the knowledge necessary to embark on your gaming journey through Steam, connecting with fellow gamers, and immersing yourself in a vast universe of virtual adventures.
Whether you're a seasoned gamer or a casual player eager to explore new horizons. Creating a Steam account is the gateway to a world of gaming opportunities. Join us as we demystify the process, ensuring that you're well-prepared to embark on your virtual expedition into the realms of gaming delights on the Steam platform.
So, let's get started and set you on the path to creating your very own Steam account!
Step 1: Visit the Steam Website
To begin the account creation process, open your preferred web browser and go to the Steam website at https://store.steampowered.com/.

Step 2: Locate the "Install Steam" Button and Download Steam
Once you are on the Steam website, look for the "Install Steam" or "Download" button. Typically, you can find it at the top right corner of the page. Click on this button to download the steam executable file.
Step 3: Install Steam Client on your Computer
Once you have downloaded the executable file. Double click on it to begin the installation process. Follow the onscreen instructions to install the steam client on your computer.
Step 4: Launch Steam client
Once the Steam client application is installed, you can open it and you will be presented with a window like the one shown above. If you already have an account you can enter your account name and username, then click on sign in to log into Steam.
If you do not have a Steam account, click on "Create a Free Account".
Step 5: Fill in the Registration Form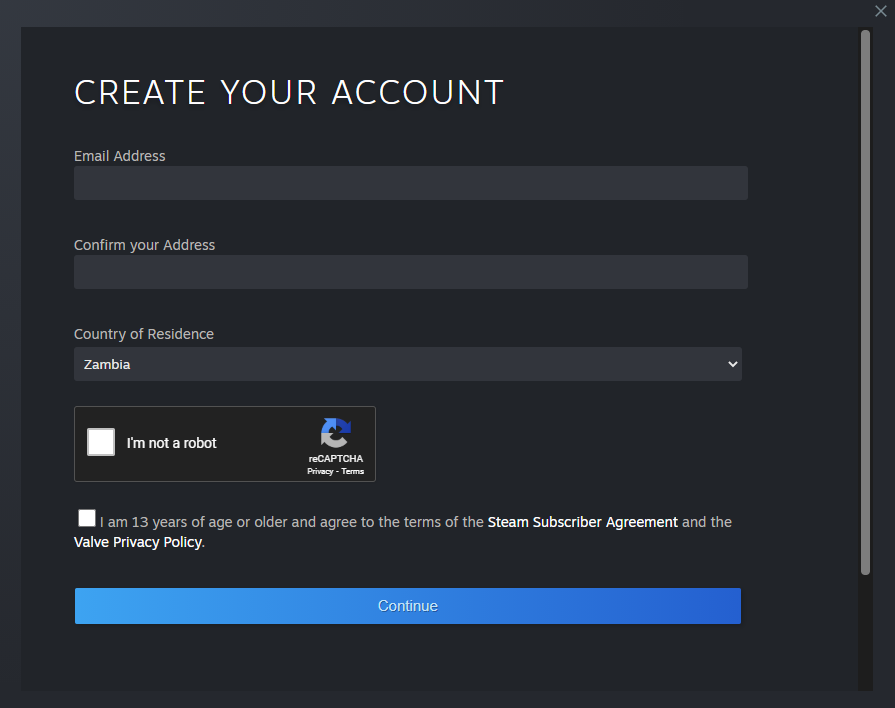 The registration form will require you to provide some basic information to set up your Steam account.
The information required includes:
a) Email Address:
Use a valid email address that you have access to, as you'll receive important notifications and updates from Steam through this email.
b) Country of Residence:
The application will automatically select the country you are in. Enter your country of residence, if the one automatically selected is not correct.
c) Captcha Verification:
Complete the captcha to prove that you are a human and not a bot trying to create an account.
d) Agree to the Terms of Service
Before proceeding, you must agree to Steam's Terms of Service and Privacy Policy. Take the time to read through these documents to understand the terms and conditions of using the Steam platform.
Step 6: Verify Your Email Address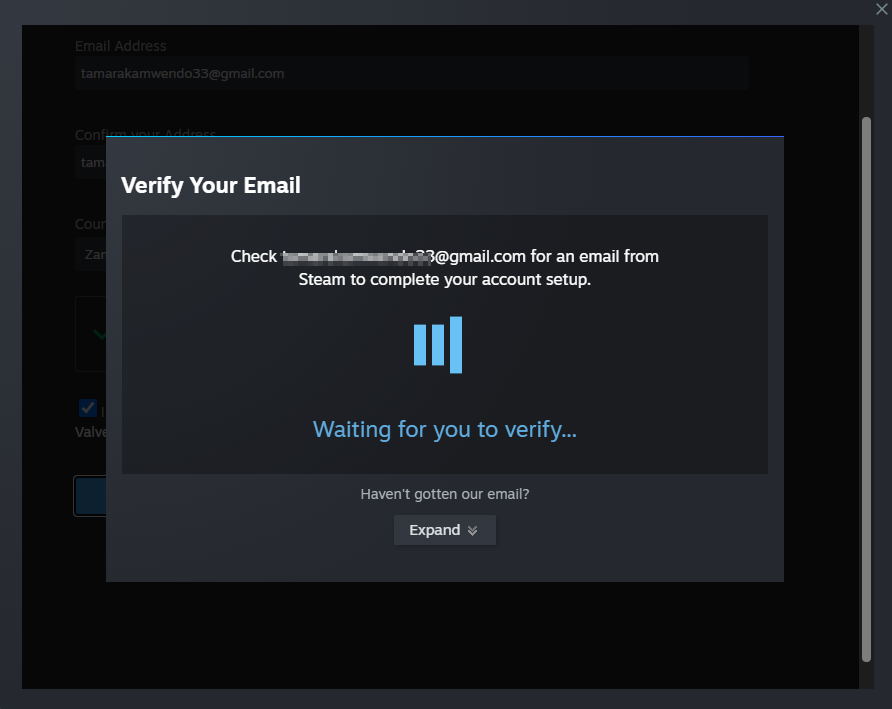 After completing the registration form, Steam will send a verification email to the address you provided during registration.
Go to your email inbox, find the email from Steam, and click on the verification link. This step is crucial as it confirms your email address and activates your Steam account.

Step 7: Create Steam Account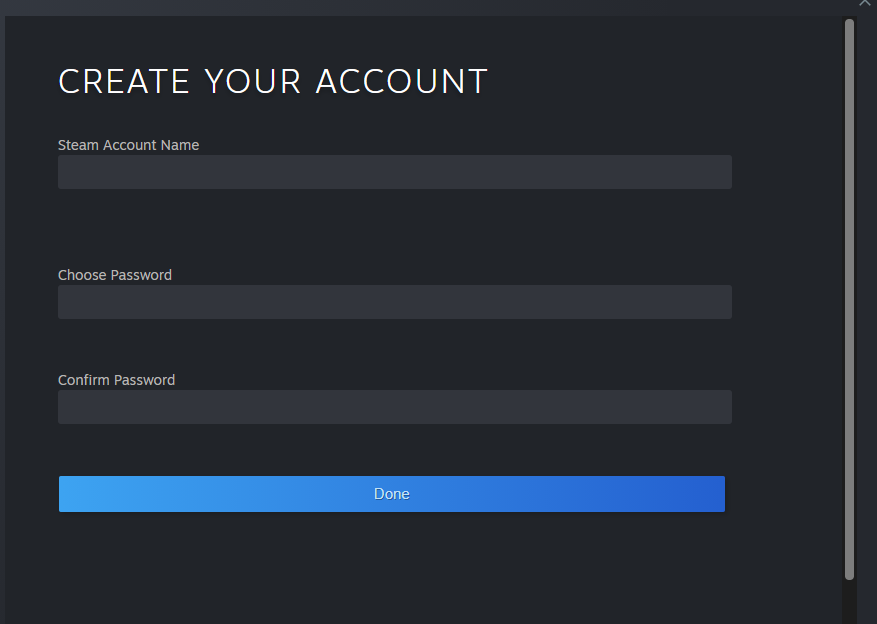 a) Account Name:
This will be your unique username on Steam. Choose a name that you like and is not already taken. You will use this to log in to Steam.
b) Password:
Create a strong and secure password to protect your account from unauthorized access. Make sure to use a combination of uppercase and lowercase letters, numbers, and special characters.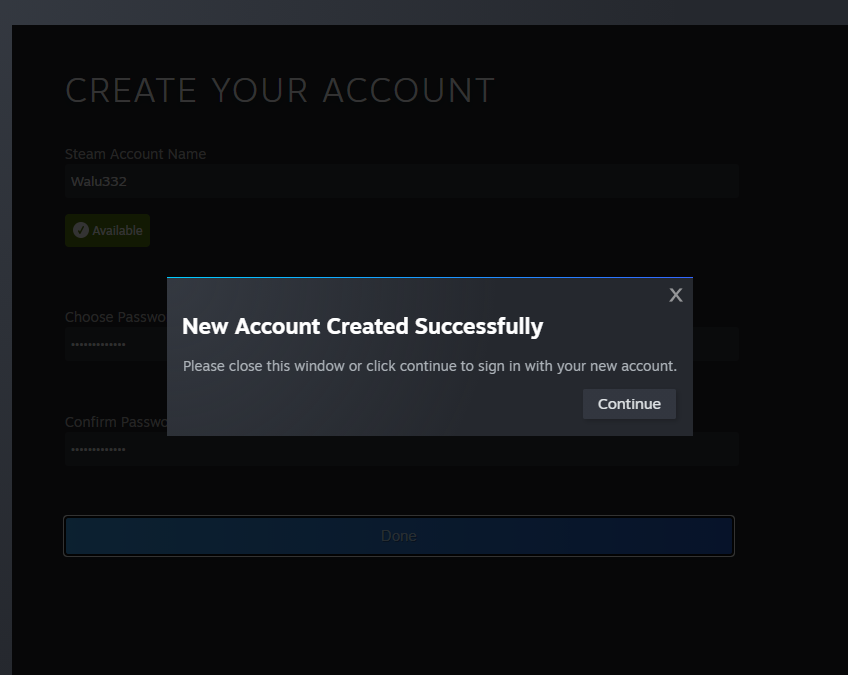 Step 8: Log in to Steam
Once your account is verified, launch the Steam client. Click on the "Login" or "Sign In" button and enter your account name and password. You will be presented with a dashboard like the one shown below.

Video on How To Create a Steam Account
Conclusion
Congratulations! You have successfully created a Steam account and are now ready to explore the vast library of games, software, and other content available on Steam.
With your new account, you can participate in the Steam community, join gaming groups, chat with friends, and even purchase and download your favorite games.
Remember to keep your login credentials safe and secure to protect your account from unauthorized access. Enjoy your gaming adventures on Steam!