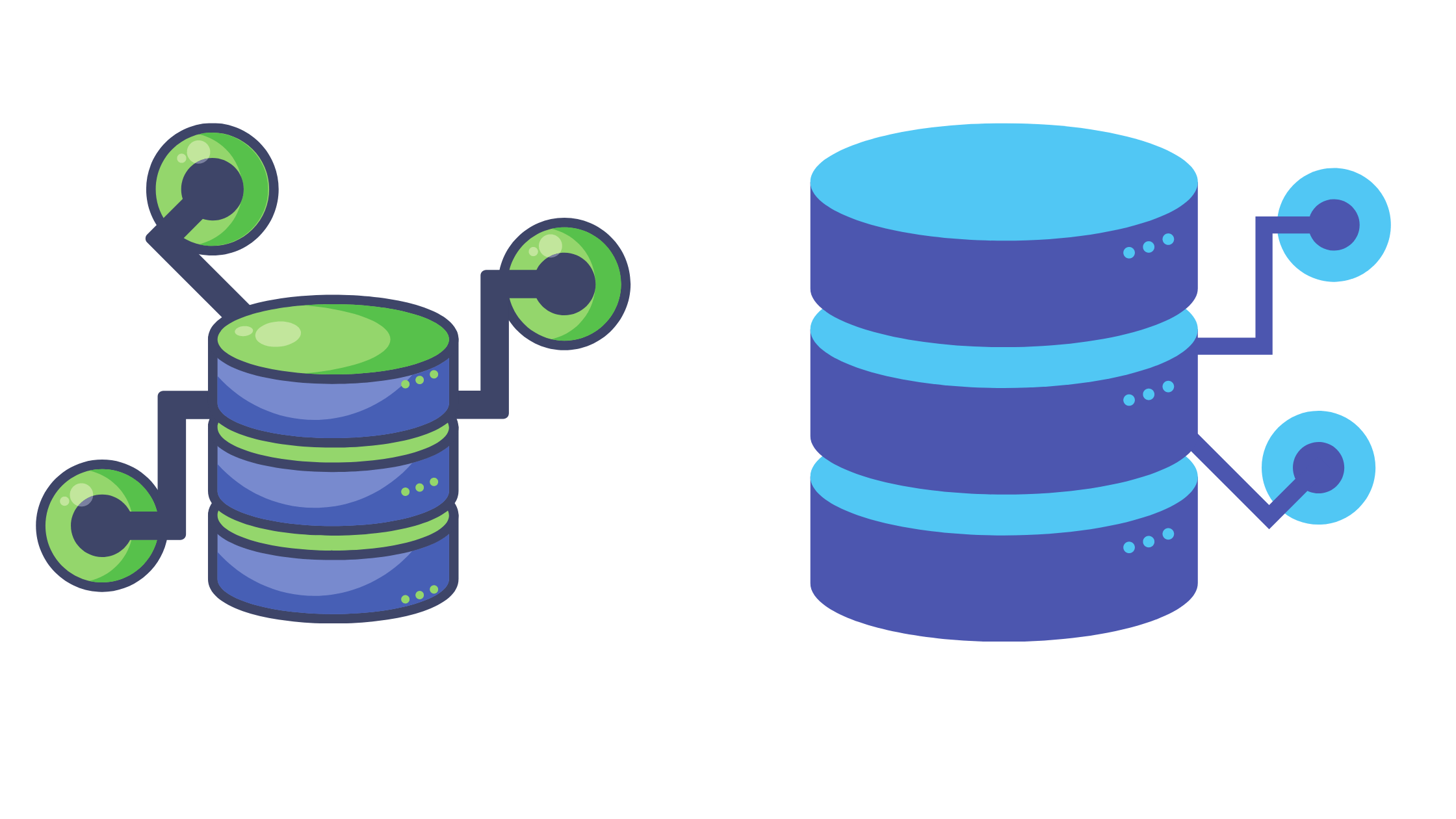 If you are looking for the best hosting for WordPress, then you have come to the right place. In this blog post, we will look at Convesio one of the best options available to you and help you decide if it is best for your needs. Next-generation WordPress hosting platform Convesio was built from the ground up to be fast, secure and scalable.
We will also provide a few tips on how to choose the best hosting provider for your business. So, let's get started!
How to Choose the Best Hosting Provider for Your Business?
When choosing a hosting provider for your business, there are several factors that you need to consider. The most important thing is to find a company that can provide you with the features and support that you need. You should also look at the price and compare it to the other options available to you. Finally, make sure that the hosting provider offers a money-back guarantee so that you can try their service risk-free.
The good thing with Conversio is that it offers a 30 days trial. Therefore you can try their platform for free and decide if it's the right hosting service for you after the end of the trial.
So, what are you waiting for? Convesio is one of the best WordPress hosting providers on the market today, and we highly recommend it!
What is Managed WordPress Hosting?
Managed WordPress hosting is a type of hosting service that is specifically designed for WordPress websites. It usually includes features like automatic updates, malware scanning, and backups.
Convesio is one of the best managed WordPress hosting platforms on the market today. They offer a wide range of features that are perfect for small businesses and bloggers. Their platform was built from the ground up to be fast, secure and scalable.
Who Created Convesio?
Tom Fanelli runs Convesio. Fanelli has a long history as a marketer with experience working with Microsoft Intuit and Sage Software. Currently he's actively engaged with the WordPress community. Fanelli lives in San Francisco and brings extensive experience to the WordPress community via the convesio platform.
What is Convesio WordPress Hosting Platform?
Convesio is a WordPress hosting platform that provides users with everything they need to create and manage their website. Convesio specializes in managed WordPress hosting. It is an all-in-one solution that includes automated backups, web hosting, built-in caching, free SSL certificates, and more. Convesio also offers 24/seven customer support so you can get help whenever you need it.
All of the features of the Convesio platform were developed exclusively for WordPress. Convesio is the only WordPress hosting company that uses Docker containers. Each site can run in a single container or numerous containers, depending on your requirements. It is possible for these containers to be automatically scaled up or down as traffic levels change. When you need scalability, these containers can be scaled quickly and with ease, meeting your needs.
Clients may now grow their WordPress sites without the need for a dedicated server administrator. You don't need any technical knowledge to use this service. Setting up the server also doesn't take long or require a lot of effort at all.
What are Docker Containers?

Server failure is very dangerous. Imagine that. You host all client sites on one server. The site goes offline when a hardware failure occurs. Then there's another set of complaints, a chance for a loss of customers, and a rash of negative comments from customers. It's not your wish. To avoid such problems Convesio uses containers. It is advantageous to use containers because Convesio can build new containers with the most recent version of your website in them.
Why Choose Convesio?
Setting up a WordPress website is a breeze when using Convesio's tools. For a while, I had my website hosted by Hostgator, but it was always running slowly. Convesio supported me from start to finish with my domain setup, website performance, backups, and security. My website has never slowed down because of their help.
Without a shadow of a doubt, it is the Next-Generation WordPress Platform. It's impossible to believe how fast it is. There is a lot of room for improvement, but the cache layer and the clustered database are both outstanding. In order to discover what you're looking for quickly, the Convesio platform includes an easy-to-use interface. Not to mention the excellent customer service, with a 24/7 crew of highly qualified dev-ops experts ready and eager to assist.
Simply said, Convesio is one of the best and most reliable web hosting services out there today.
Features of Convesio
The best WordPress hosting platform for your website is one that offers a variety of features. Here are some of the best features Convesio has to offer:
Automatic updates
24/seven customer support team ready to assist you at any time
SSL certificate included with every plan, so there's no need to spend extra money on this service.
Clustered Database – Each WordPress website is powered by a powerful cluster of MySQL databases. It ensures that your website answers to requests quickly and effectively.
Blazing Speeds and Uptime – For WordPress hosting, Convesio uses high-speed and stable servers. Content Delivery Network (CDN) Cloudflare is also used by Convesio.
Self-Restoration – If your website goes down for whatever reason, a load-balancer container will automatically launch an active website instance to ensure that your website is always available.
Easy-to-use Dashboard
Built-in Caching – With Convesio, you don't need acaching plugin.
Automated malware scanning and removal
Website migration – Free migration for one website.
Dev & Staging – Before making any modifications to your live site, you can test them out in a simulated environment. This safeguards your site from being corrupted if you make a mistake when updating it.
30-day free trial – You can try convesio for 30 days risk-free before making a purchasing decision.
Pricing Information for Convesio
Startup Plan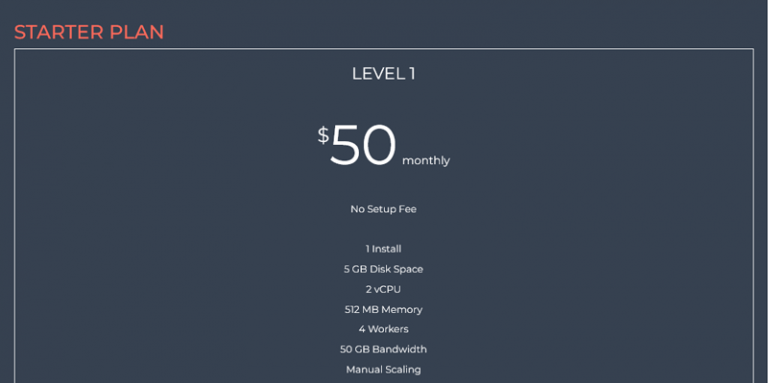 For customers looking for the best hosting plans, Convesio has several options. If you're a freelancer or small business owner, their Startup plan is best suited to your needs. You get 50GB of bandwith and has automated malware cleanup. There are no setup fees or contracts with this package; it's only $50/month.
Other features
5 GB Disk Space
2 vCPU
512 MB Memory
Manual Scaling
Cloudflare Security
Email or Chat Support
Free Basic Migration
Business Plan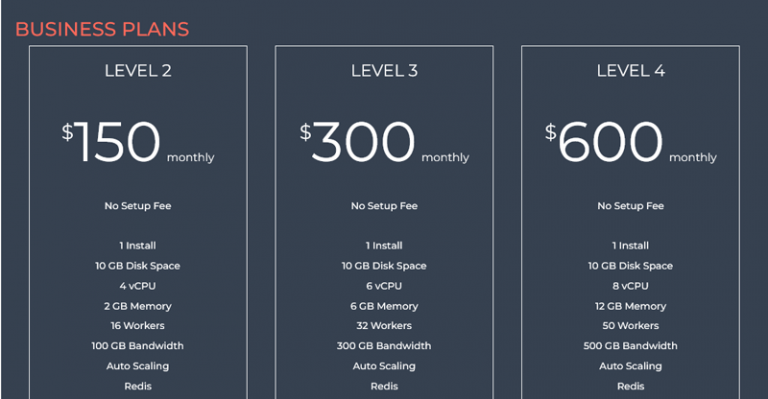 The Business plan will cost you more but also offers more features such as Cloudflare Enterprise. Automated malware scanning functionality is included in all packages. There are three plans under the Business Plan. Level 2 package costs $150/month, Level 3 costs $300/month and Level 4 costs $600/month.
Other features
Object Cache Pro
Human Malware Cleanup
Slack Support
Auto-Scaling
No Setup Fee
Enterprise Plan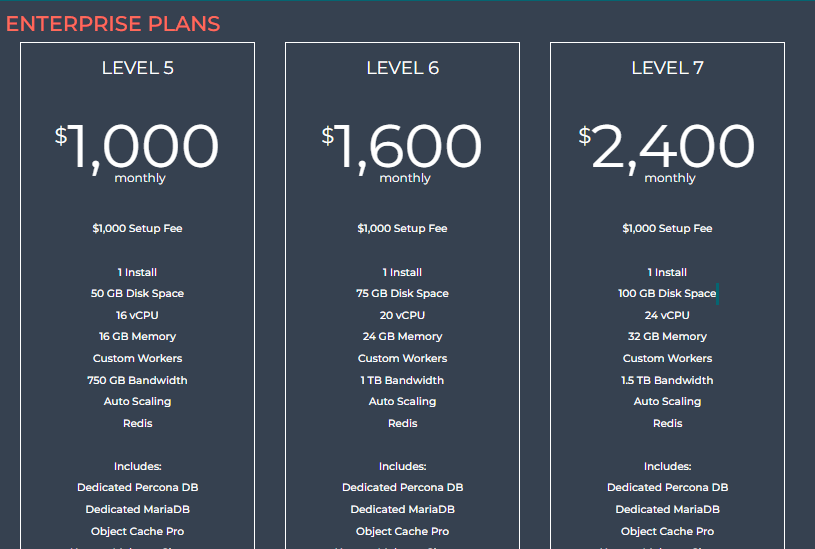 The Enterprise plan is best for high-traffic websites. It offers more storage (100GB) for the Level 7 plan for example and bandwidth (1.5 TB) as well as the features offered in the Business Plan. The Level 5 plan package will cost you $1000/month. The Level 6 plan will cost you $1600/month and the Level 7 plan will cost you $2400/month.
Other features
Auto-Scaling
Cloudflare Enterprise
Human Malware Cleanup
Priority Suppor
Enterprise Grade Security
In-Depth WordPress Troubleshooting
Free Basic Migrations
Account Manager
Pros and Cons of Convesio's WordPress Hosting
Pros:
24/seven customer support team, that is always ready to assist you at any time
Clustered Database – ensures that your website answers to requests quickly and effectively.
Blazing Speeds and Uptime – Convesio uses high-speed and stable servers.
You can try convesio for 30 days risk free
Automated Backups – You may back up, clone, or restore your site with ease with Convesio. For example, you may set up complex backup and retention policies to control the frequency and duration of your backups. Just a few mouse clicks and you're done.
 Integrated Enterprise Cloudflare
In order to give each WordPress instance its own resources, Convesio employs the Docker technology. As a result, it is able to automatically increase its resources.
Cons:
Price is slightly on the high side.
Only WordPress websites are hosted by them.
It doesn't offer email but that's the norm with managed WordPress hosting companies
Customer Reviews for Convesio
"I have been extremely happy with the service I've received from Convesio. The customer service is excellent – they are always quick to respond and very helpful. My website has never gone down, which is a huge plus."
"Convesio has been an amazing host for my business website. Their customer service is top-notch and their response time is incredible! I would highly recommend them to anyone looking for a reliable host that offers great value."
"After trying out a few different hosting providers, I decided to go with Convesio. And boy am I glad I did! Not only are their plans affordable, but their customer service team is outstanding. They are always available to help and answer any questions I might have about hosting or WordPress."
"I was so impressed with the service I received from Convesio that I decided to switch my website over to them."
Check out more reviews on on G2
Conclusion
If you are looking for a great hosting provider that offers WordPress support, Convesio is a great option. Their customer service team is always available to help and their response time is incredible! You can try them out for 30 days risk free.
They offer blazing speeds and uptime, You may back up, clone, or restore your site with ease, and their Docker platform ensures that each WordPress instance has its own resources. The only downside is that their plans are slightly on the high side; however, the value you receive makes it well worth the investment. Give them a try today.