This Namecheap review contains all the information you need to know about this low-cost hosting provider and the services it provides. Since its inception as a domain name registry in 2000, Namecheap has expanded its offerings, including web hosting, as a result of its success. Namecheap also sells SSL certificates and privacy protection services in addition to domains and web hosting plans.
More than 11 million people use the company's services, and it hosts more than 3 million domain names.
Namecheap is a great option if you want to get a domain name and web hosting from the same provider. It offers a wide variety of hosting solutions.
Even if a web host appears to be excellent, you need to explore a little further before making a decision. For our Namecheap review, we've done just that.
We hope to offer you with the information you need to make an informed decision about this provider's plans and pricing, features, support, and security.
Want to give Namecheap a spin? Visit the webpage here.
The Pros and Cons of Using Namecheap
In order to help you decide if the benefits and cons of Namecheap are worth your time, let's dive into their pros and cons.
The Pros
Free migration: You can transfer your WordPress site to Namecheap's hosting service for free within 24 hours. A few details about your website are all that is required to begin the process.
Good Uptime: All businesses need reliable uptime. Your website will experience less downtime if you have a high uptime percentage. You don't want any downtime, either. If your website is down for an extended period of time, you will lose clients.
Free domain privacy: Namecheap's free domain privacy is one of the most useful perks of the service. Hostgator and A2 Hosting, for example, offer domain privacy for an additional charge and an add-on that you must renew yearly if you want to continue using it.
30-day Money-Back Guarantee: Namecheap provides a 30-day money-back guarantee for all of its customers. Their service comes with a 30-day money-back guarantee. There is still time to change your mind and look for a new opportunity.
Customer Support: Namecheap has live chat and a support request option if you need assistance with any issues you may be having with your website.
Easy to use cPanel interface: The control panel used by Namecheap is cPanel. The familiarity of this interface should allow you to begin arranging your hosting without having to learn a new platform.
Transferring a domain is a simple process: You'd like to move your domain to Namecheap? In order to accomplish this, you can simply submit a ticket with the essential information.
Pricing: Very affordable prices starting at $1.88/month for hosting and $5.98 for .com domains
Ease of Use: When it comes to ease of use, Namecheap has a good grasp on things. As a domain registrar and a hosting service, the company is a breeze to work with.
Quick Load Time: A website should load in fewer than three seconds nowadays, according to Google's standards. You should, however, aim for a lower number. Using Namecheap, anyone can get Google's top spot. Their average page speed is 458 ms, which satisfies the test.
Free Backups: Free backups are included with every Namecheap plan.
The Cons
Fees and renewal rates that are not disclosed
No Phone Support
NameCheap Review: Pricing
Namecheap offers various packages. And there are lots of options to pick from. Whether you are just getting started with a website and are looking for something simple for personal use, or you need to develop a site with a lot of traffic. Namecheap has something for you.
Domain Registration
Namecheap is a significant domain registrar. GoDaddy is one of its greatest rivals.
Here is a breakdown of the pricing for various domain extensions: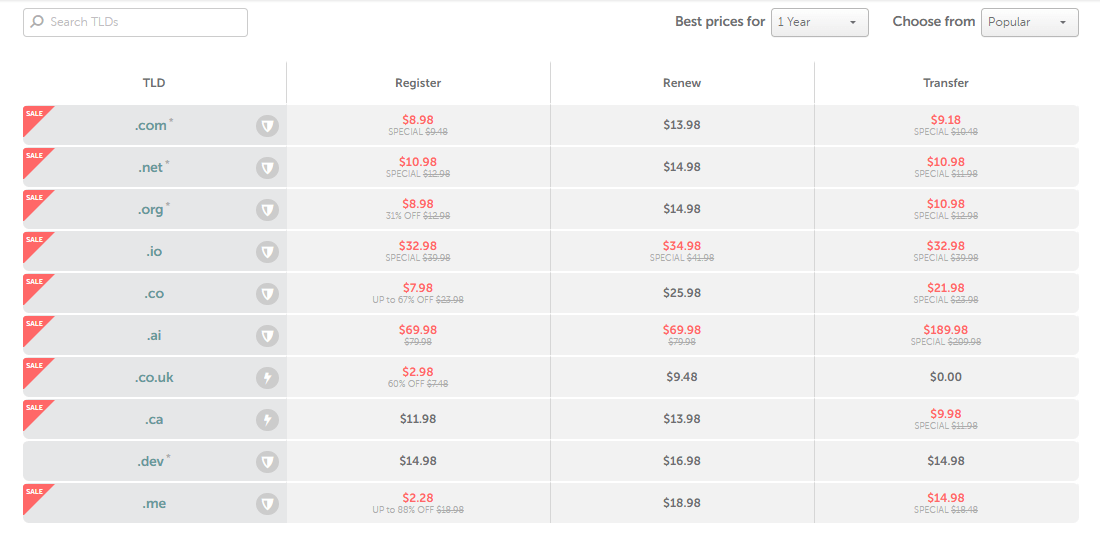 Popular extensions like the .com go for $8.98 and renewal is $13.98. Almost all domain name extensions are supported. Namecheap allows you to not only register domains, but also transfer them.
Hosting Plans
In the search for the best web hosting for your website. Namecheap may be a viable option. It has reasonable costs, a wide range of options, and ample shared hosting plans.
Shared Hosting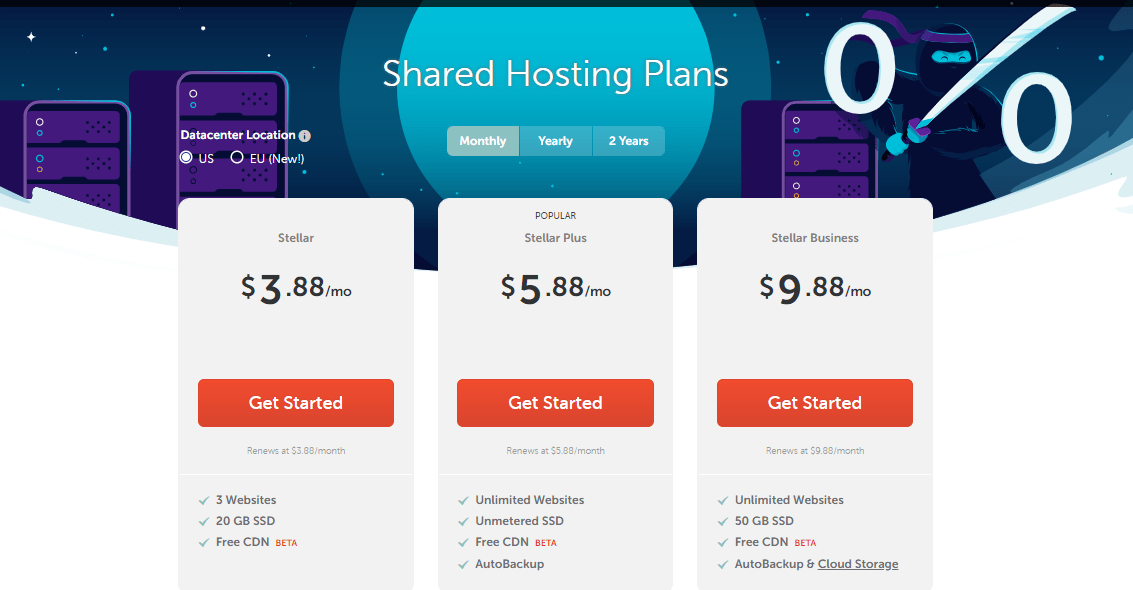 Stellar – With Namecheap's cheapest shared hosting plan, you get a lot for your money. 20 GB of SSD storage, a free domain name (for the first year), you can have up to 3 websites and a free CDN are all included. The monthly fee for this plan is $3.88 per month.
Stellar Plus – Unmetered SSD, unlimited websites, auto-backup, free domain, free CDN, and more are included in this plan. If you're paying monthly, this plan will cost you $5.88/month.
Stellar Business – As a small business owner, this may be the best option for you. There are no limits on the number of domains you may host, and you get 50 GB of SSD storage. Starting at $9.88 per month, this service is available.
Unmetered bandwidth, a free website builder, domain name privacy protection, a free automatic SSL certificate, Cpanel 24/7 support, email service, and a 30-day money-back guarantee are all included with all shared hosting plans.
Namecheap Reseller Hosting
Passive income through reseller hosting is a terrific method to supplement a regular paycheck. Namecheap allows you to acquire a reseller plan and then sell plans to your customers.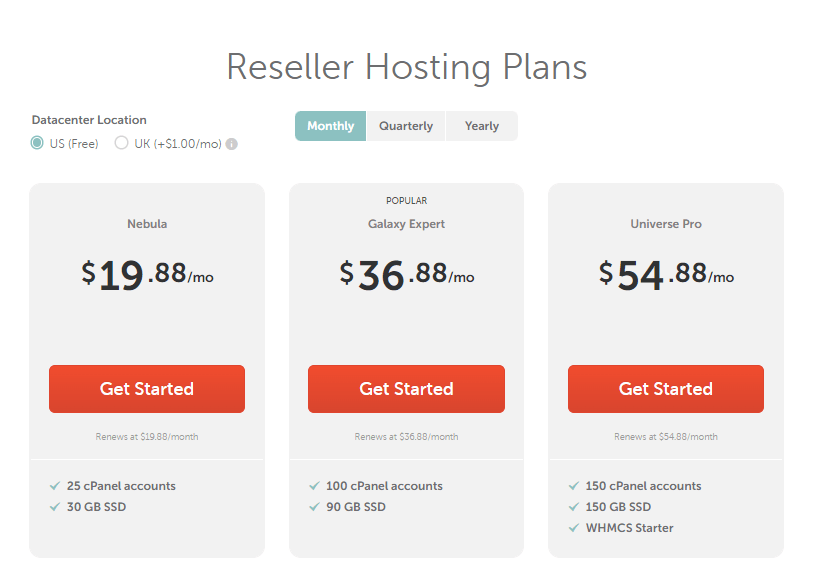 Nebula – $19.88 a month
Galaxy Expert – $36.88 a month
Universe Pro – $54.88 a month
All of the Reseller Hosting packages include the following:
Unmetered bandwidth
Ability to manage from cPanel
WMH control
Cpanel
30-day money-back guarantee.
Managed WordPress Hosting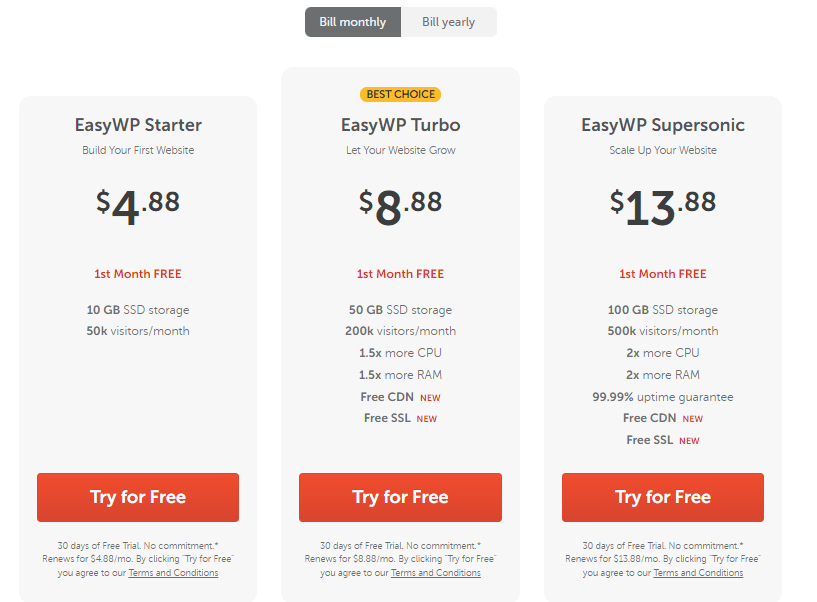 As you can see above there is a 30 day free trial for all plans. This means you can test the plan you need for 30 days and see if it suits you before purchasing it.
EasyWP Starter – Your first WordPress website will be a breeze with this one! For $4.88/month, you get 10 GB of SSD storage and 50,000 visitors every month.
EasyWP Turbo – Do you want to see your WordPress site grow? You get 50 GB SSD, 1.5 times the CPU and RAM, free SSL and free CDN, and 200,000 monthly visitors for an annual fee of $8.88 per month.
EasyWP Supersonic – This plan may be ideal if you're looking to expand your website to its full potential. In exchange for $13.88/month, payable monthly, you get
500,000 monthly visitors
100 GB SSD
Two times the CPU
Two times the RAM
99.99 percent uptime guarantee
Free SSL
Free CDN.
VPS Hosting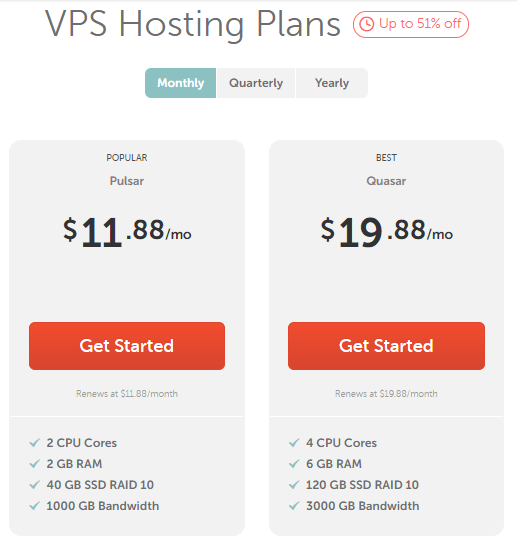 VPS hosting services are an excellent choice if you want greater control and flexibility over your website.
Pulsar – Costs &11.88/Month
Quasar – Costs 19.88/Month
Its two plans both include:
Full root access and (OS) operating system selection
Your choice of Server Management
Top Security Standards
Free transfers of existing websites
30-day money-back guarantee.
Dedicated Hosting
In the event that you need to run your own servers, you should look into a dedicated hosting plan. There are several advantages to having a dedicated server for your website and business.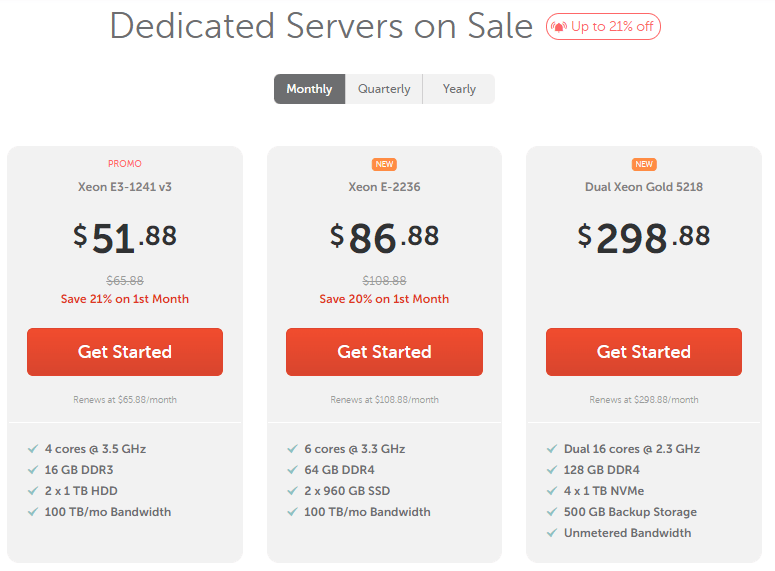 Namecheap has a wide variety of dedicated server alternatives, however these are just a handful. Check out the  dedicated server page to see all of its plans. Whatever your requirements, you'll find a lot of flexibility in the dedicated server plan's several packages. Contact Namecheap to get additional information before making such an important purchase, so don't hesitate to reach out to them!
Email Hosting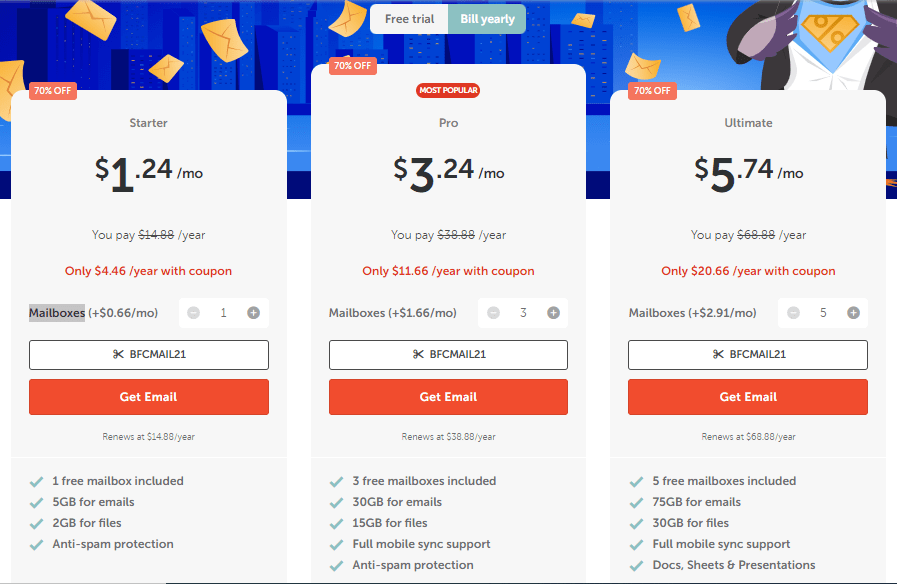 Starter – $1.24 a month
Pro – $3.24 a month
Ultimate – $5.74 a month
Create a personalized email address using Namecheap for yourself and/or your organization to look more professional and organize your email communications.
NameCheap Review: Security
In addition to two-factor authentication and free domain privacy, Namecheap offers free SSL (secure socket layer) certificates for authenticating your site. With its VPN service, you can access content that is otherwise restricted. They also offer full DDoS (distributed denial of service) security, which will help keep your site from being hacked in the first place.
NameCheap Review: Summary
This is an excellent alternative if you're looking for affordable web hosting. You can save a lot of money with Namecheap if you're just beginning a modest website and aren't too concerned about features.
One of the best registrars in the business, Namecheap is undoubtedly one of the best. It provides reasonable costs, an easy-to-use domain management interface, and attractive bargains for everyone from single-domain buyers to bulk buyers.
NameCheap Review: Best alternatives for Namecheap
Bluehost – Excellent Uptime, Great for Beginners, 24/7 Customer Support, and much more.
Check out the Bluehost review