How do you get your brand new website indexed on Google faster? So after you are done developing your website and optimizing it, do you just upload it to your favorite hosting provider like Bluehost, and just wait for the magic to happen? Definitely not, this approach can take weeks or months. So how do you index a website in Google faster?
If you want to get organic traffic from search engines like Google which in most cases amounts to more than half of website traffic you need your website to be indexed or you'll miss out on a great portion of your potential traffic. So what steps can you take to help Google accurately and quickly index your pages?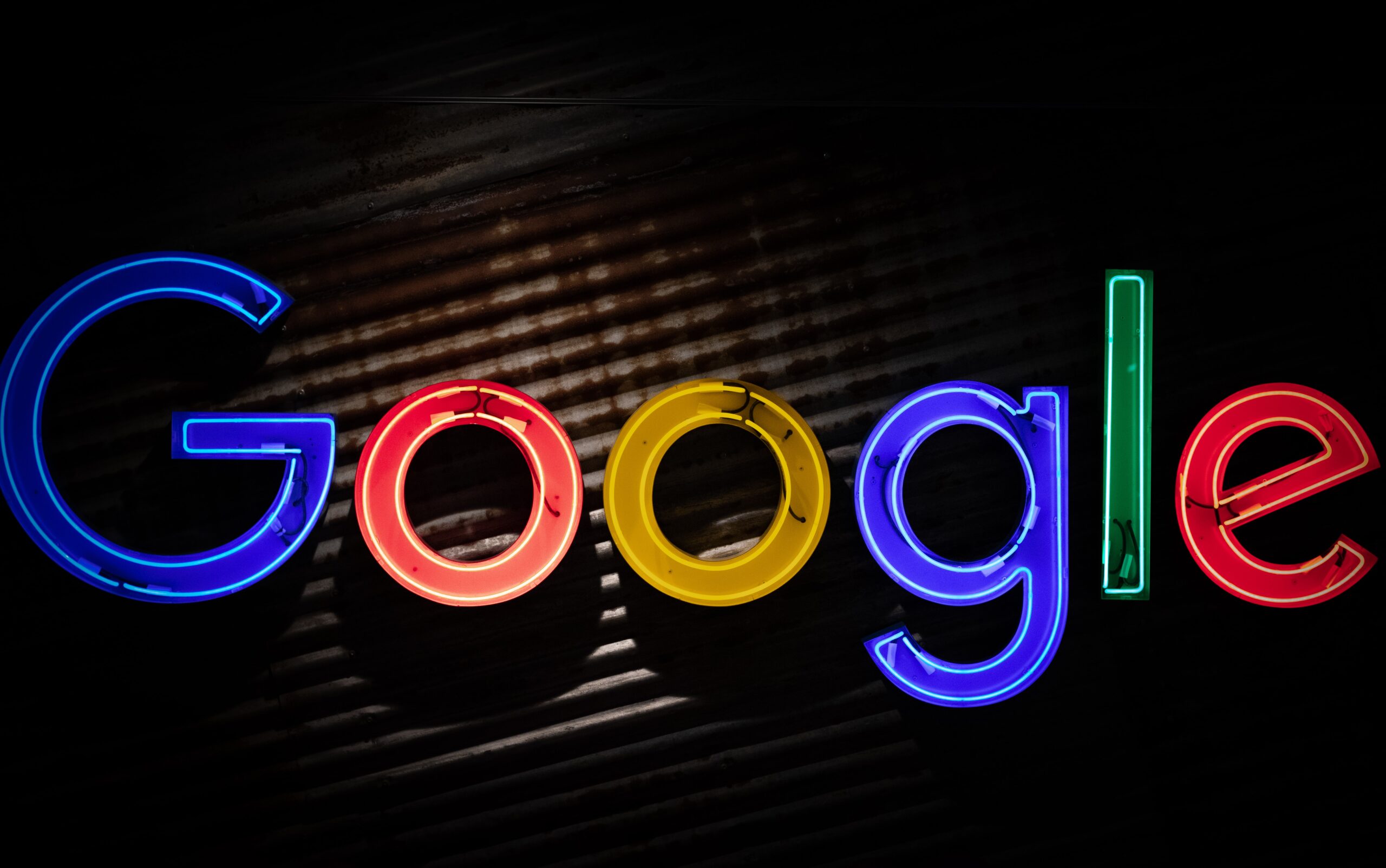 In this article, we'll look at how you can index your website on Google so that your website can show up in search results, therefore, bringing traffic to your site in no time.
What is indexing in search engines?
Indexing is the process of adding new or updated Web pages to a search engine's database so they can be found and returned in search results. The time it takes for a page to be indexed varies by search engine. Generally, Google indexes a page within a few days, while Yahoo may take up to several weeks.
There are two main types of indexing: crawling and submission. Crawlers, also known as spiders or bots, are automated programs that scan the Web for new and updated pages. Submission is the manual process of submitting a website or page to a search engine for inclusion in its database
For Google to show pages in search results it has to have them in its database. The process of adding pages to its database is what is called indexing. They accomplish this by using a web spider, Google's web spider is called Googlebot.
Check out this video from Google that explains this in detail.
Why is indexing important?
Indexing is important because it's how search engines find and return Web pages in response to user queries. If your website isn't indexed, it won't show up in search results, no matter how good your content is.
How to check if your site is indexed in Google
If you want to check if your site is indexed in Google go to google.com and type site: yourwebsite.com. Replace "yourwebsite.com" with your own domain.

You will see a list of pages like in the screenshot above If your site is indexed. If it is not indexed no results will show up.
How long does it take google to index a new site?
If you do not take any steps to make Google index your site it can take some time for Google to crawl and index your website. This can take anywhere from 24 hours to 6 months depending on the size of the site and what steps you take to make sure your site is indexed. When your site has just gone live on the internet it can be frustrating to discover that it isn't indexed. How are people out there going to discover your new awesome site via Google? Below I will explain in detail what you can do to speed up the process.
How can I speed up the indexing of my website?
There's no one-size-fits-all answer to this question, as the speed at which a page is indexed depends on a variety of factors, including the search engine's algorithms and the competitiveness of your keywords. However, there are a few things you can do to help speed up the process:
Make sure your site is accessible to crawlers by using Robots.txt files and other methods such as meta tags and XML sitemaps.
Optimize your pages for keywords that are relevant to your business and have high search volume.
Submit your website to search engines and directories.
Monitor your site's search engine rankings and Web traffic to gauge its overall visibility and effectiveness.
Indexing is an important part of getting your website found by potential customers online. By understanding how indexing works and taking some simple steps to help speed up the process, you can make sure your site is seen by as many people as possible.
How do you index a website in Google in 24 hours?
I am going to give you a simple and straightforward solution if you using WordPress because I have read a number of articles on the Internet that suggest a number of things to get your website to appear in Google faster. You can try this method I am going to show you with any new website or any site you developed before but is not receiving traffic from Google.
1. Make sure you have high-quality content
Make sure you have high-quality content at least 10 or more articles that are On-page SEO optimized with 500 words or more before you try to index your new website. High-quality content is very important for both indexing and ranking. I guess you don't want Google bots to come and crawl a site with nothing on it. To help you in optimizing your content, install Yoast SEO if you haven't. Yoast SEO is a WordPress plugin that helps to improve the ranking of your website on search engines, by helping you optimize your site's keywords and content. Also, create the necessary web pages required for your website. For example, create these pages "Home", "about", "Contact," "Privacy Policy" "Terms and Conditions" etc.
Check the video below to learn more about On-page SEO optimization.
2. Submit your site to Google Search Console
Google Search Console is a free tool from Google that helps website owners to monitor things like when it was last crawled, the number of people visiting your site and how they are finding it, indexing errors, the number of people visiting your site on desktops, and mobile devices, security issues, etc. Google Seach Console also enables one to submit a sitemap.
To get started you first need to create a free account using your Google account and then set up Search Console and verify website ownership.
Here's a step-by-step tutorial below on how to submit your site to Google Search Console:
After creating your account, select a property type, as you can see below, there are two options.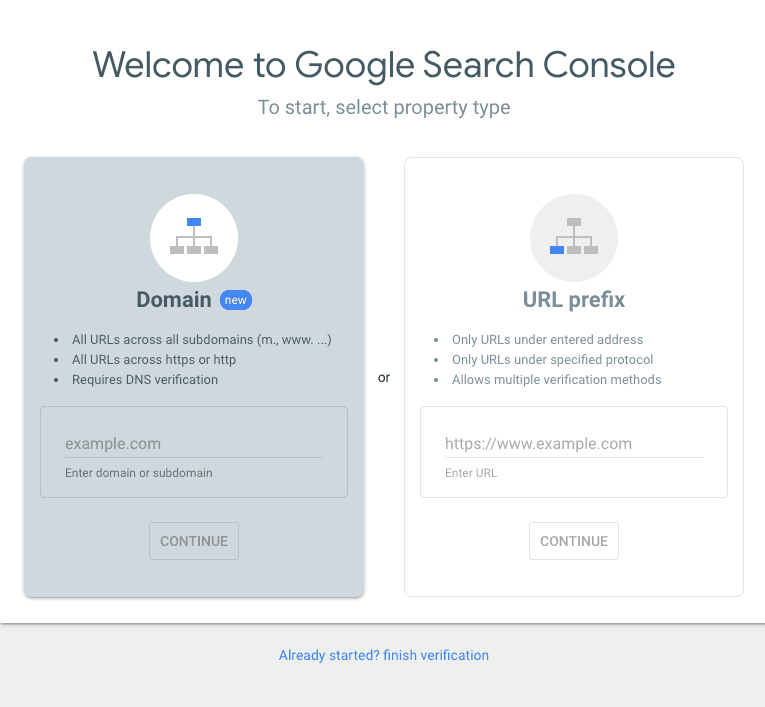 Root Domain Verification – this method requires DNS (Domain Name System) access and enables you to see metrics on all domain properties as well as subdomains, https vs. http, etc
URL Prefix –  URL Prefix allows a number of verification methods, including Google Analytics, HTML tag,

Google Tag Manager,

etc. Only a specific version of your domain will be tracked with this method.
DNS (Domain Name Service) verification
Verifying your website property in Google Search Console through DNS is the best method when you have access to your domain provider. You just copy the TXT record into the DNS configuration for the Domain you want to track. After adding the TXT record wait for about 10 minutes for the changes to take effect.
Check out below how to add a TXT record to some of the most common DNS providers:
Using URL Prefix for verification
When you don't have direct access to DNS we recommend you to try the URL prefix method as it enables you to verify your site's ownership using various methods.
Using your Google Analytics account
Using your Google tag manager
Adding a meta tag to your site's homepage
By associating a DNS record with Google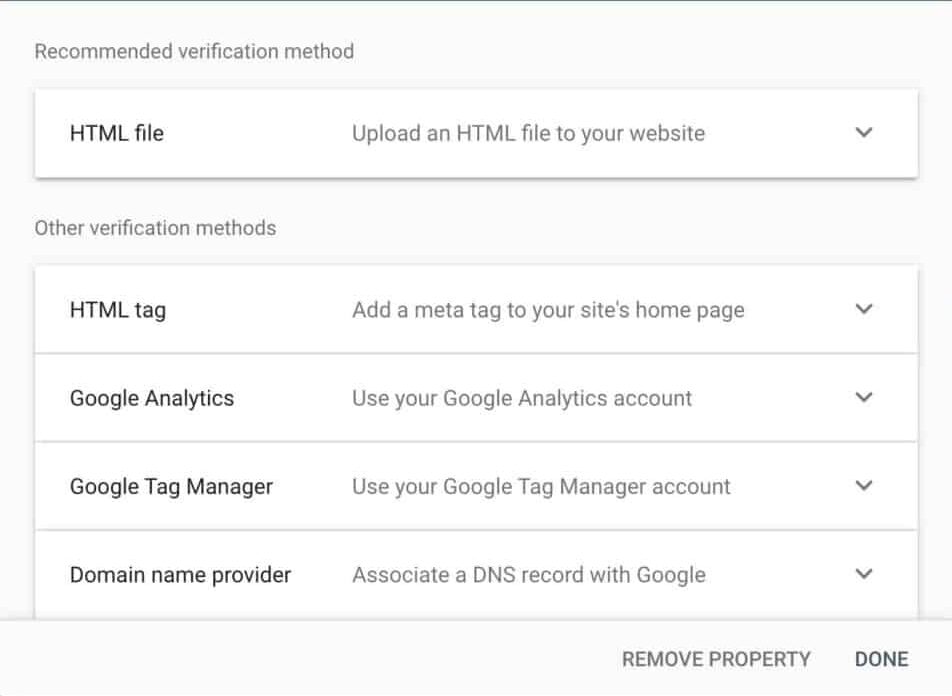 Use Yoast WordPress Plugin to Help With Google Site Verification
The easiest method when you are using WordPress to submit your website to Google Search Console and check if your site is indexed is by using the Yoast SEO  or the All in One SEO. plugin.
Start by entering your site's URL address, in the select propety type (URL Prefix) in the Google Search Console and click on continue, here's what it will show you.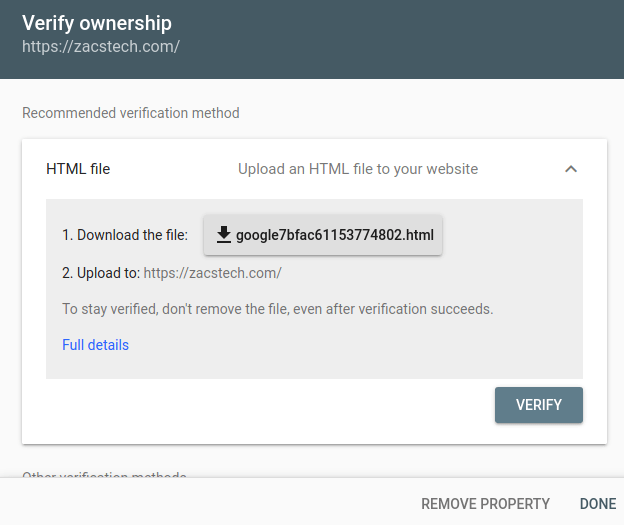 Scroll down to other verification methods and select the HTML tag option then copy the meta tag.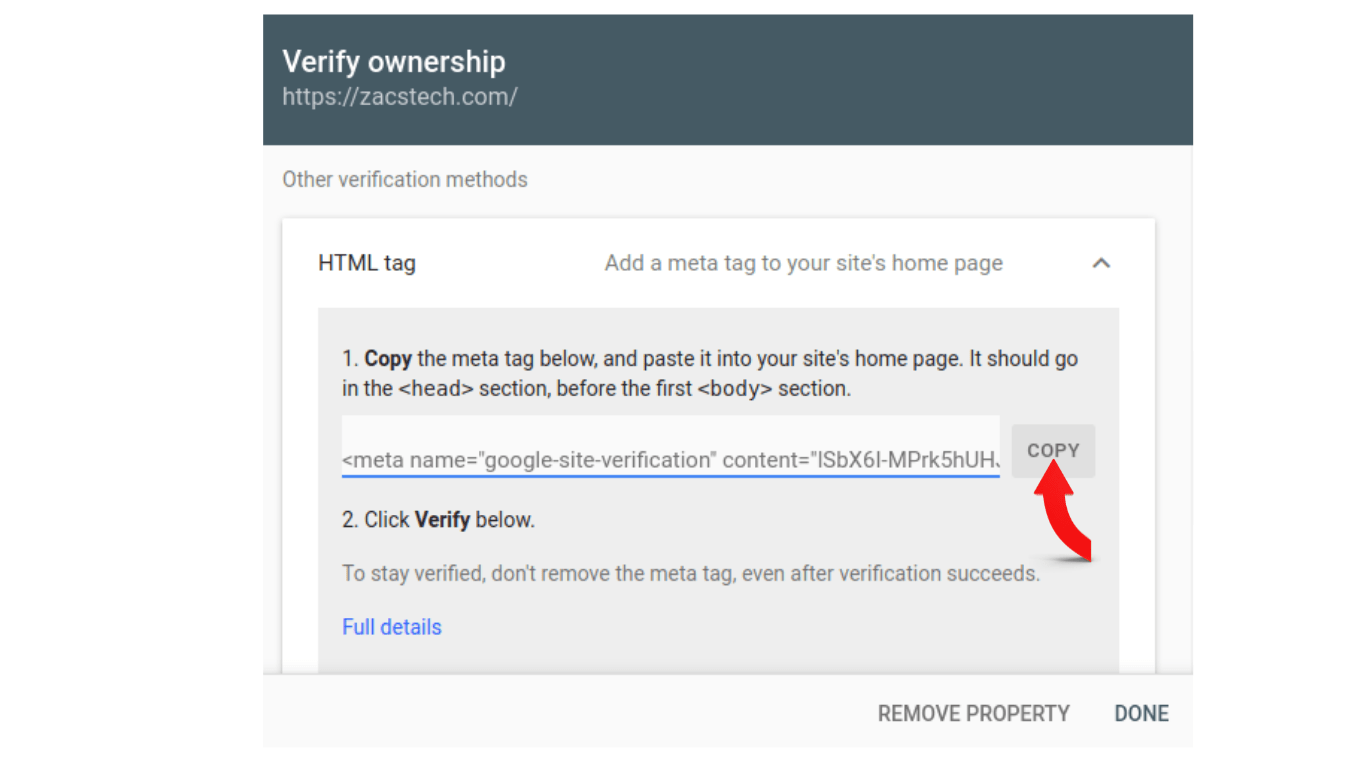 To verify your site in Google Search Console with Yoast SEO, go to SEO >> General in your WordPress dashboard and click on the Webmaster Tools tab.
Go to the Webmaster Verification tab and paste your Google verification code into the Google Webmaster Tools box. Copy the entire tag, the plugin will strip out the extra automatically, leaving just the code. Don't forget to click on Save changes.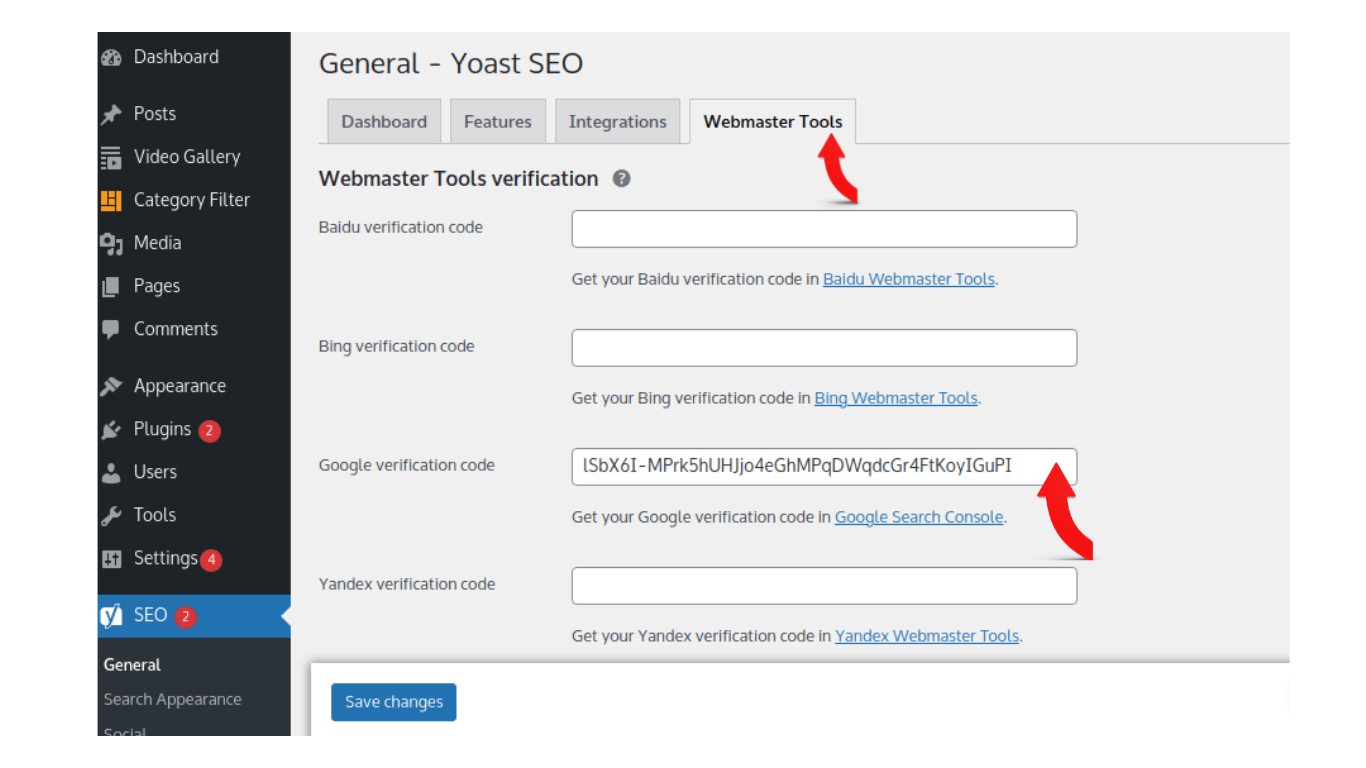 Go back to Google Search Console and click on the Verify button on the HTML tag Option. You have now verified your website and Google will start the indexing process.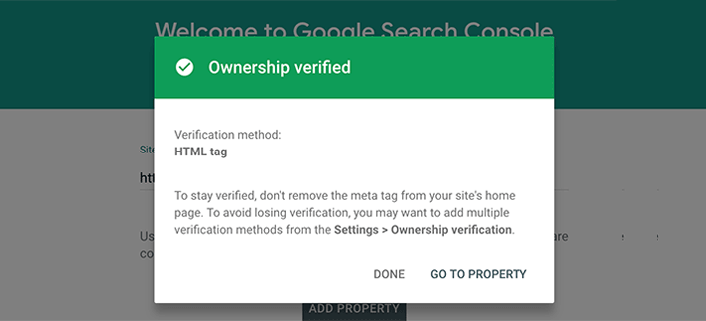 For great performance, we recommend using the DNS (Domain Name Service) verification method as it doesn't require the addition of any code to your website but pick a method that is easy for you.
3. Create and submit an XML Sitemap to Google Search Console
A sitemap is an XML file that lists all the pages on a website, it helps search engines navigate easily through the content of your website. A Sitemap makes the crawler's job much easier as they can easily see what's on your website and index it. You can find your website's sitemap by going to "yourdomain.com/sitemap.xml". 
If you are using WordPress the easiest way to create an XML sitemap is by using Yoast SEO.  This plugin is great as it also notifies search engines automatically whenever you publish, update, or delete a post or page on your website. You should also know that when you install the Yoast plugin the sitemap is enabled by default.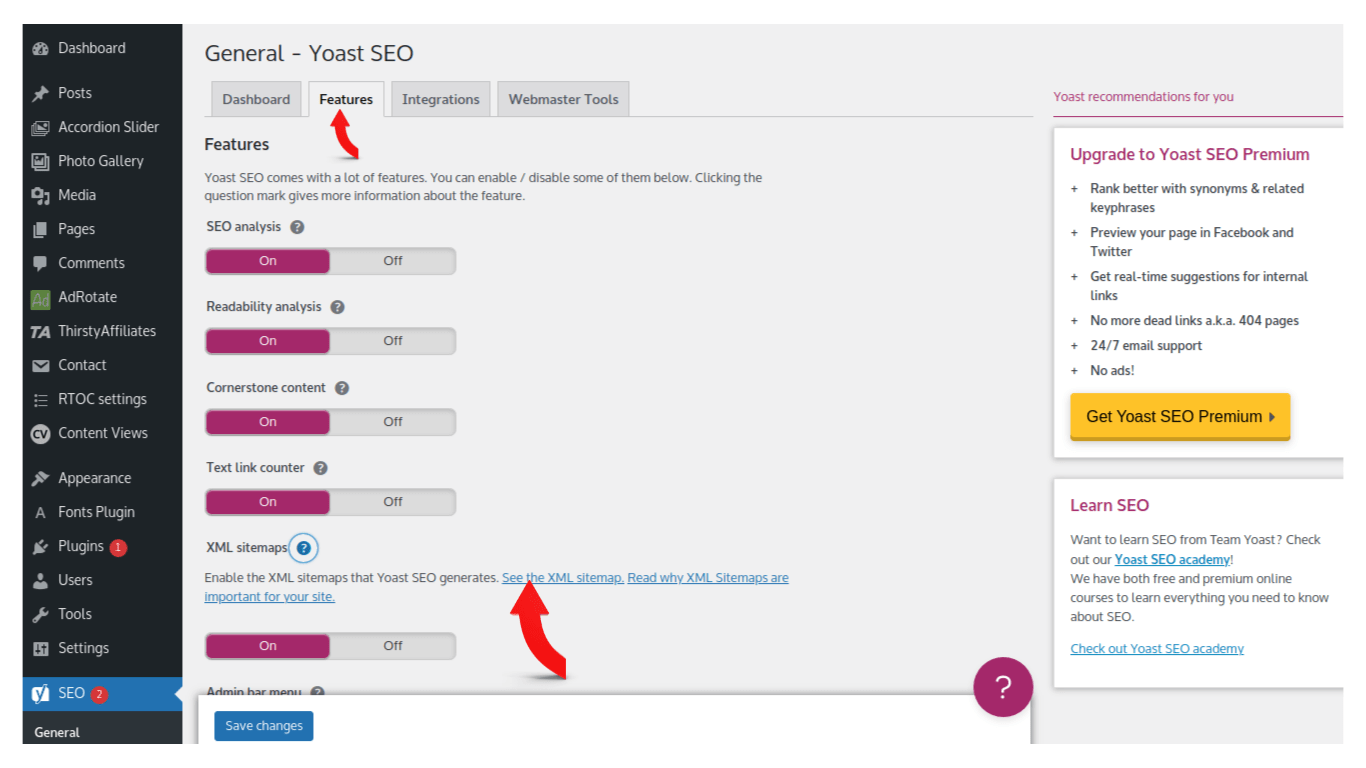 Next, submit your XML sitemap to Google Search Console. Login to your Google Search Console account then go to Sitemaps on the left as shown in the screenshot below, and add URL (sitemap.xml) the last part of your sitemap and click on submit. You are done it's that easy.

4. Submit your site to blog directories
Submitting your website to blog directories is one of the quickest ways to get your site indexed in search engines, but do not submit your website to every blog directory. Some blog directories do allow the submission of sites for free.
As in the past, however, you should not submit your blog to every blog network or directory. Instead, submit your blog to high-quality directories. Check out this list of Free High-Quality Directory Submission Sites list.
5. Use Social Media
Share new blog posts on social media, this will speed up your site's indexing process. So Create social media profiles for your site on popular social sites like Twitter and Facebook and start sharing your new articles. Sharing your posts on social media creates links back to your content. This is also great for branding.
Hope we have answered the question on how to Index a website in Google faster? Please share this post with friends and colleagues on social media platforms, If you find the information in this post useful.