We use affiliate links. If you purchase something using one of these links, we may receive compensation or commission.
Finding strong keywords leads to better ROI, whether you're starting a blog from scratch or revising your content strategy. There are numerous tools available to assist you with this.
This post is the culmination of my digital marketing experience. I've used all of these tools and found them to be really useful for conducting content research. Every tool is one-of-a-kind and hence caters to a certain demand. However, some may be ideal in practically every circumstance.
What is a Keyword Research Tool?
A keyword research tool is a software application used to find keywords related to a particular topic. The tool then displays the number of times each keyword has been searched on the internet. This information can be used to help determine which keywords to target for SEO and content marketing purposes.
There are a number of different keyword research tools available, both free and paid. Some of the most popular tools include Google Keyword Planner, SEMrush, and Moz's Keyword Explorer.
When using a keyword research tool, it's important to keep in mind that not all keywords are created equal. Not every keyword will be relevant or valuable for your business. It's important to target keywords that have high search volumes and are relevant to your business.
When choosing a keyword research tool, it's important to consider the features offered and the data available. It's also important to make sure the tool is compatible with your business needs.
Using a keyword research tool can help businesses find valuable keywords that can be used for SEO and content marketing purposes. By targeting high-traffic, relevant keywords, businesses can improve their chances of being found online and connecting with customers.
Top Keyword Research Tools to Help You Improve Your SEO
Some of these keyword research apps are completely free, while others are not. Regardless of cost, they're all fantastic for improving your rankings. Let's begin with Google's keyword tool.
1. Google Keyword Planner
The Google Keyword Planner is a free tool from Google. The tool's name is self-explanatory in terms of its capabilities. Its purpose is to help you locate the best keywords for your Google Ads campaigns. It is, however, a useful tool for SEO, and unlike other commercial products, it is available for free.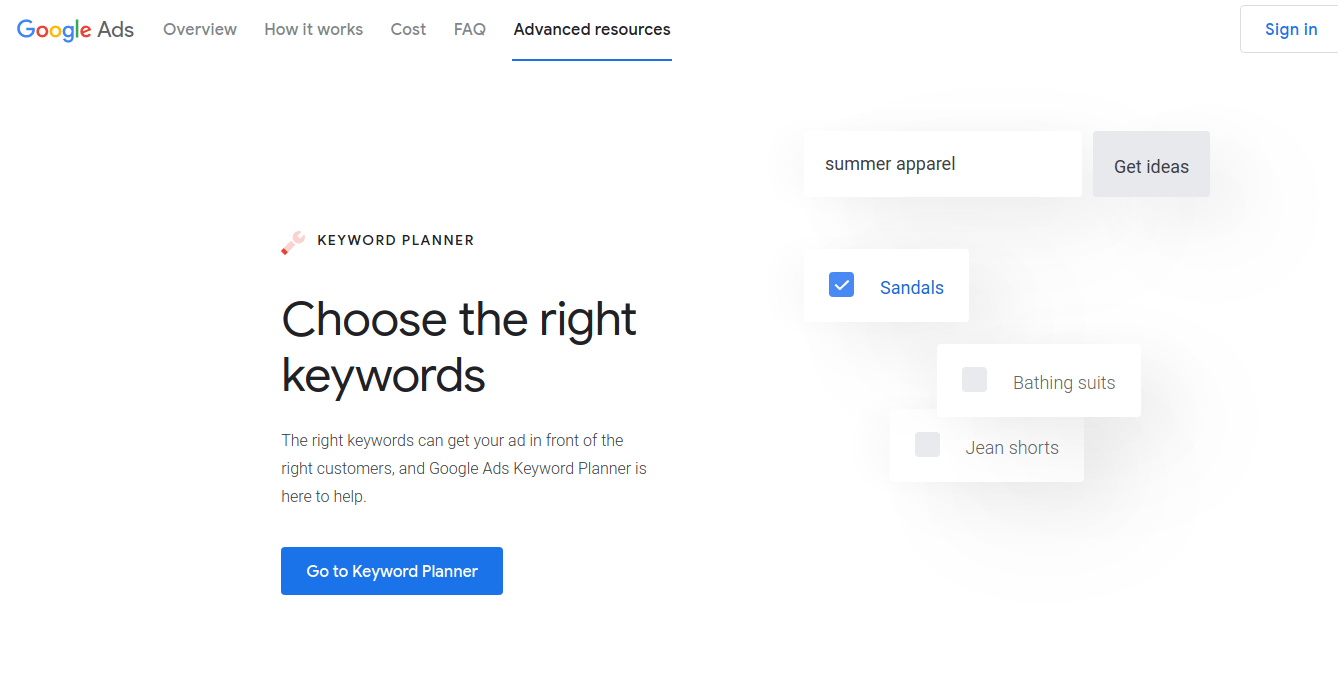 The Google Keyword Planner's data is reliable but no tool can guarantee one hundred percent accuracy. To attract the correct people to your blog or website, choose the right keywords. The tool provides you with incredibly useful information such as:
Monthly 

searches 

on 

average

Competition 

in 

general

Bids

range 

from 

low 

to 

high 

at 

the 

top 

of 

the 

page.

Keywords by relevance
You can enter a number of options to get keyword ideas in the keyword planner. "Enter words, phrases, or a URL linked to your business,".Google will show you a list of keyword recommendations.
Watch the video below from Ahref on How to use Google Keyword planner.
2. SEMRush Keyword Research Tool
SEMRush can be a very useful tool if you want to keep all of your content research under one roof. It enables you to evaluate a domain, conduct keyword research, and steal keywords from your competition. The tool is one of the most popular SEO tools available.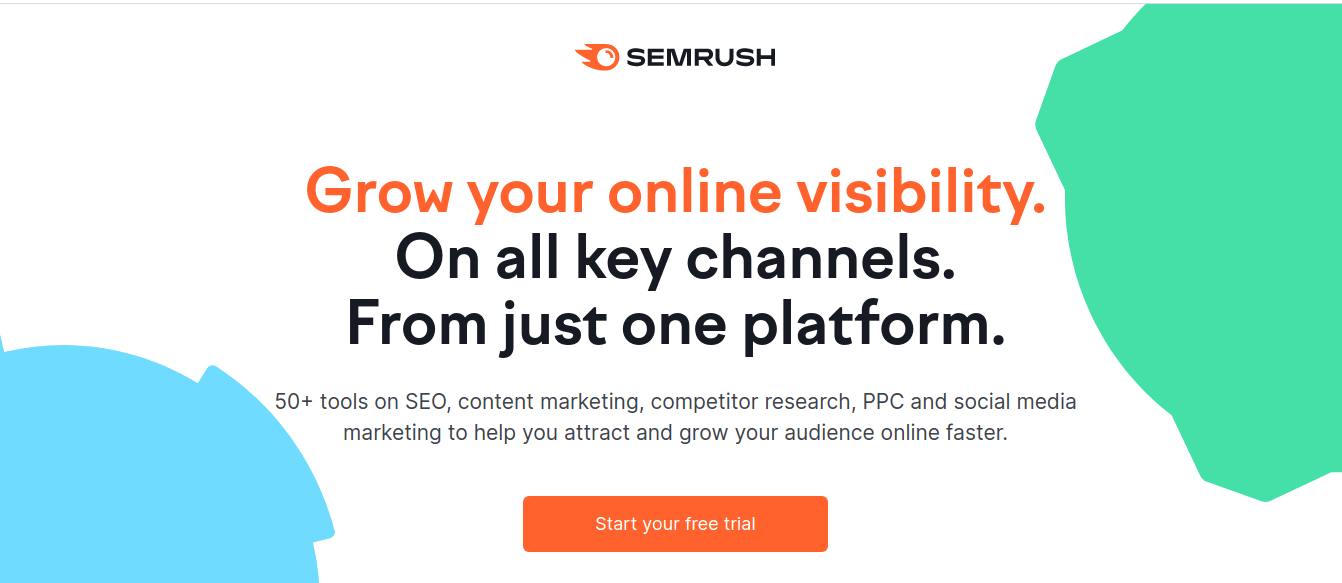 Semrush can provide you with keyword ideas (based on keywords you supply) that you may use to write blog posts that will perform well in search results. It may also inform you how difficult specific search phrases will be to rank for.
There's more, though. You may also use the program to find link-building possibilities and improve technical SEO. Semrush works by providing you with a wealth of data that you may use to:
Identify

link-building 

possibilities 

Produce

fresh 

online 

content 

that 

is 

likely 

to 

draw 

traffic

Improve 

the 

technical 

parts 

of 

your 

site's 

content 

to 

improve 

its 

search 

ranking.

Find out what people are searching for on the internet
SEMRush also offers the Keyword Overview tool. The tool can give you a complete picture of all the things you need to know about a keyword. This includes information such as the number of people that search for the keyword say in a month. It can also tell you whether a keyword is becoming more popular or declining in popularity and much more.
SEMRush has more features as well such as identifying duplicate content, keyword stuffing and slow loading content. SEMRush costs about 119.95 dollars per month.
Watch the video below "SEMRush Keyword Research Tutorial for Beginners" from Grow with Will – Level Up Your Business Skills.
3. Ahrefs
Ahrefs is one of the most comprehensive SEO and content marketing tools available. You can track backlinks, monitor your competitor's top keywords, find low-competition keywords, broken link-building opportunities, check which of your pages and your competitor's pages receive the most organic traffic, and a lot more.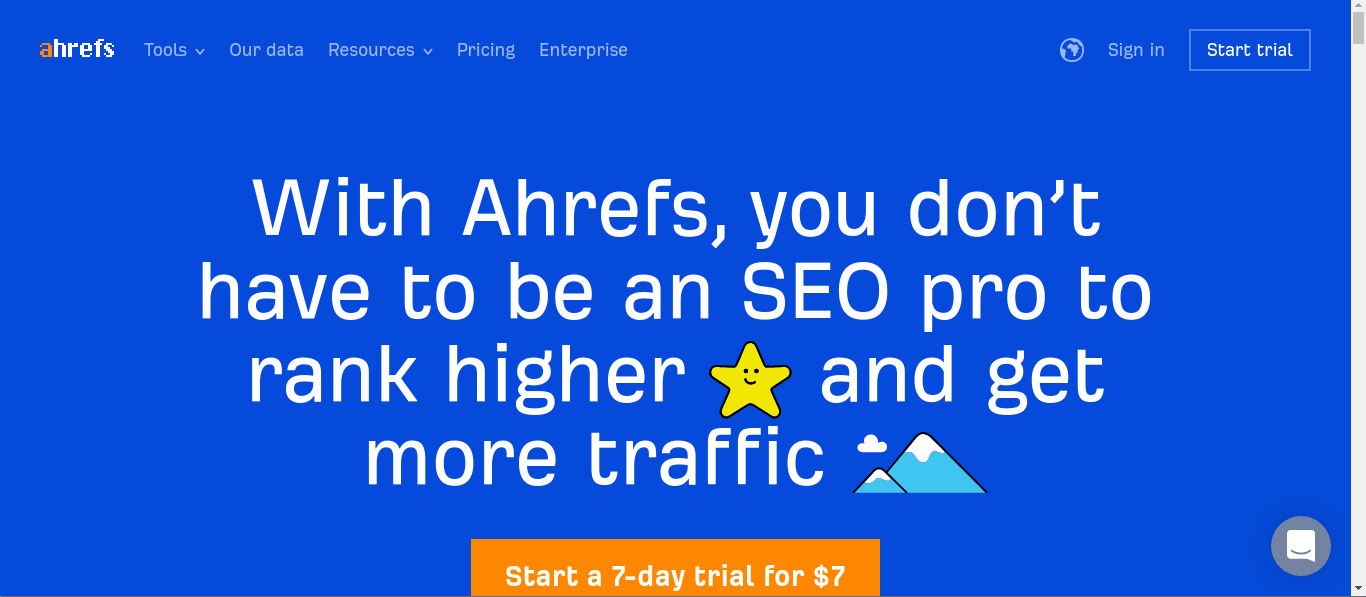 Ahrefs' Keywords Explorer research is extremely thorough. Keyword difficulty, CTR, search volume, CPS, and paid clicks can all be estimated.
Depending on your overall usage, the pricing ranges from $99 to $999 per month. However, the investment is well worth it because Ahrefs generates more keyword suggestions than any other tool. To get a feel for the tool, try Ahrefs' Keyword Explorer before paying for the premium edition.
Watch the video below on how to use Ahrefs for keyword research from WPBeginner.
4. Neil Patel's Ubersuggest Keyword Tool
Following Neil Patel's purchase of Ubersuggest, the SEO tool has continued to evolve and develop. The platform, which was initially free, has evolved into a commercial model with advanced features that webmasters may use for SEO.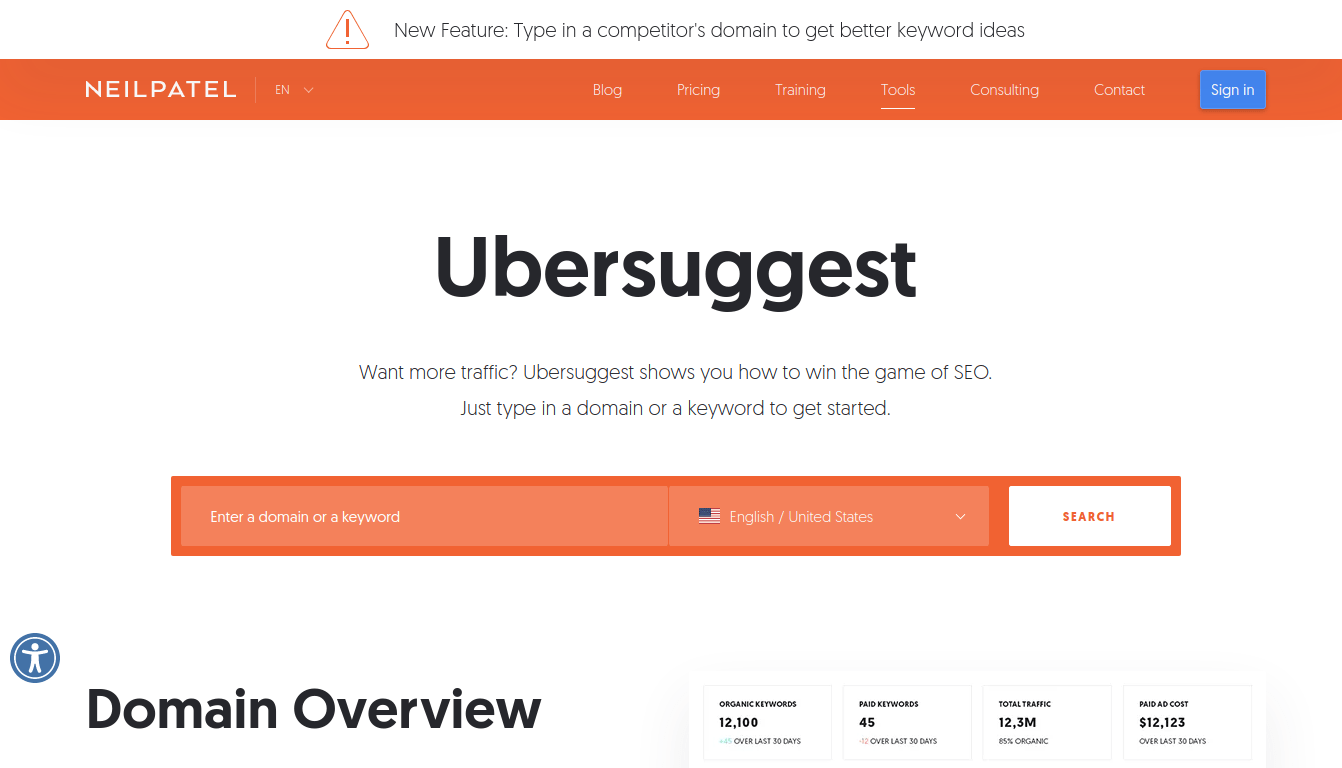 Ubersuggest's 'Keyword Overview' displays all of the keyword's significant stats. Search volume, organic and paid difficulty, CPC, and other factors are among them. In addition, the tool assists you in deciding on previous keyword data.
Ubersuggest, like other SEO tools, analyzes keywords, backlinks, and domain data to provide you an accurate picture of how valuable and competitive they are. You can type a keyword into their search field and the tool will return all relevant data for you to evaluate.
Ubersuggest is a fantastic tool that assists me with my marketing efforts. I utilize it to uncover popular keywords and phrases so that I may use my content to target those keywords. It has assisted me in outranking my competition and in gathering a wealth of information about my competitors' successful techniques.
Watch the video below from Neil Patel on Ubersuggest.
5. Moz Keyword Explorer
One of the best keyword research tools available is
Moz Keyword Explorer
. This is due to its impressive ability to seamlessly assist you with your SEO campaigns. You may use the tool to examine keywords based on search traffic, lists, and questions.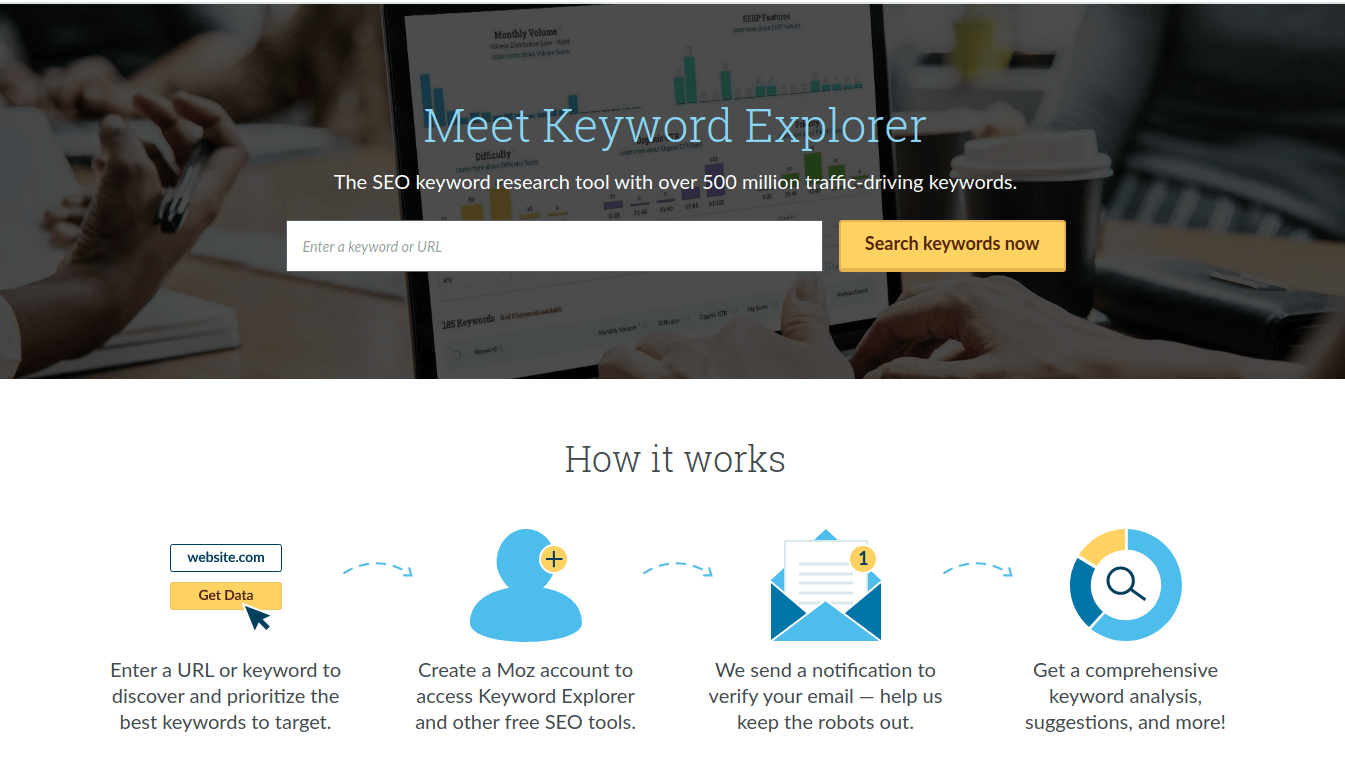 If you're new to digital marketing, this tool will be ideal for you. It comes with a plethora of functions. This tool makes it simple to uncover keywords that are relevant to your niche. You can also see the top keywords used by your competition.
Moz is easy to use, cheaper compared to other tools and there is a one-month free trial. Moz's Keyword Explorer makes complicated analysis simple in minutes. Moz Pro costs somewhere between $99 and $599 per month.
Watch the video below from WholeWhale on how to use the MOZ keyword research tool. 
Conclusion: Best Keyword Research Tools
We feel that SEMRush is the greatest keyword research tool and the #1 SEO toolkit on the market after testing all of the prominent keyword research tools.
Without a doubt, keyword research is the most important component in deciding your SEO success. That's why the keyword research tool you employ for your blog or website is crucial.