We use affiliate links. If you purchase something using one of these links, we may receive compensation or commission.
Email marketing is a great way to keep in touch with your customers and promote your business. It can also be a lot of work. That's why it's important to choose the right email marketing tool for your business. In this blog post, we will discuss 10 of the best email marketing tools available today. We'll also give you a few tips on how to choose the right tool for your business!
This list of the top 10 email marketing tools can help to ensure that your campaigns are successful time after time.
The Top 10 Email Marketing Tools of 2021

Newcomers to email marketing should start with Constant Contact. It's one of the easiest email marketing tools for newbies to use. This is due to their user-friendly drag-and-drop email builder. Without any coding experience, you may quickly and easily design fresh emails that appear professional. It's real-time reporting options enable you to keep tabs on things like clicks, email opens, and social media shares, amongst other things.
Live chat, email, phone calls, and an extensive library of information are just some of the ways customers may get help from Constant Contact.
Key Features
Email editor with drag and drop functionality and when composing your email, you have a variety of templates from which to choose.
All subscription plans have live chat and phone assistance.
Access to cutting-edge analytics
Scheduling of social media posts and other tasks
You can create surveys, polls, and events
Integrations with e-commerce systems
Email list management that is effective
Free image library
No credit card is required for the 60-day free trial.
Allows you to manually add contacts or import them from a file or other well-known email services
All packages come with a 30-day money-back guarantee.
Constant Contact Pricing
You can pick between the Email and Email Plus options. Constant Contact's cost starts at $20 a month and is based on the number of contacts you have on your list.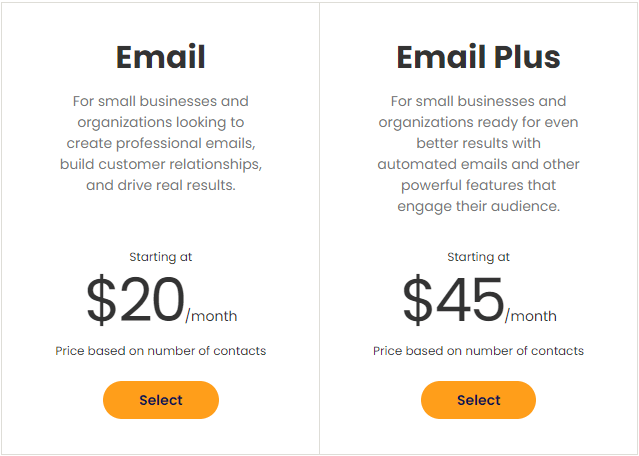 Marketing automation and email marketing software like Constant Contact help organizations acquire, convert, and keep customers by leveraging email and social media advertising. Using Constant Contact, you can get a clear picture of how your emails are performing and who they are resonating with, all in an easy-to-understand visual format.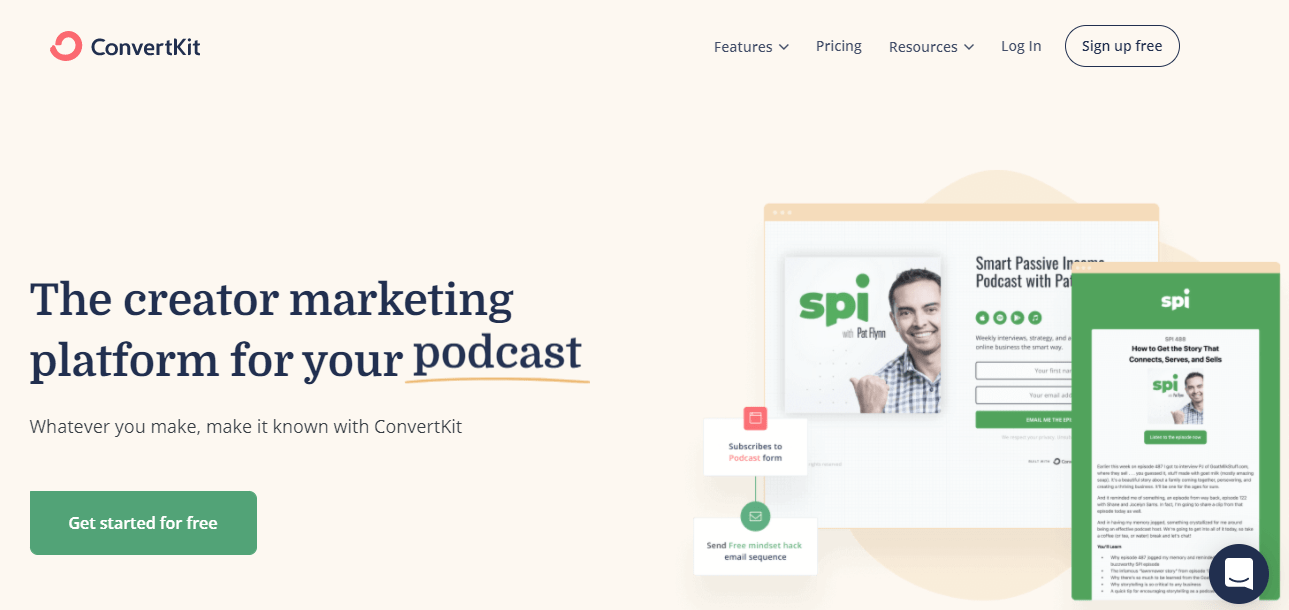 What if you're seeking for an email service provider that also happens to be a landing page builder at the exact same time? Convertkit is the best option. It is a robust email service provider as well as a landing page creator.
ConvertKit is an email marketing tool that is geared toward bloggers and e-commerce entrepreneurs. There is a free trial version of their program available for 14 days.
Key Features
A free landing page builder with fully adjustable templates
Email sign up forms with responsive templates
Integrations with tools you use for your business example Shopify
Easy to use email automation tool
The email designer helps you send basic yet appealing emails
You can schedule emails
The metrics feature enables you to know if your emails were received from your subscribers.
The user-interface design is sleek and intuitive.
Using tags and segments to group your email list subscribers is really helpful.
The customer service is excellent
Convertkit Plans and Pricing
Free and premium versions of ConvertKit are also available. The price of ConvertKit is determined by the number of subscribers you have, just like most email marketing tools. There's also a 30-day money-back guaratee.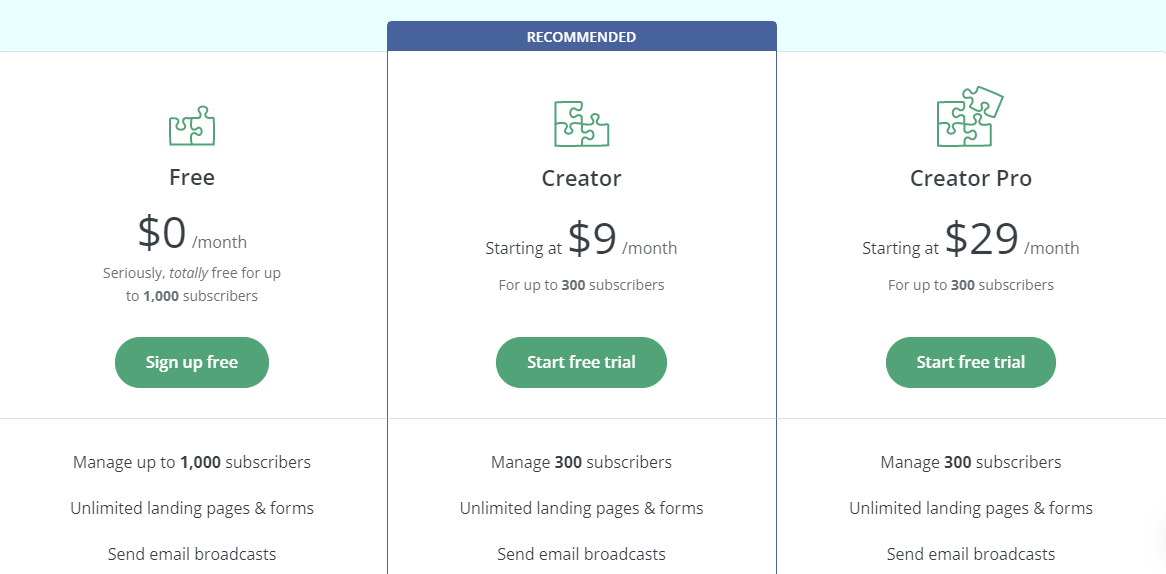 ConvertKit is not for those looking to create visually appealing emails. Its email editor is extremely simple, with only a few templates available. As a way to enhance engagement, ConvertKit recommends that its customers send plain-text emails to their contacts.
To serve your audience regularly, there isn't a better tool for creators looking for simplicity.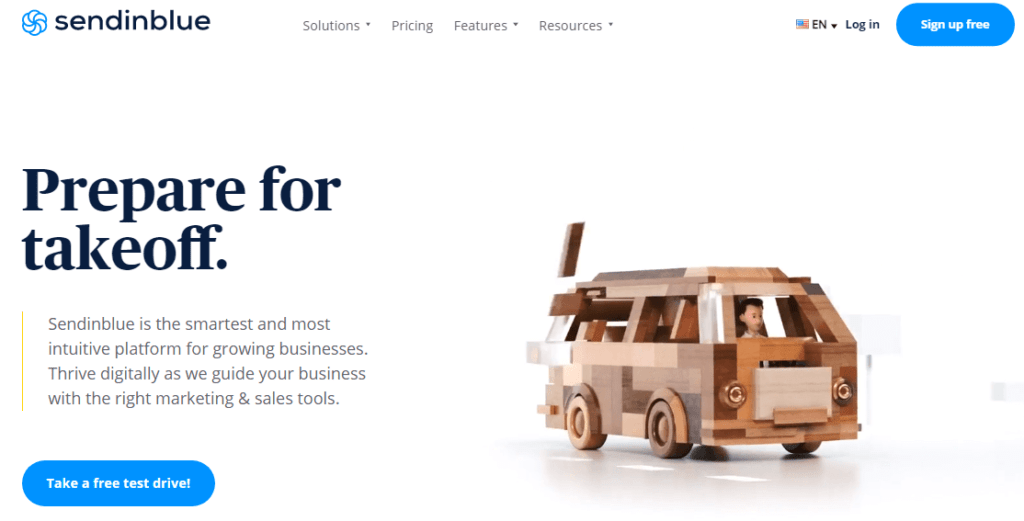 If you're interested in running efficient campaigns in an automatic, seamless manner, Sendinblue is a terrific solution to help you. It's an all-in-one digital marketing tool. Beautiful and very engaging emails may be created with ease using this platform's outstanding features. For those new to email marketing, the editor's basic drag-and-drop functionality is ideal.
As an expert in email marketing, I can attest to Sendinblue's ability to provide nearly everything a business needs to run a successful email program.
Key Features
A wide range of automation and integration options are available.
Reporting in Real-Time
Facebook Ads
Customers relationship management tools
Transactional email marketing tools
SMS marketing tools
Marketing Automation
Chat tools – Instantly respond to clients that have a query while visiting your site.
Landing pages
Sign up forms
It has an official WordPress plugin
There is a free plan for up to 300 emails per day
Drag and drop email editor
Pricing Plans
The following image summarizes the cost and the maximum number of emails per plan. The free plan allows you to try out the tool risk-free and decide if you like it. Then, if necessary, you may subscribe to a paid subscription and benefit from extra features as well as increased transmit volume.
In the free plan, you can send up to 300 emails per day which is sufficient for beginners.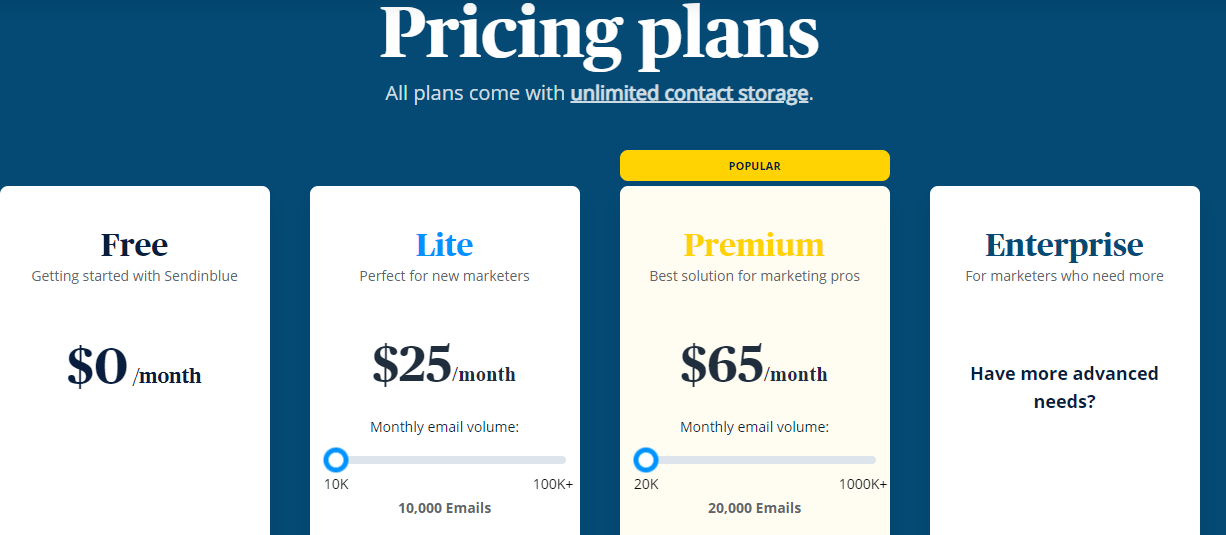 Sendinblue includes everything you'd expect: you can construct and send an email to your list of contacts. There is a user-friendly graphic interface or email builder that simplifies the process of creating your emails. The only con is the initial account setup process might be time-consuming.
It's a terrific tool for marketers and business owners to have at their disposal.

It goes without saying that if you're looking to get started in email marketing, Mailchimp is a must-have. Mailchimp is a well-known e-mail marketing service provider in the global marketplace. This software's analytics, sophisticated automation, and straightforward pricing are some of my favorites.
Many platforms, including WordPress, and Shopify, allow you to effortlessly connect MailChimp.
To get started, sign up for their free account, which allows you to send up to 10, 000 emails to 2000 subscribers each month. This is great news for individuals and small startups.
Key Features
Drag and drop design tools
Email list segmentation by geolocation
Social Media Integration
Email automation
 Sign-up forms
24/7 email and live chat support included in paid plans
Auto-Responders
150-plus social media and third-party app integrations
Collaboration Tools
Campaign Analytics
Landing Pages
Detailed reports
Spam filter diagnostics
Pricing and Plans
Mailchimp offers four pricing tiers: free, Essential ($9.99/month), Standard ($14.99/month), and Premium ($299/month). The Essential tier is the most affordable, while the Standard and Premium tiers are the most expensive.

Mailchimp includes all of the contemporary tools you'll need to operate a successful email marketing campaign. It's an All-in-One Marketing Platform that allows you to run multiple marketing campaigns, develop landing pages for campaigns, manage contacts, tag contacts for certain campaigns, and more all from one platform.
Affiliate marketers should avoid MailChimp at all costs. MailChimp's Terms of Service explicitly forbid affiliate marketing. There are serious consequences, such as account cancellation, that are applicable.
GetResponse is more than just an email service provider. It's more of an all-in-one solution with an emphasis on automation. It's a robust email marketing tool with a simple user interface and eye-catching templates.
GetResponse is a great tool for online store owners because it integrates with popular systems like Magento and Shopify, which may help you increase sales.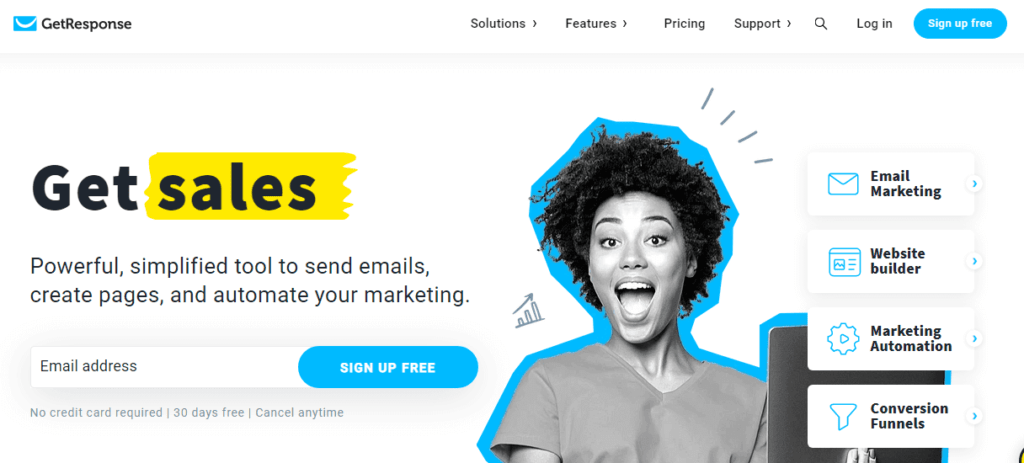 If you're running a small or medium business, Get Response is a cost-effective and feature-rich email marketing tool with plenty of features. These features will help you generate content, improve sales and launch effective marketing campaigns.
It's easy to create an email using one of the many pre-designed templates available, or you can start from scratch with a blank template and paste in your own HTML code.
Key Features
Flexible drag and drop editor
Landing page generation
Autoresponders
Marketing automation tools
Enhanced integration with e-commerce
Email templates
Email Analytics
Sign-up forms
Webinars
Conversion Funnels
Website builder
Live Chat
SMS Marketing
Web push notifications
Split testing of emails
Pricing and Plans
So, let's take a look at the pricing and plans offered by GetResponse.
GetResponse has four pricing tiers, each with a 30-day free trial. The Basic plan, which costs $15 a month and allows you to contact up to 1,000 subscribers, is the most affordable option. Plan upgrades get you access to more features.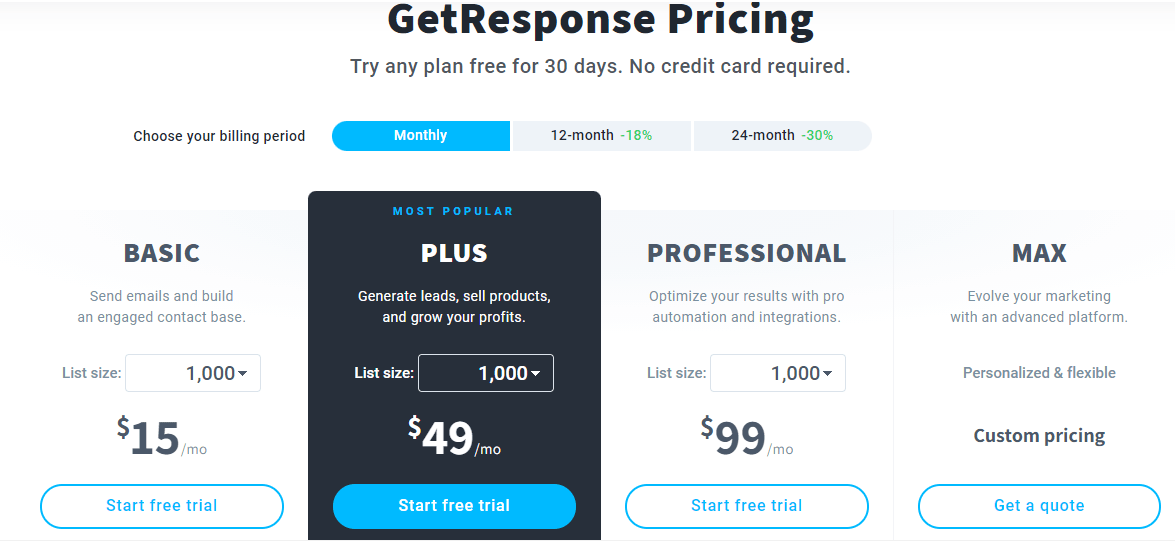 Getresponse features a free sign-up and allows you to send up to 500 emails per day on a free trial without providing credit card information. Because of its user-friendly features and simplicity, it's perfect for beginners.
Although you can test out GetResponse for 30 days risk-free, there is no free plan available from GetResponse.
HubSpot is a well-known CRM platform. In addition, it provides dependable yet cost-free email marketing products. You can generate emails that engage and increase your audience with the drag-and-and-drop email builder. You can create eye-catching email campaigns that look great on any screen size and they are a lot of ready-made templates to choose from.
Instead of relying on designers or IT to help you develop, personalize, and optimize your emails, you can do it yourself with HubSpot.
You can send up to 2,000 emails per month using the tool's free subscription, which is valid for the rest of your life. With time, you can upgrade to a more expensive tier, which will grant you access to even more features and perks.
Key Features
Simple drag-and-and-drop editor for creating template designs
Contact segmentation and lists
Customizable templates with pre-set objectives
Salesforce and HubSpot's sales CRM software integration
Email personalization
Transactional email
Post-send email analytics
Ecommerce emails
Social publishing and monitoring
Landing pages and forms
Live chat tools
A/B testing tool
Supports six languages
Pricing
Upgrade solutions start at $45 per month for the HubSpot email tool, which is free for up to 2,000 monthly emails sent.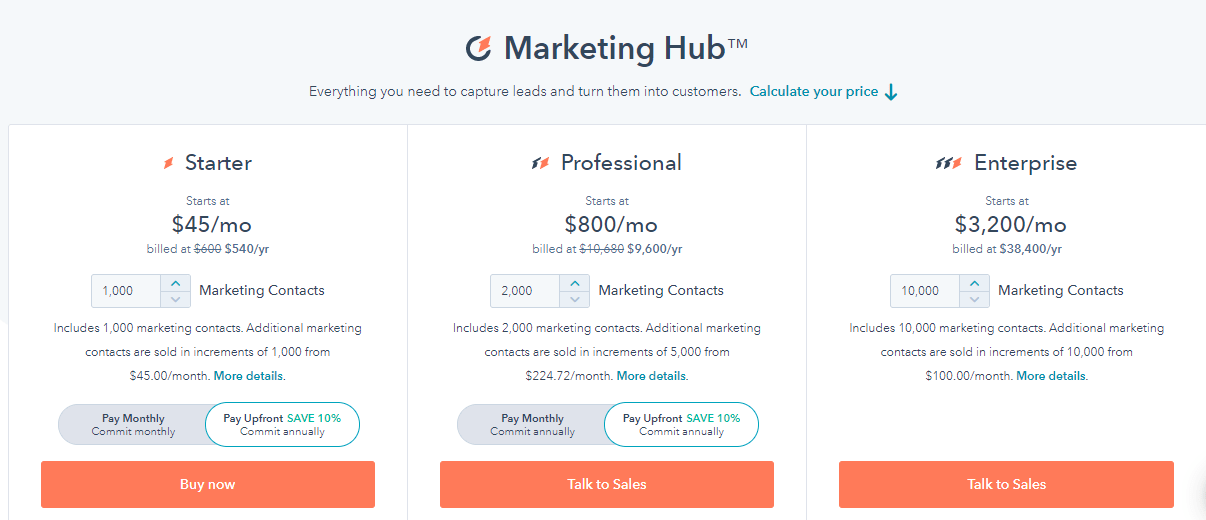 HubSpot's branding appears in emails, and only the most basic templates are accessible in the free version.
You can customize your marketing emails and manage more of your marketing from one place with HubSpot. HubSpot offers an all-in-one marketing platform.
Digital marketers, bloggers, and eCommerce merchants may all benefit from Drip's enterprise-level email marketing platform. You don't need any programming knowledge to run effective multi-channel marketing campaigns that increase sales with Drip.
With Drip, eCommerce is at the core of what they do. They aim to provide strong email marketing automation and segmentation tools for smaller, independent eCommerce firms that rival the larger established ones. Drip is ideal for established as well as eCommerce businesses in the early stages of growth who want to improve their email marketing.
One thing you should take note of is that no e-commerce store is required to use Drip to its full potential. Sending emails automatically is possible with Drip, as long as you specify the conditions.
Key Features
Ecommerce Integrations – Shopify, Magento, Woocommerce, and many more
Customer Tracking
Sign Up Forms
Email Segmentation
Autoresponder
Split Testing
Multi-Channel Marketing
Landing pages
Creating and Customizing Emails
Event-Triggered Actions
Reporting/Analytics
Mobile Optimized Emails
Drip Campaigns
Built-in SMS feature
A/B testing
Pricing and Plans
Pricing is based on the number of contacts or the size of your list. A similar set of features and advantages are included in each plan regardless of which one you choose.
Drip's entry-level service costs just $19 a month for a contact list of 500 people. Live chat and email support are included in each Drip package.
In order to evaluate Drip's service, they provide a 14-day free trial without requiring a credit card.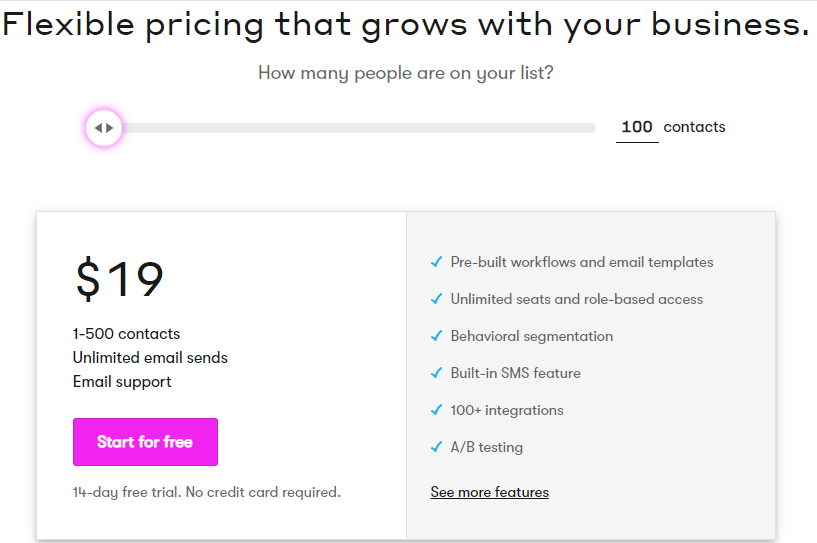 In spite of the customizable pricing options, Drip is still more expensive than the other alternatives available. Drip is still a good investment because it's a top-notch email automation platform.
Drip's sub-account feature is one more reason to use it. You simply need to setup sub-accounts for the websites you want to manage. Unless the total number of contacts exceeds your plan, you won't be charged an additional fee.
You've run your ads and amassed a large number of email addresses, but your return on investment remains disappointingly low. And you have no idea why! That's where DeBounce enters the picture. You may increase the quality of your email marketing lists by validating email addresses in bulk fast, correctly, and efficiently with the help of DeBounce.
The DeBounce service makes it easy to upload and validate email address lists.
Key Features
Bulk Email Verification
Verify email addresses
Email Deduplication
Mail Server Validation
Remove syntax error
Download the results you need
Email Deliverability Check
Reduce Bouncing of Emails
Pricing and Plans
The minimum is $10 for 5000 email verifications.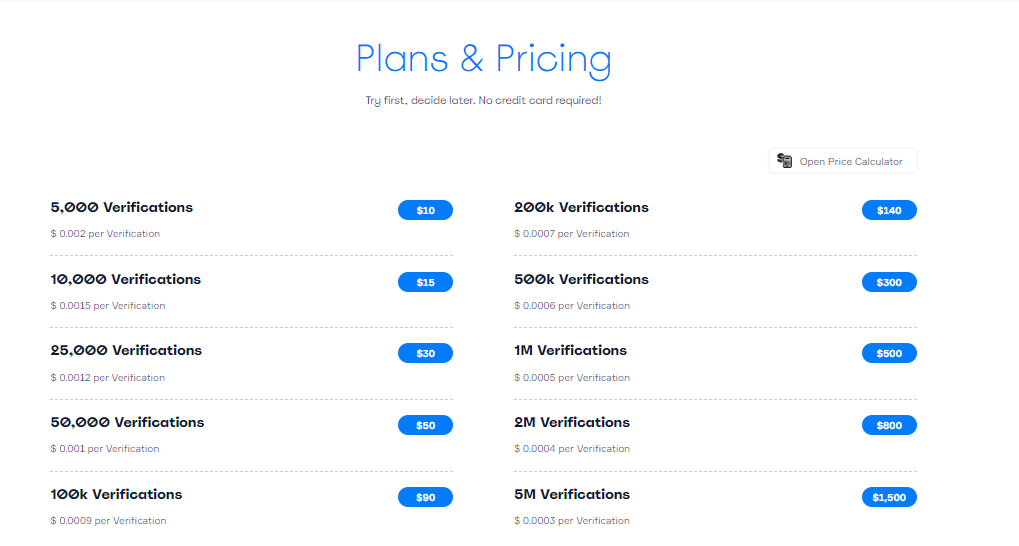 Using DeBounce to analyze your email list is a great idea. Email list cleaning, bounce reduction, and integration are all made easier with this tool! Third-party email marketing tools like Mailchimp and WordPress can all be integrated.
SaaS-based Debounce requires no software download or installation on the user's computer.
Hunter.io is a great email marketing tool for finding email addresses to reach out to potential customers and clients. Domain search is available, as are campaign features and email verification. The platform is used by entrepreneurs and freelancers to discover new clients.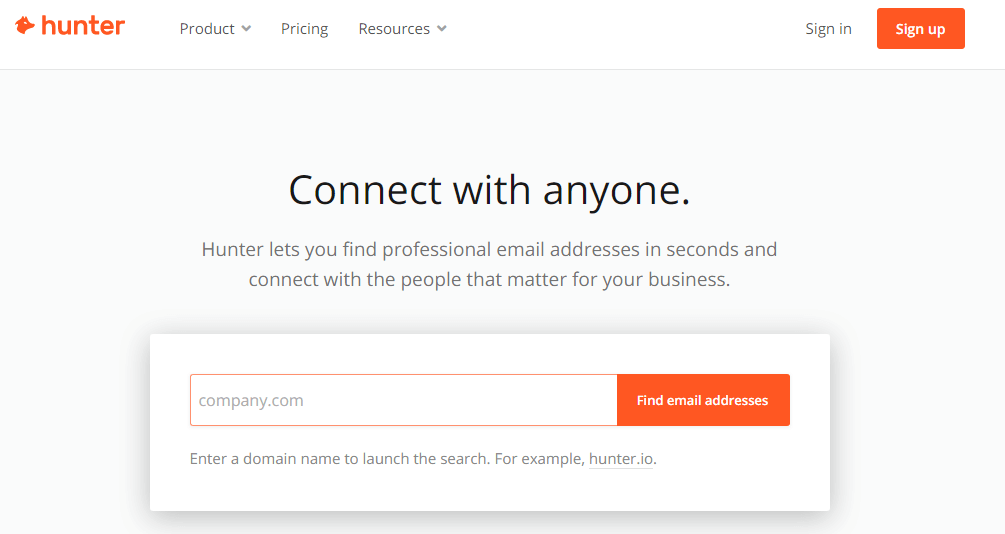 Pricing
The entry-level plan costs about $49 a month. This allows you to perform up to 1000 verifications and 500 searches per month.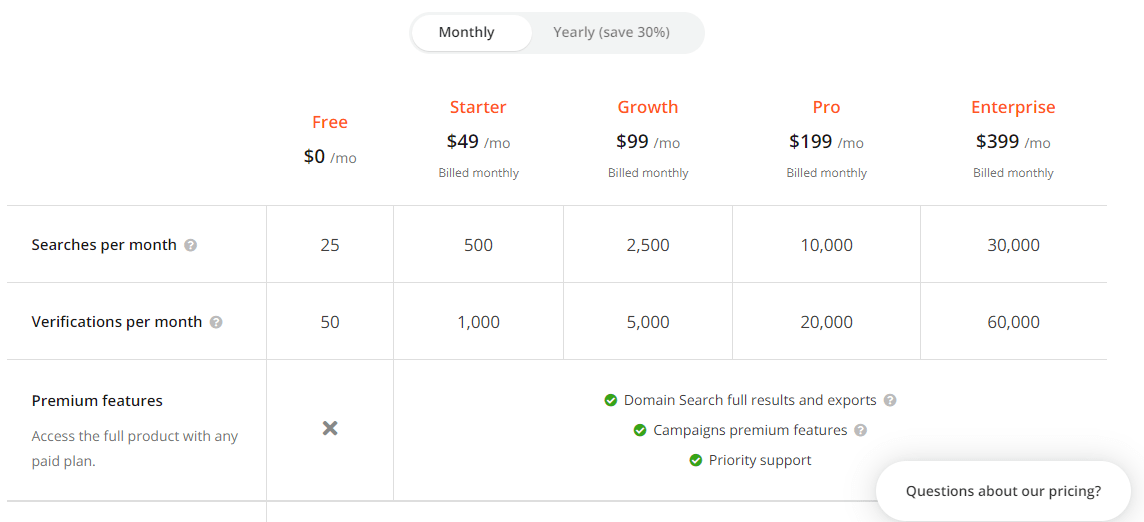 If you're looking for a tool that will make discovering professional email addresses a breeze, consider the Hunter.
In order to find an email address on the internet, we can use Hunter. The domain can be used to locate email addresses of employees of a specific business. We can export email addresses in a CSV file from Hunter's Chrome plugin.
The email marketing tool MailWizz may be deployed on your own server and used to design and manage all your email campaigns. Among its many benefits is the ability to manage subscribers from several websites all in one location.
With MailWizz, you won't have to worry about monthly expenses. Pay once, and you'll be set for the rest of your life.

Key Features
Quick access to support
Full and Accurate Reports
Monetization Feature
Easy user management
Create customer groups
Create as many delivery servers as possible
Support for many languages
Payment gateways
Auto-Responders
Drip Campaigns
Image Library
Mailing list management
Template Management
WYSIWYG Email Editor
CAN SPAM Compliance
Pricing and Plans
It only has two plans (Regular and Extended License which cost $79 and $295 respectively) with unlimited access and six months of free support.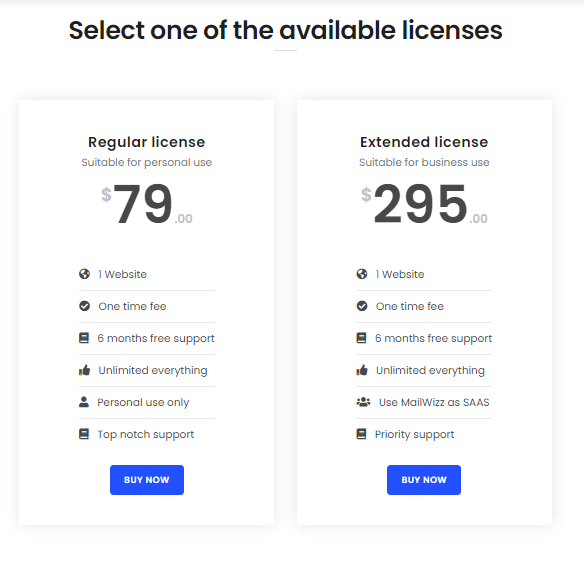 It's an excellent choice even if you're solely interested in doing email marketing campaigns of your own. And if you want to offer email marketing services with MailWizz, you may do so with a SaaS-based license, which includes numerous methods of payment.
Has Your Choice Been Made Regarding Your Email Marketing Tool?
Everything in this list has been carefully considered to ensure that it has something for everyone. There are a lot of robust capabilities included in most of these email marketing solutions that we've discussed above. To maximize the return on your investment, all you need to do is put them to good use.
What's your favorite email marketing tool, by the way? Comment below if you have any thoughts or ideas to share with me!
You can also check our article on the Top 10 Best Digital Marketing Tools