When you're away from home or traveling, or when your Wi-Fi connection is bad, you may wish to save a YouTube video to have access to it later. Millions of videos can be found on the YouTube platform. YouTube videos can be downloaded into a number of different formats, including MP4, FLV, AVI, MPEG, and so on. And if you need to transfer audio from YouTube, you can convert videos to MP3s.
As long as you are downloading a video for offline personal use, you should be fine with copyright law.
A third-party tool will be required if you wish to download a YouTube video to your computer or mobile device, and there are plenty of tools available that will allow you to do so.
Let's look at the different methods on how to Download YouTube videos.
How to Download YouTube Videos Using a Converter
The most straightforward approach to downloading YouTube videos is to utilize a video converter. Before you get started, choose the best available YouTube downloader. Of all the apps I've tried, 4K Video Downloader is the most reliable.
4K Video Downloader is the most popular option for downloading YouTube videos, and it offers the ability to record full playlists, extracting YouTube subtitles, and batch downloading. 4K Video Downloader is available on Windows, Mac, Android, and Linux.
Download full YouTube videos or simply get the audio using 4K Video Downloader. You should check out our guide to the best YouTube to MP3 converters if you'd like to convert any of the videos into an MP3.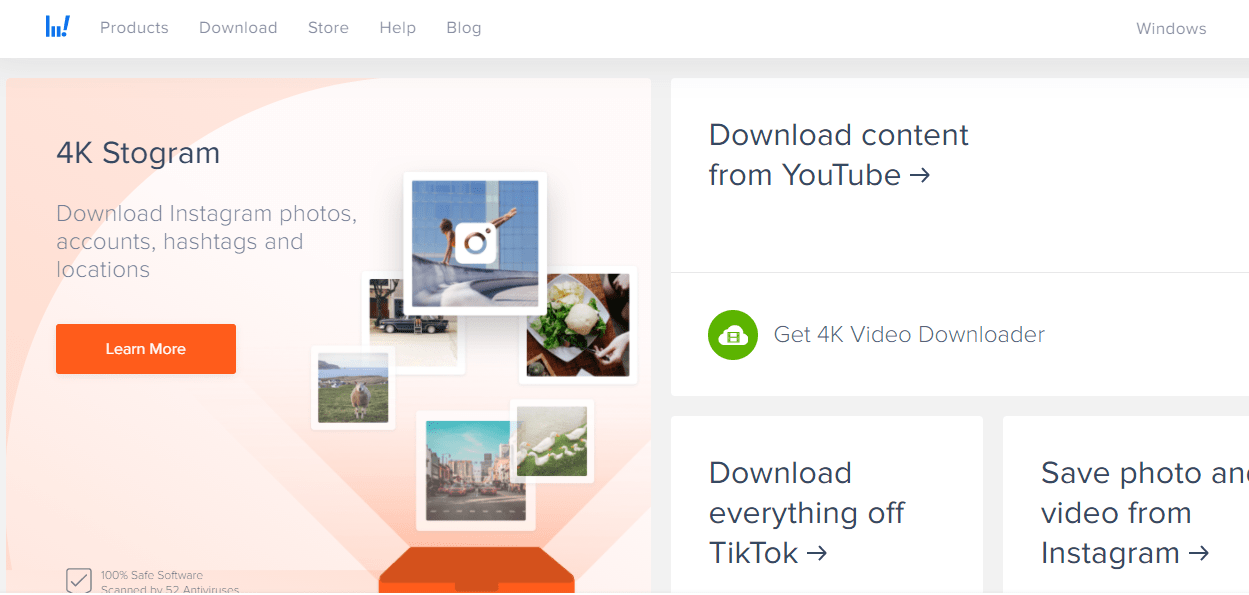 If you are shopping for such tools, be aware that there are different choices available and that there are free versions but the paid versions deliver better quality.
How to Download YouTube Videos using Browser
If you're looking to save YouTube videos on your laptop or desktop, you may do so for free by visiting a website where you simply enter the YouTube video's URL. There are countless sites like this.
There is only one step you must take: get on YouTube and open the video you wish to save. You can just copy the URL and open the tool in a new tab. After it opens, a text box will appear for you to enter the YouTube URL.
Below is a screenshot of SaveFrom where you can download the video. SaveFrom is free. You simply need to paste the URL in the text box and click on the 'Download' button
Installing the SaveFrom.net helper extension will enable you to download videos from YouTube in one click. You may download files from YouTube, Facebook, Vimeo, VK.com, and more than 40 other websites with a single click using the extension.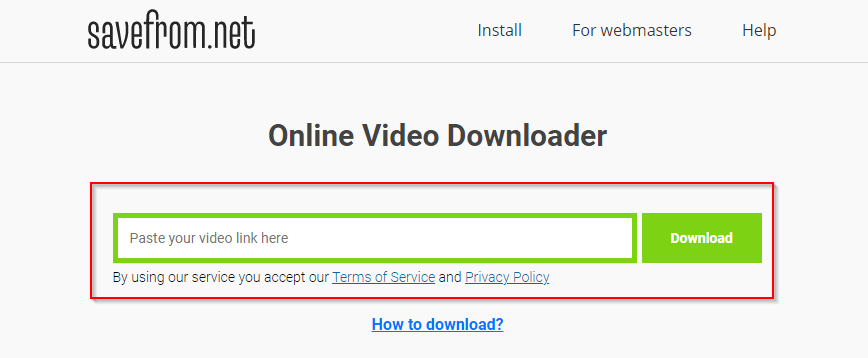 Another alternative YouTube downloader you can use is Y2mate. You may download any YouTube video in the highest quality with the aid of Y2mate YouTube Downloader. You can download YouTube videos in a variety of formats, including MP3, MP4, 3GP, M4A, and more. There is no need for registration, and it is free. It's possible to control your video download settings using y2mate, including the format, the quality, and the file size.

In general, using a website is easy and convenient, but you may not receive the level of quality or format you require.
Download Videos Directly From YouTube
No application or browser extension is required to download YouTube videos by employing the "ss" prefix. It's as simple as adding "ss" to the YouTube video URL. It's possible to use the "ss" YouTube videos download method in any browser and on any type of device, including Android, iPhone, and Windows.

A new page will be loaded, and you will be prompted to save the video there. That page is savefrom.net.
Another method is to type "pp" after the word "youtube" in the URL to download videos or convert them to mp3.

You will be directed to Y2mate.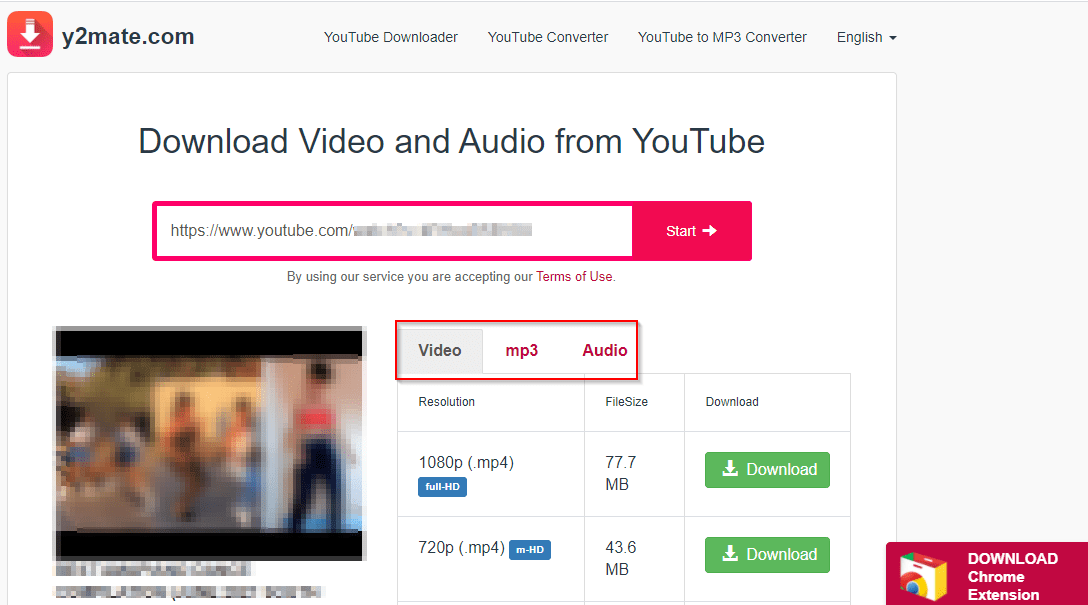 Another cool method is to type "vd" before the word "youtube" in the URL to download videos or convert them to mp3.

You will be directed to the VD YouTube page.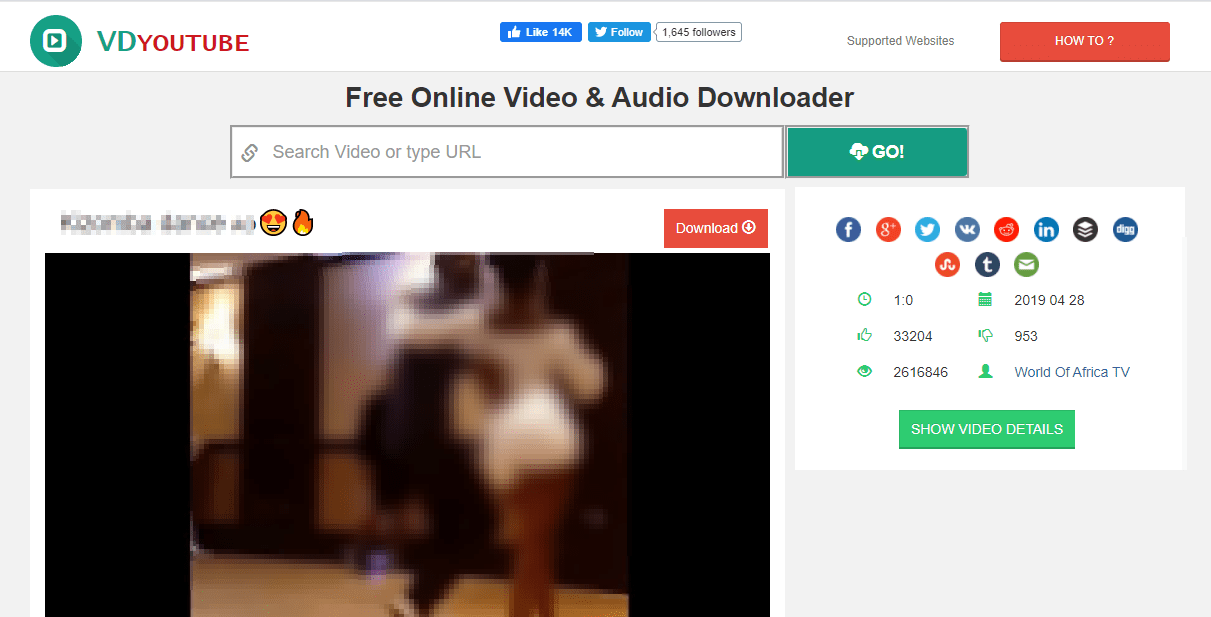 On the VDYouTube page, you can scroll down to pick the video quality and the video format. According to your needs.
Download using YouTube Premium
Subscribers to YouTube Premium are able to download videos easily. One thing that makes YouTube Premium great is that it includes an extensive list of awesome features. It can transfer videos to watch offline without any additional applications.
With YouTube Premium, you can download videos to your phone or tablet running either iOS or Android. After you've downloaded your videos to your phone or tablet, you can locate them in the library section by heading to Library > Downloads.
The cost of upgrading to the premium version is $11.99 per month.
How to Download YouTube Videos with Browser Extension or Add-on
There are some YouTube video downloader extensions for Chrome, Firefox, and other browsers to help you download YouTube videos on your computer. The ability to download YouTube videos using add-ons or extensions is supported by a number of browsers. This method does not require the installation of software to download YouTube videos.
Use Firefox Extension or add-on
We propose the add-on YouTube Download Plus for downloading YouTube videos using Firefox. Follow the steps below to install the add-on.
To install the add-on in Firefox, go YouTube Download Plus page and click on Add to Firefox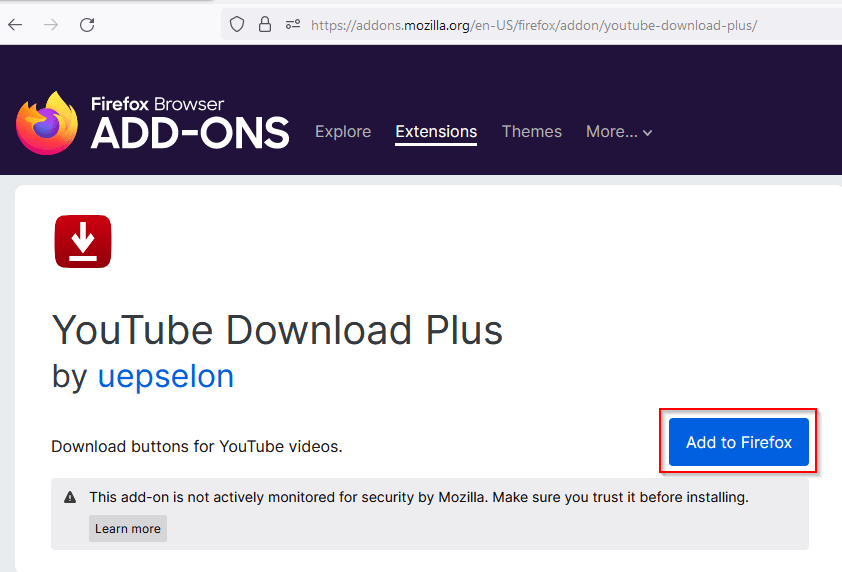 When your browser prompts you to confirm installation, press "Add."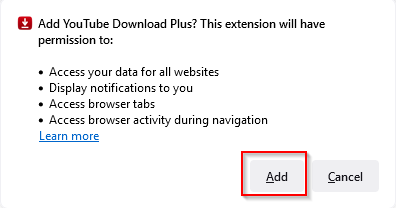 When you visit the page of a YouTube video, you will find a "Download" option below the video.

The red download arrow at the top-right corner of the Firefox window can also be used to save the video as an MP4 or MP3 file.

Use Chrome extensions
For Google Chrome, Video Downloader Addoncrop is our recommended download. To install this extension, proceed as follows.
Go to the Addoncrop page.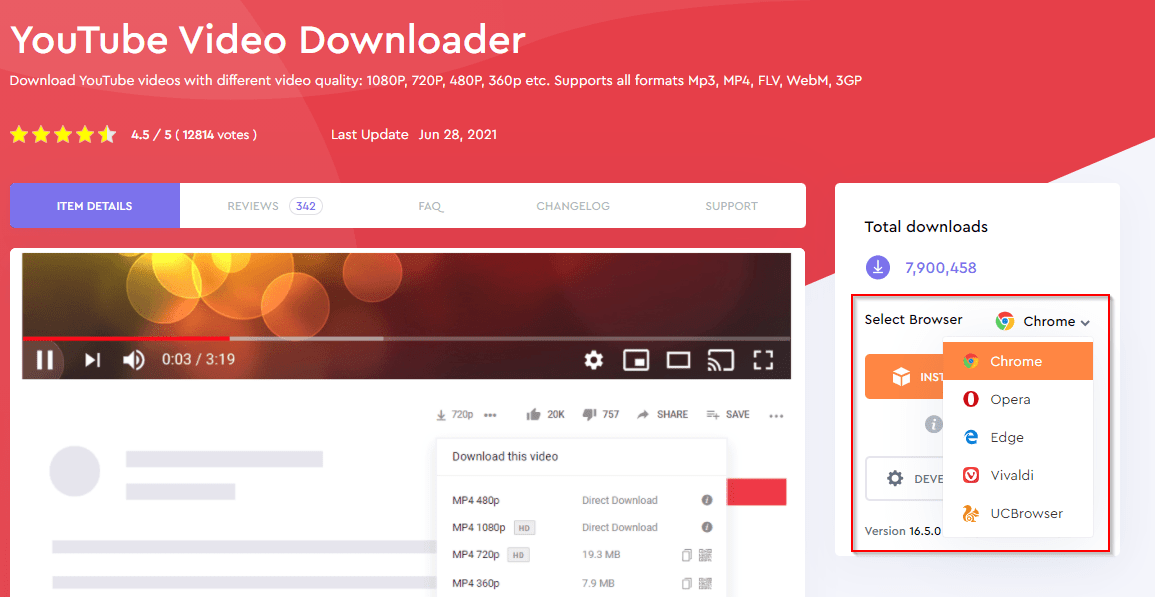 As you can see above the Addoncrop extension can be installed on Chrome, Opera, Microsoft Edge, Vivaldi, and UCBrowser.
Click on "INSTALL VIA CROSSPILOT" and you will be taken to the Chrome web store. Click on "Add to Chrome". 

In the new window click on "Add Extension".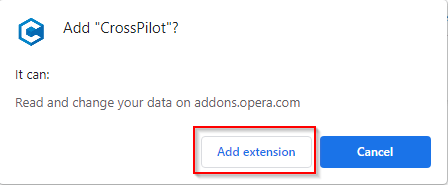 It will then ask to grant it permissions click on "Grant Permissions".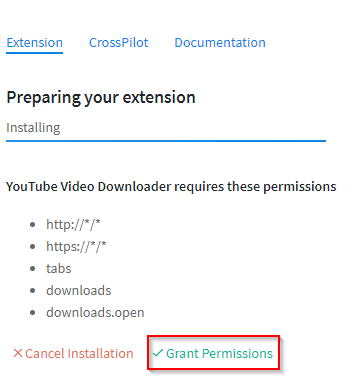 Congratulations! "YouTube Video Downloader" is now installed.
When you visit the page of a YouTube video, you will find a download option below the video.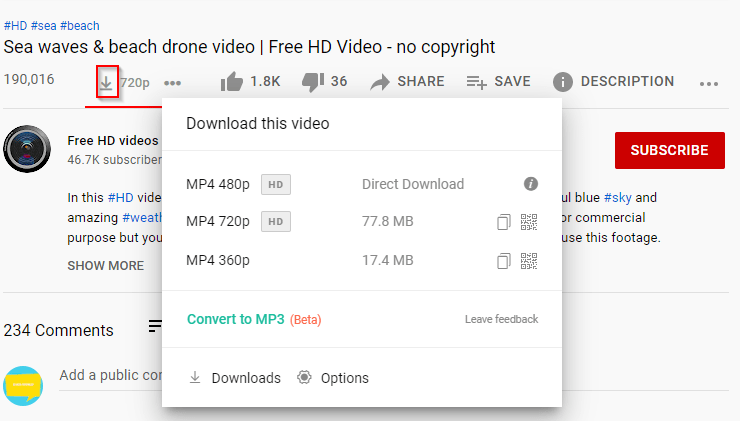 Use VLC Media Player?
The VLC media player is a free open source and widely used player for Windows PC and Mac OS. The utility is able to play all sorts of multimedia files. It can also download YouTube videos.
1. Copy the URL of the YouTube video you wish to download.
2. Open VLC media player
3. Click on the Media option and then choose the 'Open Network Stream' option.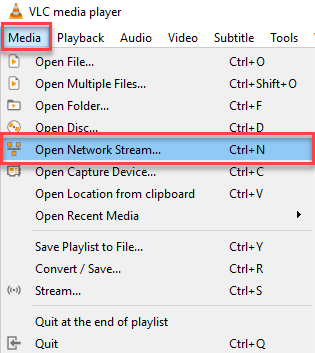 4. In the new window paste the URL and click on Play.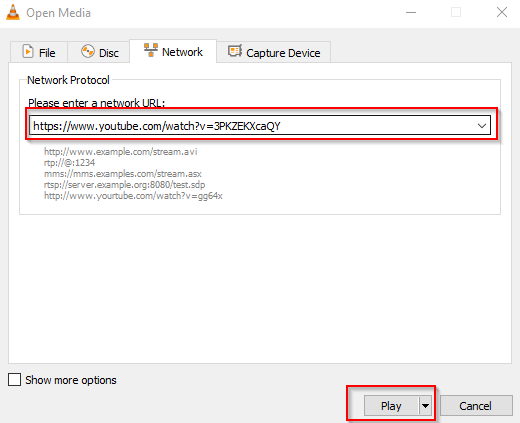 5. Go to Tools > Codec Information whilest the video is playing. A new window will open like the one shown below. Copy the URL from the location textbox at the bottom of the page.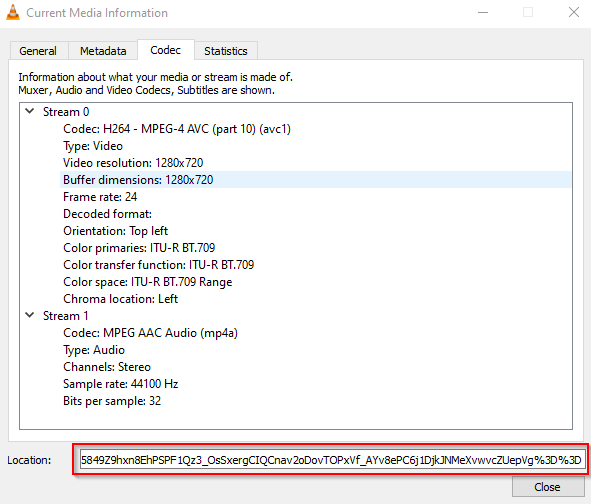 6. Open your browser and paste the URL the video will start playing. Right click on the video and then click on "Save video as…" to save the video on your computer.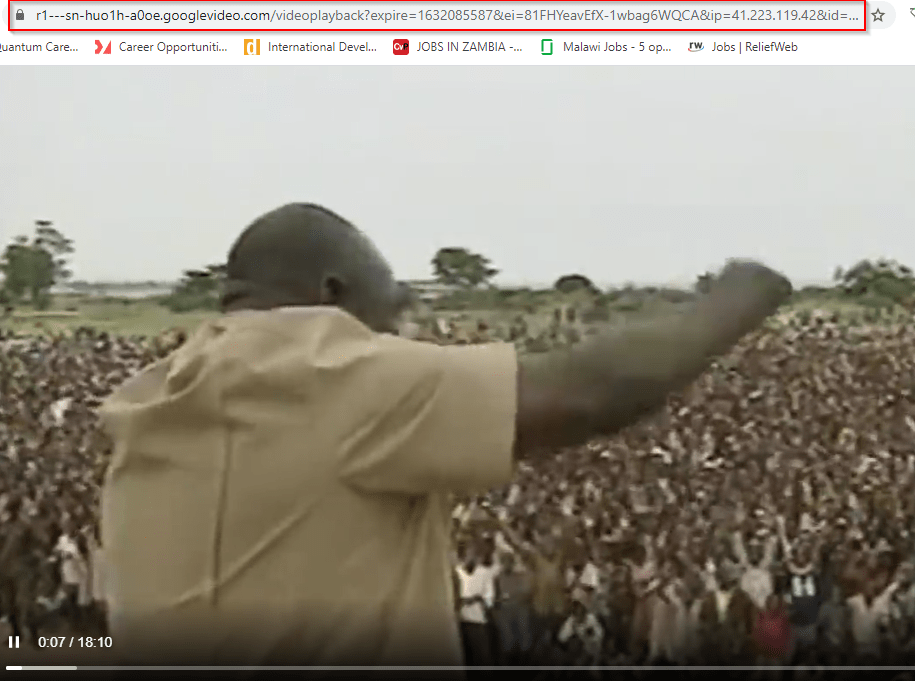 VLC Player will save the video file in 1080p resolution. It does not support any higher resolution storage and will not convert the video to another format.
How to Download YouTube Videos on Mobile
Using YouTube Premium on iPhone or iPad
While Apple's stringent policy keeps you from downloading YouTube videos on your iPhone or iPad. They are options like signing up for YouTube Premium. You can download videos, listen to ad-free videos, and enjoy music without commercials using the YouTube Premium subscription. The downside is that YouTube premium is only available in selected countries for now but more countries are being added to the list.
If you sign up for YouTube Premium, you can get a one-month free trial, after which you will have to pay £11.99 a month.
Using InsTube on Android Phones
InsTube is an Android software that you can use if you have an Android phone. This program is free and simplifies the downloading of videos into your mobile device. Download high-definition YouTube videos using the InsTube YouTube downloader. Videos can be downloaded from video sites such as YouTube in a variety of qualities,
Is Downloading YouTube Videos Legal?
Under YouTube's Terms of Service, the company clearly forbids the downloading of videos unless there is a download button or link available on the particular video. You also may not download or duplicate any copyrighted YouTube videos.
Only use these YouTube downloader tools to download personal films or videos under Creative Commons licenses.
For details on how to watch and use YouTube videos in compliance with copyright law, check out Google's FAQs on Copyright and Fair Use on YouTube
You are generally in the clear if you download a video for personal offline usage.
Summary
They are various YouTube video download methods. For the finest video quality and as well as MP3 conversion, my recommendation is 4K Video Download. Keep your videos with you wherever you are, at any time, and especially offline. All you have to do is copy the link from your web browser and then paste it into the app. Done!