In less than a day, by following this tutorial, you will be able to earn thousands of dollars per month by starting a SAAS online business. we shall explain step by step how to start your own SAAS online business in this article.
What is a SAAS service?
Software As A Service or SAAS is an online service or online software that you pay for to use.  This does not mean you have to pay for every SAAS service, Gmail for example is one of the free SAAS services and Mailchimp.com shown below is a SAAS service that provides email marketing services that you pay for.
In the past few years, more and more companies have been turning to online operations in order to cut costs and increase productivity. In doing so, they prefer to use an IT infrastructure that is maintained by someone else instead of keeping it themselves or using their own staff members for maintenance purposes.
They typically do not have a large staff because their resources are limited by the type of product or service they offer.
The good news is that today, there are many companies that provide SAAS services and most of them charge relatively affordable plans to their customers, who do not need costly hardware and trained employees for maintenance purposes.
Advantages and disadvantages of SAAS Services
Working with an on-demand company has both advantages and disadvantages. First of all, they offer most features that standard software packages have, but access to them is delivered via the Internet instead of physically installing it on your computer hard drive.
All you need in order to use the program is an Internet connection. Furthermore, most providers offer flexible license agreements which allow you to pay monthly according to your needs (e.g., if your business requires more storage space you can pay more if it doesn't need much you will only pay for what is actually used).
On the other hand, because all features are available via the Internet, speed and access capacity depend on your connection. Also, for some services you might not be able to use certain features offline.
This problem has been solved though by many companies that offer SAAS service software that allows working with documents even without an online link (or at least enables users to work with them offline and then synchronize the changes with the SAAS provider's server when they get back online).
So there are many advantages of using this type of business model. However, one should also be aware of potential problems before jumping to conclusion that this is necessary.
[rtoc_mokuji title="Table of Contents" heading="" list_h2_type="" list_h3_type="" display="" frame_design="" animation=""]
Other examples of SAAS Services

Another example is Microsoft Office 365, online software that offers Microsoft productivity applications such as Excel, Powerpoint, and Word. Like Mailchimp, Office 365 is an online service that you can pay for, so it's called a SAAS service.

It's now time for you to own a SAAS service, users will subscribe to your service and pay you monthly recurring fees.
Let's say you have 1000 clients using your SAAS service, and let's say it costs 10 dollars per month; that means you would get 10000 dollars every month!
After all the work is done you just need to sit back and relax then watch your passive earnings accumulate on your dashboard. It is such a fantastic and easy way to make money.
Where can you get a SAAS service?
I guess you are wondering how one can own a SAAS service or software?  The good news is that you don't need to be a programmer or an IT guru to develop one or learn how to code. You can easily purchase a SAAS software for as little as $30-$50.
So you can build an online business for as little as 40 dollars! The answer to that is a big YES.
You can buy SAAS software from a website called codecanyon. 
What is Codecanyon? CodeCanyon is an online marketplace that allows WordPress developers to share their work with the world.
Go to codecanyon.net and you can search any software for about $50 to  $30.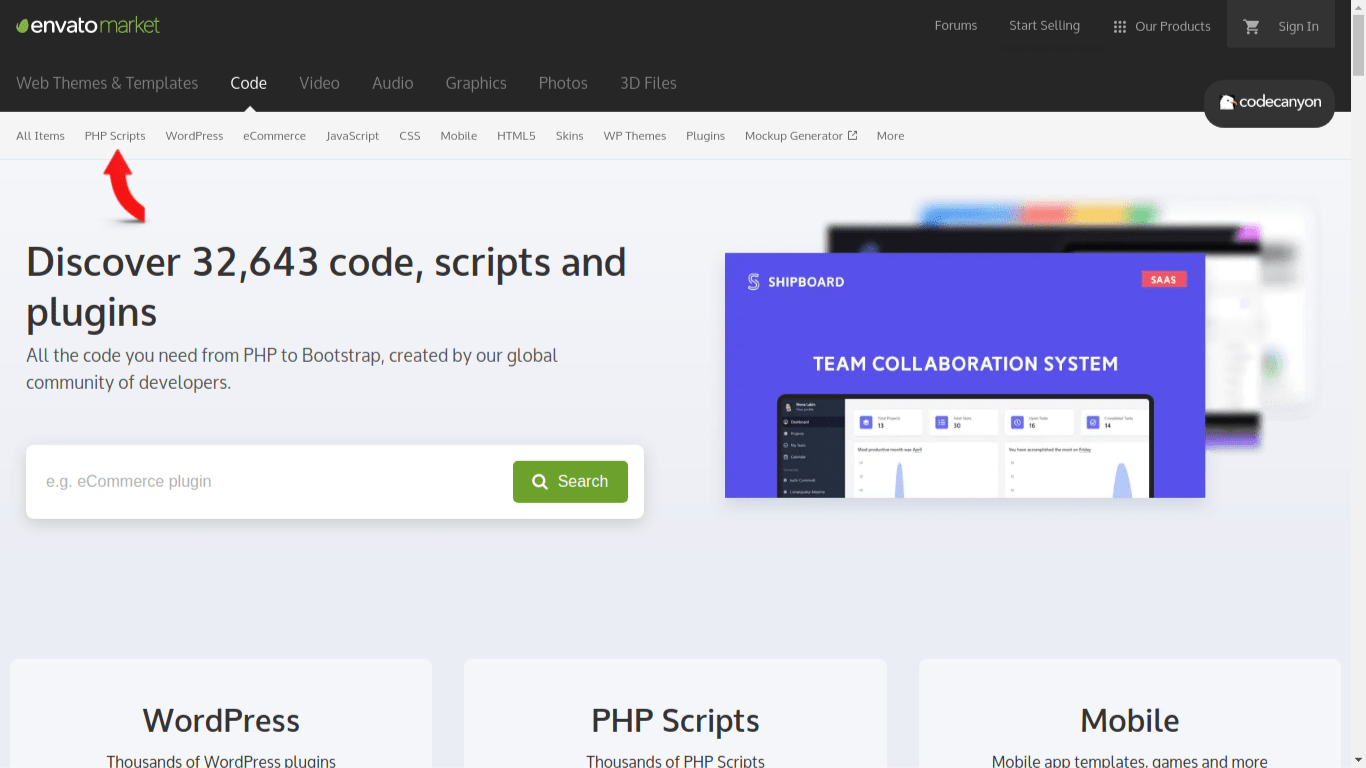 Click the PHP scripts section, then search for SAAS, and you will find a number of ready-made systems.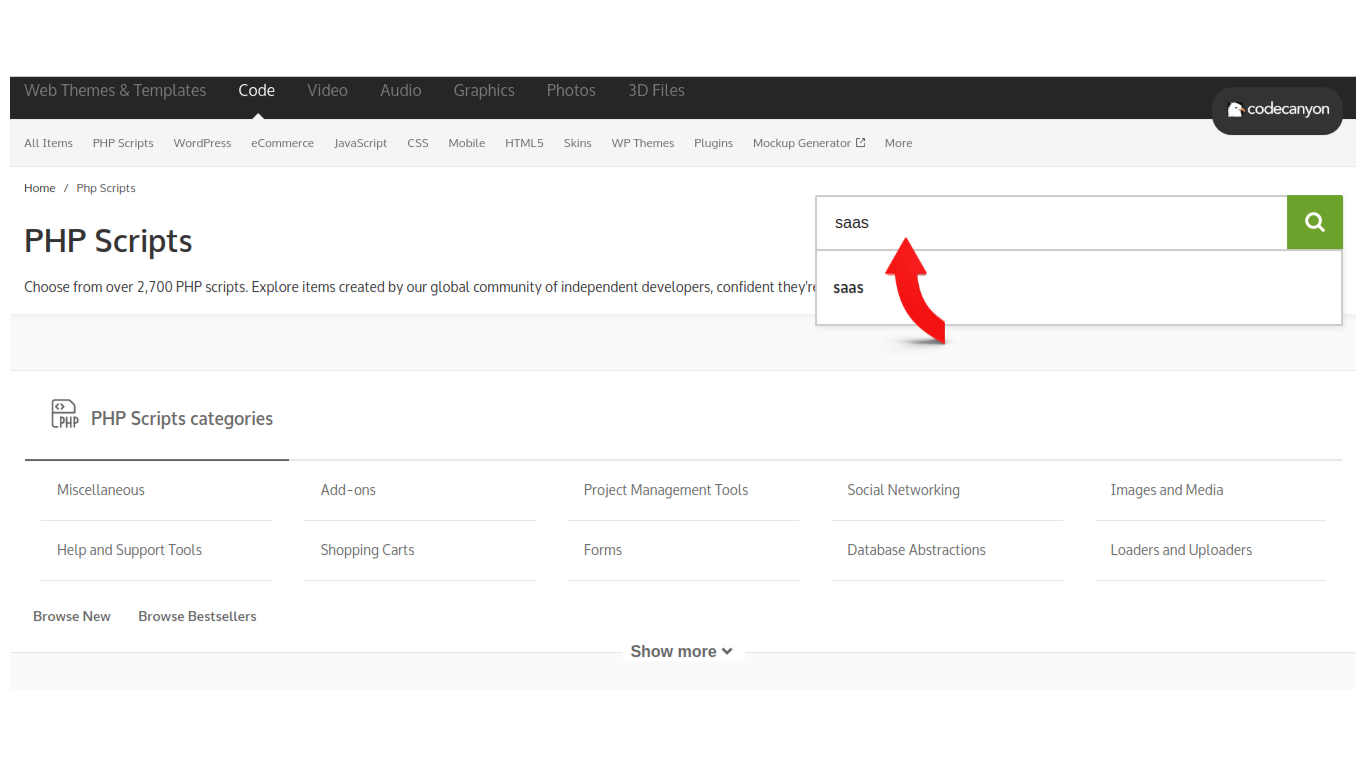 There are various price ranges, search and find SAAS services that you can afford, install on your server, and then own the business.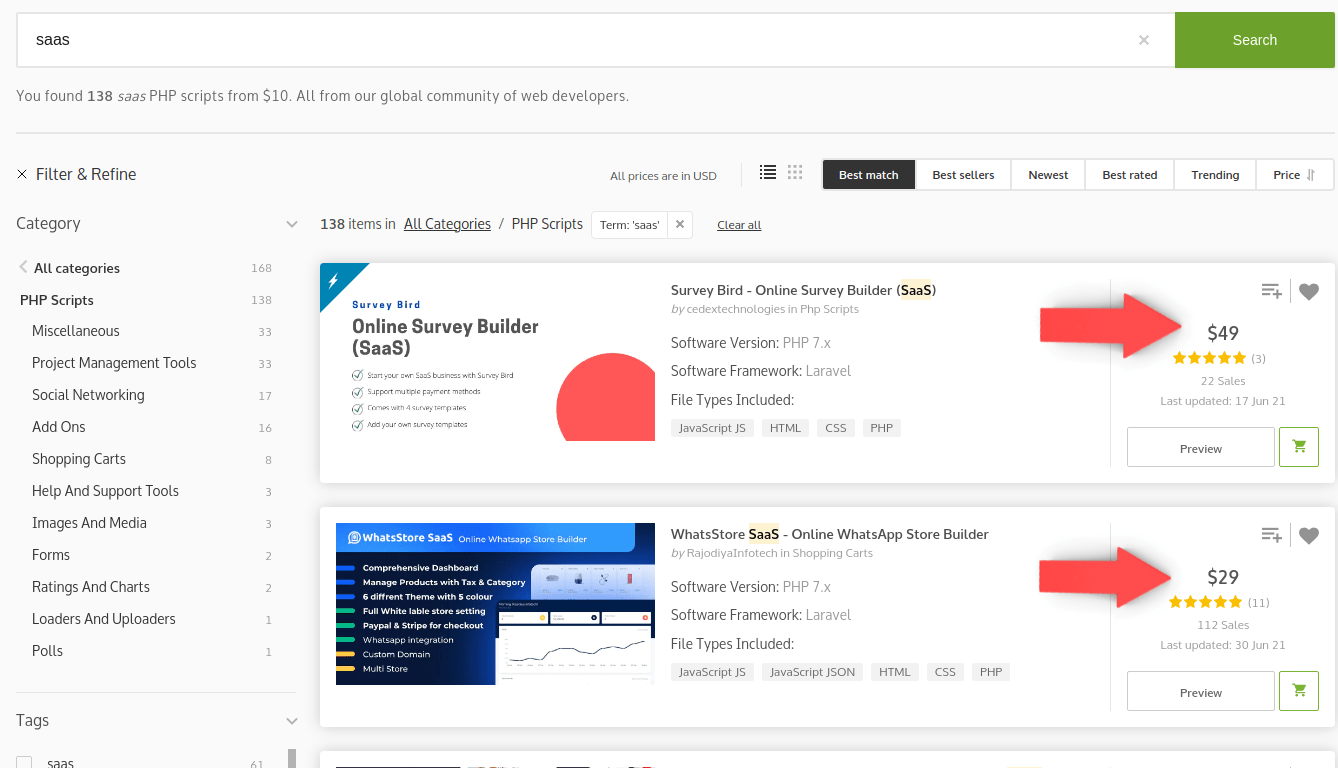 There are a number of SAAS software for sale. Some examples include employee management tools, billing tools, discount networks, accounting, and email marketing systems.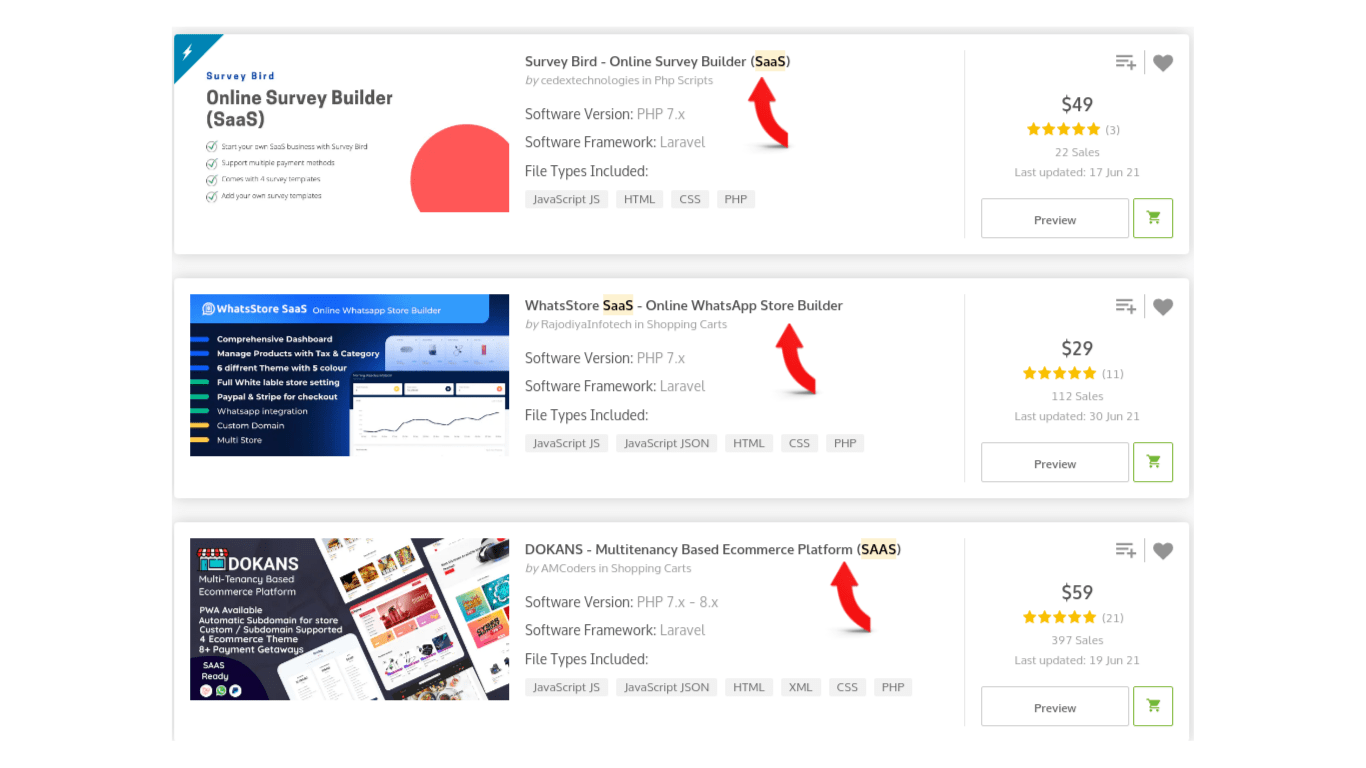 Take your time when searching for a service and select the one that you feel can be successful as well as suit your business.
How to Host Your SAAS Service
After purchasing your SAAS service, the next thing to do is to host the service and make it publicly accessible. So you need a server and domain name to host it online.
Well if you feel you do not have any technical skills and can't carry out all the necessary tasks. Check out this video which explains how to host any PHP script.
Getting Paid
So how do you get customers when the SAAS service is online and running. But before we get into this topic let's discuss how to get paid. How will people pay for the service?
Luckily, inside these applications. This is implemented automatically and most of these applications are PayPal ready.
So if you have a PayPal account you can integrate it into these applications and start getting paid!
One thing you should take note of is that if you want to get these services as well as get recurring payments, you have to pay around 200 dollars for an extended license.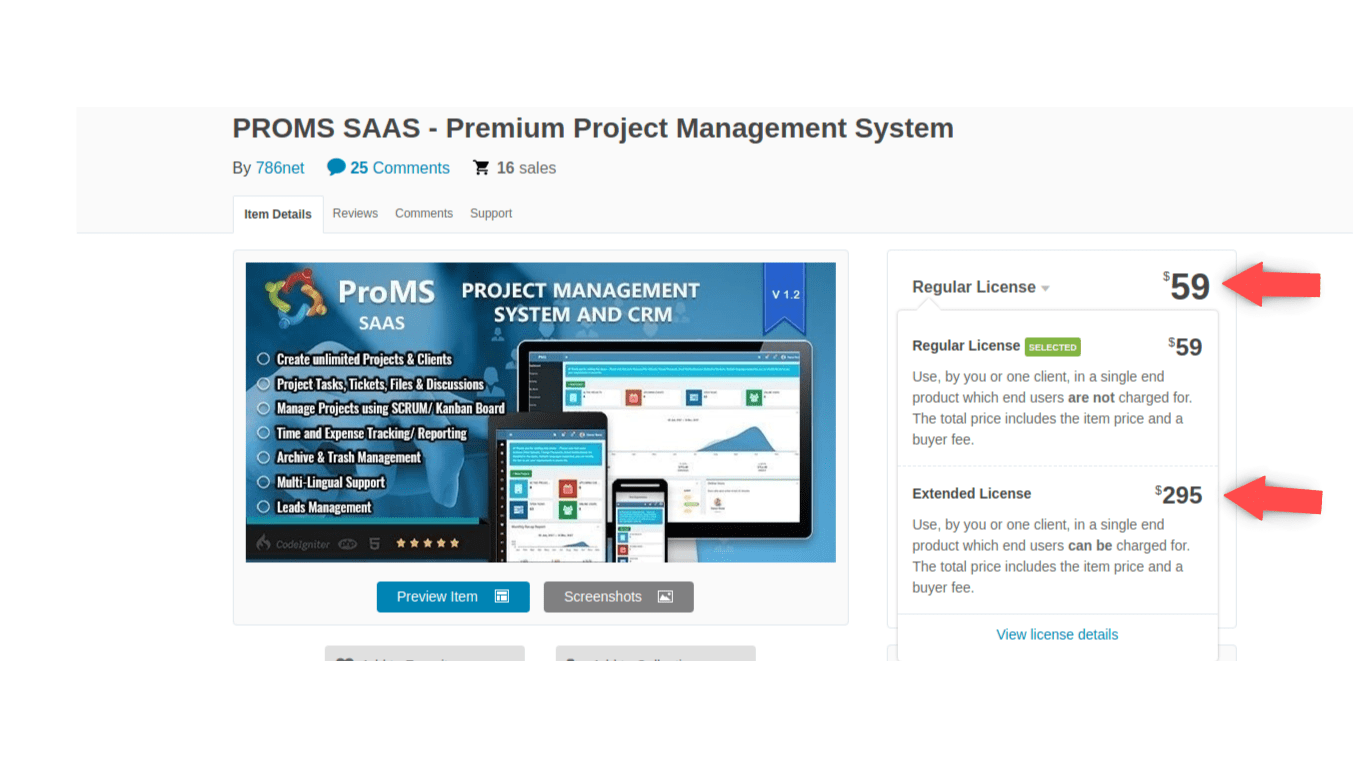 In the initial stages, you can handle this manually using Payoneer or PayPal. When you get 100 clients, you can afford to buy an extended license. This will enable you to start receiving recurring payments and automate your business fully.
SAAS Online Business Summary
To sum up, simply find and buy a service of your choice. Host the service, configure it, and make a free trial.
Then configure your payment, market your service, and sit back as you get your monthly recurring payments.
Take advantage of this online business strategy and we hope you dedicate the time to digital marketing.
Down below in the comments make sure to share your thoughts.