We use affiliate links. If you purchase something using one of these links, we may receive compensation or commission.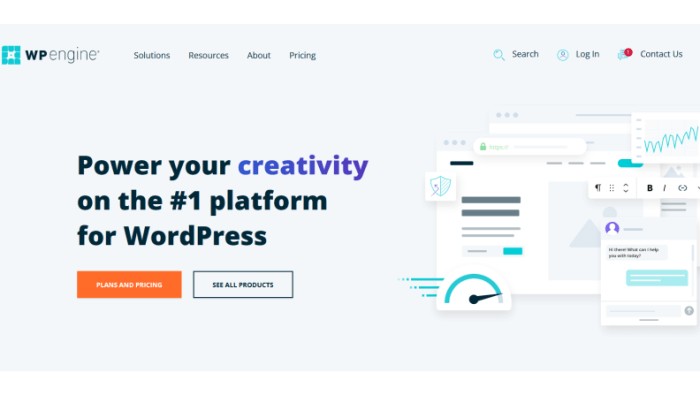 WP Engine is a managed WordPress hosting provider that offers a number of features and benefits for bloggers. In this WP Engine review, we will review the pros and cons of WP Engine so you can decide if it's right for your blog!
About WP Engine Managed WordPress Hosting
WP Engine is a managed WordPress hosting provider that was founded in 2010. The company has since grown to become one of the leading providers of WP hosting, and today they host over 1, 000,000 websites. WP Engine is different from other hosts because they focus exclusively on WordPress hosting. This means that they have developed features and tools specifically for WordPress bloggers.
WP Engine also uses its own infrastructure for WP hosting, which ensures speed and security. WP engine supports WordPress multisite networks, staging sites, large media libraries, WP caching with EverCache, EverCache is a built-in caching system. Create a secure site using SSL encryption with Let's Encrypt), up-time monitoring, and more. WP Engine offers WP hosting plans, like the Startup plan for small sites (up to 25K visits per month) and Professional and Enterprise plans for large WP sites. The WP engine pricing plans are competitively priced compared with other WP hosts offering similar features.
For Whom is WP Engine a Good Investment?
If you are looking for a WP hosting provider that offers speed and security along with excellent customer support, then WP Engine is the right choice. Their plans are competitively priced compared to other hosts offering similar features. If you have lots of multimedia content on your blog (audio, graphics, video), WP engine may be more expensive than some other providers but it is worth it. Additionally, if you are running a multisite network, WP Engine is a great option.
Hosting Plans and Prices
WP Engine offers hosting plans for WordPress blogs, including Startup plan (for small WP sites), Professional plan (best for mid-sized WP sites up to 75K visits per month), and Growth plan (ideal for large websites with over 100K visitors). The WP engine pricing starts at $29/mo. There are no hidden fees or setup costs.
Let's take a short look at each of WP Engine's plans:
You receive 25,000 visitors per month, one website, 10 GB of storage, and 50 GB of bandwidth with this tier. Additionally, you'll have access to a global CDN as well as an SSL certificate.
Available features
24/7 support
10 premium themes
Free automated migrations
Daily backups
Free SSL and SSH
One-click staging site
As many as 75,000 visitors a month can be accommodated on this Plan. Also included is 15 GB of storage space.
Available features
24/7 support
10 premium themes
Free automated migrations
Daily backups
Free SSL and SSH
One-click staging site
The Growth managed hosting package allows you to set up as many as ten WordPress websites. It offers 20GB of storage and 100,000 visitors each month.
Available features
24/7 support
10 premium themes
Free automated migrations
Daily backups
Free SSL and SSH
One-click staging site
The Scale plan comes with 30GB of storage and 30 WordPress installations. The ideal number of monthly visitors for your website is between 100,000 and 400,000.
Available features
24/7 support
10 premium themes
Free automated migrations
Daily backups
Free SSL and SSH
One-click staging site
The Custom plan is an option worth considering if your website or business is mission-critical. It is possible to get millions of monthly visitors with this plan.
Available features
Dedicated, high-availability architecture
99.99% uptime SLA
Easily scale resources
Advanced security
24/7 Premium dedicated support
Features Included With The Hosting Plan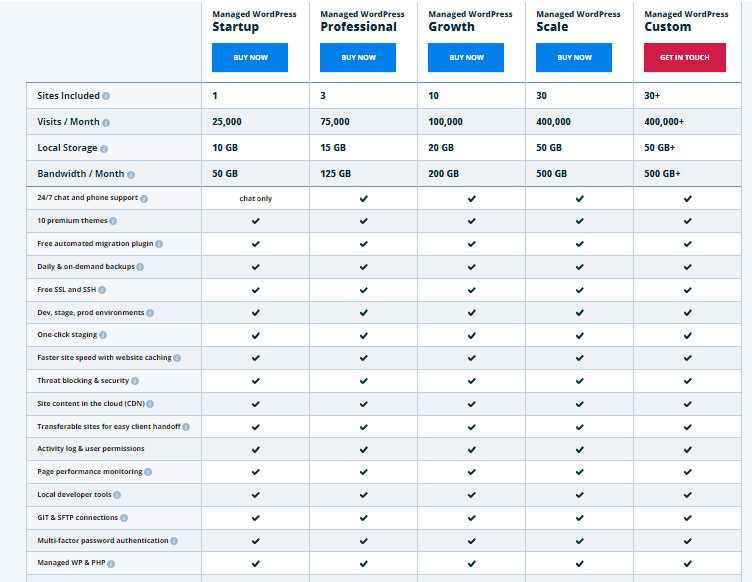 WP Engine customers receive a number of features and benefits with their hosting plans:
Powered by SSDs: WP engine uses solid-state drives (SSDs) that provide blazing fast performance for your WordPress website.
Caching Capabilities: You can improve the speed and efficiency of your site using caching capabilities such as Memcached, WP Rocket, and Varnish.
Secure Hosting: WP Engine helps you keep your website secure with features such as SSL encryption and automatic malware scanning and removal.
Automatic Backups: Your site is automatically backed up every day so that you can rest assured knowing your data is safe.
One-Click Staging Site: Use a staging site to test new themes, plugins, and changes before pushing them live to your main website.
24/07 Support: Get help from WP Engine's expert support team whenever you need it.
Money-Back Guarantee: If you're not happy with WP Engine for any reason, you can receive a full refund within the first 60 days.
Staging Environment: WP Engine's staging environment allows you to create a safe copy of your live WordPress site in order to test new updates before they go live. The result? You can minimize the chance of problems appearing on your website after an update, which means less time troubleshooting and more time for business goals. It also includes a development environment.
Transferable Site: A transferable site is one that you create and then give to a client who also has a WP Engine account.
The 60-Day Money-Back Guarantee: If you are not satisfied with any aspect of their service, they make it easy for you to request a refund. Their 60-day money-back guarantee gives you plenty of time to try their platform and see if it is the right fit for your needs.
Pros and Cons of WP Engine
There are a number of pros and cons to consider when deciding whether or not WP Engine is the right host for your WordPress website:
Pros
Fast, reliable performance
Secure hosting with features such as SSL encryption and malware scanning and removal
Automatic backups every day
One-click staging site to test new themes, plugins, and changes before pushing them live to your main website
Expert support available 24/07
WP Engine offers numerous data centers across the world so that your visitors can access your content depending on where they are located. This functionality can make all the difference during peak hours or unexpected traffic surges, allowing your server to handle more traffic. The server locations are the United States, Australia, Canada, Belgium, Taiwan, United Kingdom, and Germany
Well-optimized for usage with WordPress.
Cons
More expensive than some other managed WordPress hosting providers
They don't offer Email or Domain Hosting –  For domain registration and email accounts, you'll need to use third-party services.
Dedicated WordPress Hosting – Any content management system other than WordPress is out of the question. WordPress is the only platform that WP Engine supports.
What Are Some Good Alternatives to WP Engine?
Kinsta is a quality, affordable managed WordPress hosting provider with excellent customer service. They offer a wide range of features, including automatic daily backups, one-click staging sites, free SSL certificates, and malware scanning and removal. Checkout our in-depth Kinsta Review
Flywheel is another great managed WordPress host that caters specifically to designers and creative agencies. Their platform is built for speed and security, making it an ideal choice for high-traffic websites. Plus, they offer stellar customer support with 24/07 availability.
If you're looking for a more general-purpose host that also supports WordPress, we recommend checking out Bluehost or Namecheap. Both providers include unlimited storage space and bandwidth as well as a free domain name you sign up for. And if you ever need help, both Namecheap and Bluehost offer 24/07 customer support.
Read our reviews of Bluehost and Namecheap
WP Engine Frequently Asked Questions (FAQ)
Q. What kind of caching does WP Engine use?
Their proprietary caching solution is called EverCache which uses a combination of server-side and client-side caching techniques. This ensures that your website loads quickly no matter how much traffic it receives.
Q. Can you tell me more about WordPress?
A. Well, there is no one way to describe something that is so dynamic in its nature but we can explain some of its basic features: WordPress was created by Matt Mullenweg in 2003 as an open source content management system (CMS). It has since been upgraded and changed by thousands of contributors over time. The core software includes aspects such as blogging functionality and website layouts similar to what Tumblr and Google+ offer their users.
Q. Does WP Engine provide free WordPress website transfers?
A. WP Engine has an automated migration plugin that may migrate an existing site to their servers within 48 hours.
Q. Can I manage multiple WordPress sites on one account?
A. All WP Engine hosting plans offer multisite support except for the startup plan, but you can pay 20 dollars for an additional site to be added. Supports the usage of numerous domains on the same WordPress server. Since all of your WordPress sites will be managed from a single dashboard, you'll be able to log in and manage them all.
 Q. What makes managed WordPress hosting better than ordinary Shared or VPS Hosting?
 A. Ordinary Shared Hosting plans place a number of websites on the same server, which can lead to slower load times and performance issues if one or more of those sites are resource-intensive. VPS (Virtual Private Server) hosting is better than Shared Hosting but it can still be difficult to manage multiple WordPress installations without some technical knowledge. Managed WordPress Hosting providers like WP Engine take care of all the backend management for you, including website backups, security monitoring and updates, caching, and more. This leaves you free to focus on your content and business goals rather than worrying about the technical details of running your website.
Conclusion
WP Engine is a quality Managed WordPress Hosting provider. They offer the best features in the industry and their robust security measures will keep your website safe from hackers, malware or other online threats that can harm your business's bottom line.
Why should I choose WP Engine over another hosting company?
WP engine has been proven to have faster load times than its competitors which means more traffic for you! In addition, they provide an all-inclusive package of managed services such as automatic backups, updates and 24/07 support so you don't need any technical knowledge to get started with managing your site content yourself (just sign up and pick one of our packages). This leaves us with no doubt: go ahead and choose WP Engine for your next WordPress hosting project!