Hosting is a lucrative area for affiliate marketing because of the huge payouts. In fact, commissions of over $100 are not uncommon. Most individuals opt for WordPress as their platform of choice for creating a new website. About 37% of all websites on the internet use WordPress, and it's especially popular with novice bloggers.
Therefore if you have the ability to send customers to a web host that makes it simple for them to set up and manage a WordPress site. This will definitely help you close more sales.
To assist bloggers to achieve this and make money, Kinsta, one of the best WordPress Managed Hosting companies, has an affiliate program. You must be at least 18 years old to join the Kinsta affiliate program and have a fully functional website to promote Kinsta. To become an affiliate you don't have to be a customer of Kinsta.
Check out this article Kinsta Review: The Best Managed WordPress Hosting if you want to learn more about Kinsta
Let's take a closer look at the Kinsta affiliate program.
How to Join Kinsta affiliate program
Kinsta compensates its affiliates with a high rate of return. If you suggest a new customer to a certain plan, you might earn anything from $50 to $500 in commissions. In addition, Kinsta pays you an ongoing commission of 10% for as long as that person is a customer. Consequently, your revenue will continue to flow even if you don't get new clients. Affiliates receive their monthly payouts directly into their PayPal accounts, which are always processed on time.
Below are commissions you can earn from Kinsta depending on the plan:
| Plan | Price of Plan | Commision |
| --- | --- | --- |
| Starter | $30 | $50 |
| Pro | $60 | $100 |
| Business 1,2,3,4 | $100, $200, $300 & $400 | $150 |
| Enterprise 1,2,3,4 | $600, $900, $1200 & $1500 | $500 |
What are the steps to becoming an affiliate? To become a Kinsta affiliate, simply follow these simple steps.
1. Sign up to the Kinsta Affiliate Program
To begin, you must first create an account and wait for verification to be sent to your email. This is normally a simple and painless process to go through with. To get your payments, you'll need to enter your PayPal email address and basic personal information.

2. Create Affiliate Links
Create as many affiliate links as you want and publish them on your blog, e-newsletter, or social media accounts. You'll be compensated if someone clicks on the links and then purchases one of the plans offered. Tweak your efforts to focus on what gets the best results.
You can earn as much passive money as you like with the Kinsta affiliate program because there is no upper limit.
Users may not convert right away, therefore there is a 60-day tracking cookie in place to make sure you get credited for the sale when it occurs within the 60 days period.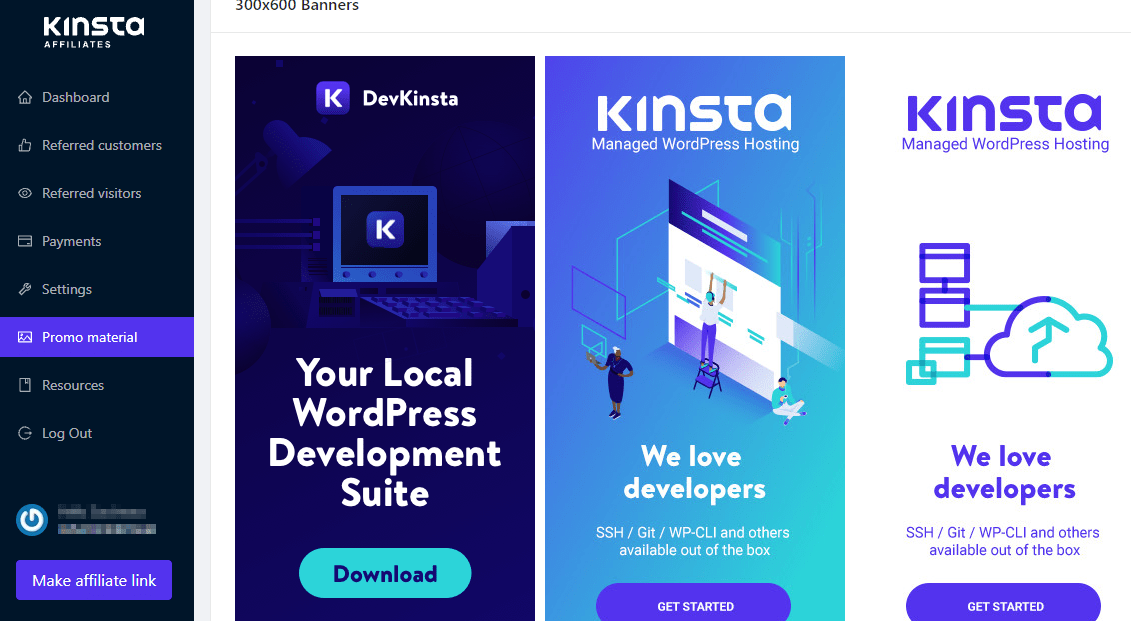 3. Payments
Your affiliate earnings will be sent to the PayPal email address you entered whenever you hit $50 in affiliate earnings.
Conclusion: Kinsta Affiliate Program Review
These are great web hosts with a lucrative affiliate scheme, so you're guaranteed to succeed. If you're interested in earning money online, I highly recommend checking out their program.
Join Kinsta's Affiliate Program