We use affiliate links. If you purchase something using one of these links, we may receive compensation or commission.
Among affiliate marketers and bloggers, Bluehost's affiliate program is one of the most popular. The Bluehost affiliate program offers a $65 minimum commission to reward you for referring their hosting services to your audience.
Each qualifying sign-up is $65.00. However, this is not all. Certain affiliates make $100 or even more for every successful sale. You may accomplish the same thing by constantly referring a large number of clients to Bluehost.
Bluehost will initiate payment once you have earned two referral credits. However, following the initial payment, there are no such restrictions and you will be compensated regardless of how many sales you make.
It is also worth noting that Bluehost is a renowned firm that provides the best hosting. Domain registration and SSL certificates are free and there is 24-hour assistance available to assist you with any issues that may arise during your blogging adventure.
It is entirely free to join and provides the most precise tracking system and superior affiliate assistance available. if you want to earn cash through the Bluehost affiliate program, it won't be a breeze, and it will likely be a long-term commitment.
That is why we have assembled this in-depth Bluehost Affiliate program review that encompasses everything you should be aware of. You should grasp the product's benefits, how to advertise it, and whether it will be profitable for you by the time you finish reading.
How to Join Bluehost Affiliate Program
It's easy to sign up for the Bluehost Affiliate program, and as previously mentioned, it's entirely free. If you are having any troubles, nevertheless, you can refer to this helpful guide:
Step 1: You just need to click here to become an affiliate for Bluehost. You will be directed to this website as soon as you click the link.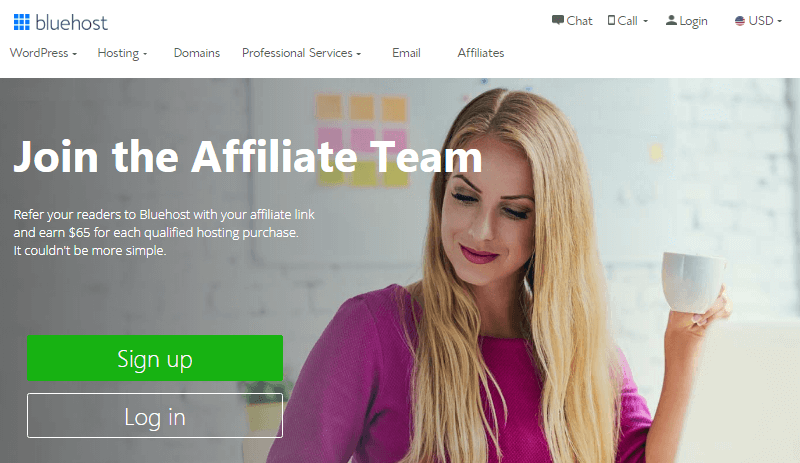 Step 2: In order to join their affiliate program, click the sign-up button and you will be sent to a sign-up form like the one below where you will be required to fill out affiliate login information, account information, and payment information.
Your PayPal details will also be required throughout the signup process since all transactions are handled through PayPal.
Afterward, click "I agree to the Affiliate Terms and Conditions" to confirm your agreement, and then click "Sign up."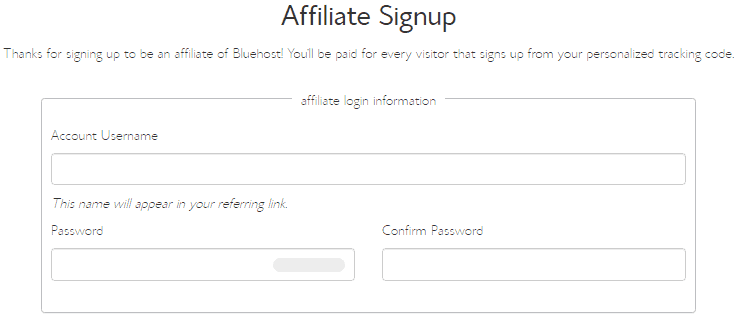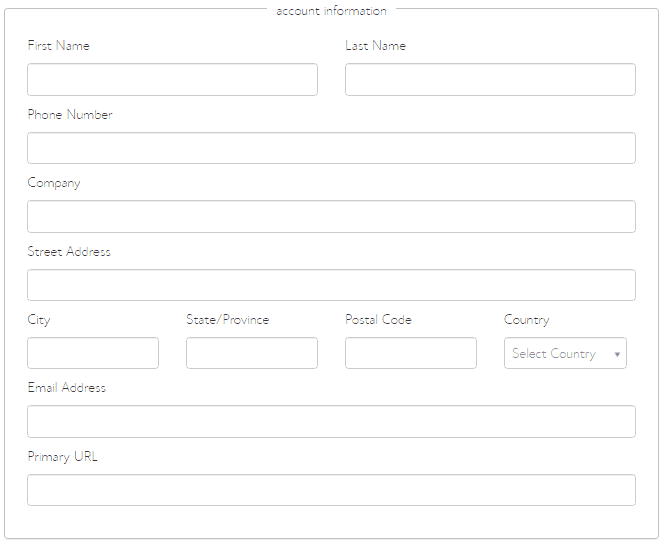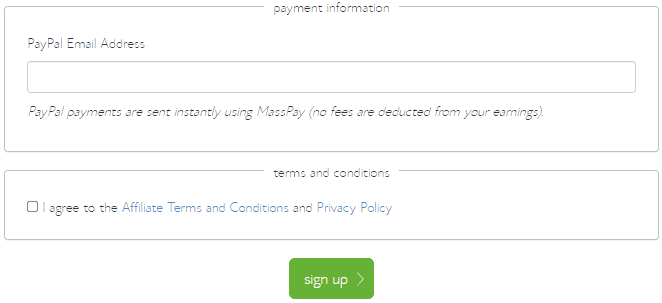 You'll have to wait for a while. There is a chance that it could take some time (usually 24 hours) before your application is approved by their internal team. Your website will be approved if it fits all of the advertisers' standards.
Until then, you can click over to the affiliate dashboard and enter your tax information on the affiliate dashboard.
Accessing Bluehost Affiliate Dashboard
After you have been accepted into the Bluehost affiliate program, you will receive an email containing your affiliate link and other helpful information.
To log in to the Bluehost affiliate site, go here.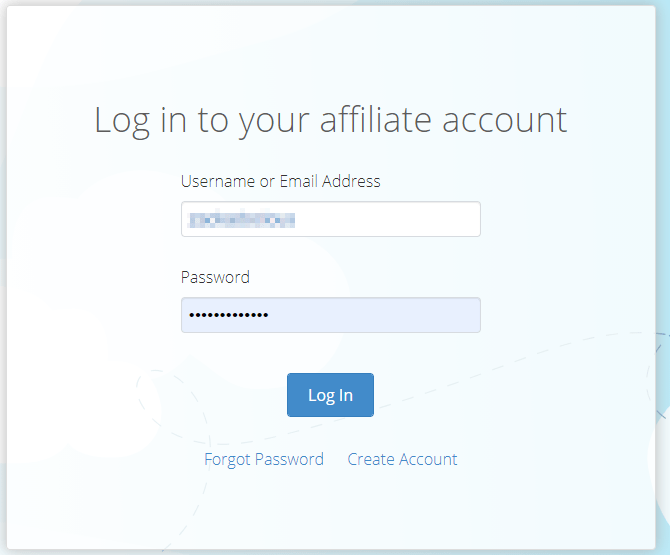 Type in your account details, such as username or email address, and the password to log in.
You will be able to access your Bluehost affiliate dashboard, which resembles the following screenshot: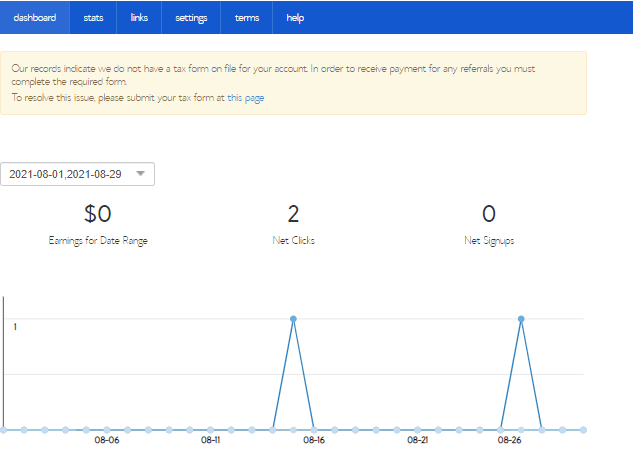 You will find the number of clicks and signups on the home page. Your affiliate history can be tracked by changing the date range to see current month statistics.
How Do I Get My Tracking Link?
Your tracking links can be accessed by going to the links area of your dashboard and clicking on the link.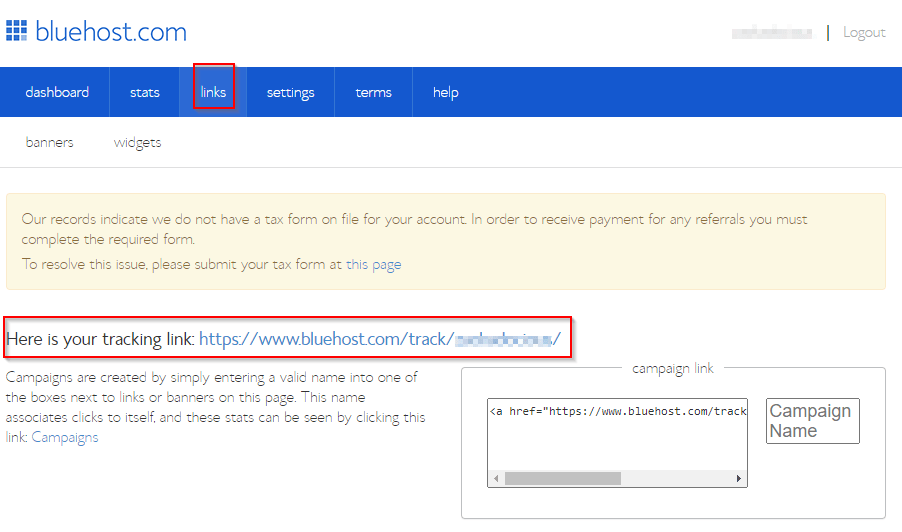 Your tracking link will be shown like in the screenshot above. In order to get a commission, all you need to do is include your link in your blog or in a suitable publication.
As soon as any customer makes a purchase using your affiliate link, you'll be eligible for a commission. That's all there is to it. Additionally, you will get to put some excellent banners on your blog to promote Bluehost.
Why Choose Bluehost Affiliate Program
There are almost 2 million websites that use Bluehost, making it the world's most popular web hosting company by far. In addition, WordPress promotes it to its users. In other words, the program must be a good one!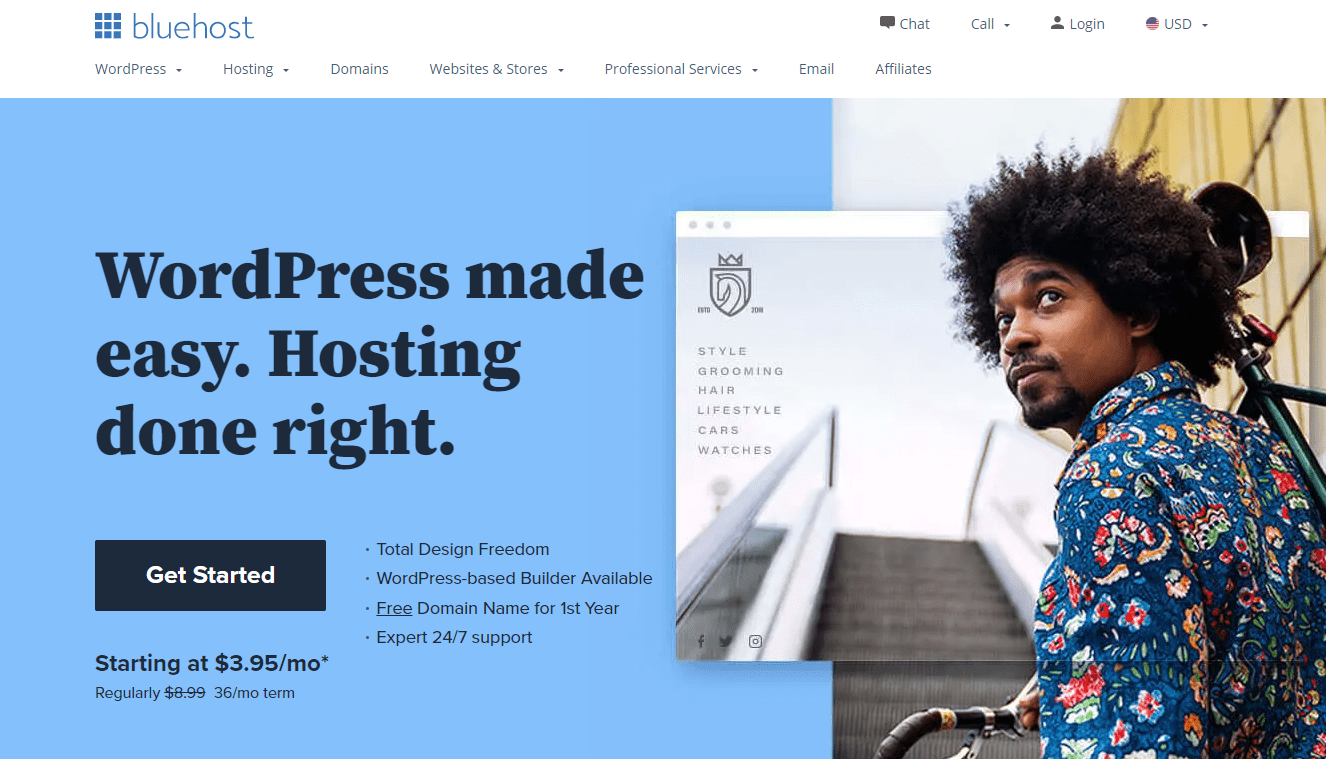 Bluehost Affiliate Program is easy to join
Affiliate programs are notoriously difficult to join, and many affiliate programs reject your application repeatedly. With the Bluehost affiliate program, this isn't the case. In only a few minutes, anyone can sign up to become a Bluehost affiliate.
The Program is Easy to Use
To begin, I propose that you try the Bluehost affiliate network, as it is very easy to join. You do not need to adhere to the same stringent standards as you would with other affiliate programs.
This is very good for the novice because it is easy to use and anyone can join the Bluehost affiliate program.
Large payout commission
Bluehost acknowledges its affiliates' hard work. For this reason, Bluehost gives its members generous commission deals. Each signup that qualifies for the Bluehost rewards program earns at least $65. For those who decide to become a Bluehost affiliate, they'll discover that they can make as many referrals as they like. There is no ceiling on commissions, which means you can earn as much as you possibly can.
There is no financial investment or risk.
You are not required to spend anything to join Bluehost's affiliate program. The minimal cost required is for hosting, and domain registration. And you don't even need a domain or hosting I will show you how you can still be able to earn money by promoting Bluehost in this article.
There are a lot of affiliate links available to advertise.
Bluehost's affiliate program provides text, banner, and widget links to use. There are numerous ways to market the Bluehost, and you can use any of them according to your approach.
In content, you can select to include text links, pick a banner ad to feature on your blog site, or add a widget to your sidebar.
How to Promote and Make Money with Bluehost Affiliate Program?
To generate more revenue through the Bluehost affiliate program, you must get people to purchase Bluehost's services by convincing them to do so.
So, how can you successfully obtain sales for Bluehost links with a targeted audience?
See the most successful methods to use to promote Bluehost affiliate links.
1. Setup a Blog using Bluehost
To maximize the sales of your Bluehost hosting services, it is important to educate your audience and improve the success of your efforts by starting a blog.
You'll have an easier time keeping track of your Bluehost dashboard, cPanel, features, and uptime if you host your blog on the Bluehost service. To add credibility to your online presence, you can also tell people that your blog is being hosted on Bluehost.
The good news is that Bluehost's pricing begins at just $3.95 per month, which means you don't have to invest much when you begin your site.
If you're looking for a lesson on how to get a website up and running with Bluehost, here is an easy step-by-step instruction.
2. Create a Well-Thought-Out Content Strategy
You can utilize your blog to refer potential Bluehost customers to Bluehost. This, however, is not as simple as it sounds.
To accomplish this, you must develop a content strategy and supply content to your audience on a consistent basis. A robust content marketing plan will greatly assist you in increasing revenues from web hosts such as Bluehost.
Which types of content do you need to generate to obtain the best results from your Bluehost promotions?
Effective Bluehost affiliate link-promoting content can be found in a variety of forms, including:
Writing a review for Bluehost
Create comparison posts between Bluehost and other hosting.
Write posts about offers or discounts.
Make Bluehost Video Reviews
3. Email Marketing
One of the most popular ways to earn money from a blog is to refer authentic and valuable products to your audience through email marketing. If you've developed an email list, you've gained readers who are committed to reading your content.
You can give your readers recommendations for products that help them and make their business thrive. Share your blog entries and videos on Bluehost with your readers by emailing them. Make sure to tell them about the latest Bluehost special offers and discounts.
4.

Create 

and P

ublish 

a R

esource P

age.
As a marketer, your objective is to increase sales while also educating potential clients. Add a Resources page to your website to accomplish this. Bloggers and website visitors alike love resource pages. Blog readers frequently want to know what tools the blogger uses and recommends. This page is dedicated to showcasing useful tools such as Bluehost, which you propose for usage by your visitors in setting up their website or blog.
Include your Bluehost affiliate link in the Bluehost description on this page. A Resource page is mostly found in the top navigation and has the ability to create extra clicks and affiliate revenue.
Check out the video below from "Affiliate Marketing Made Easy – Alston Godbolt" on How To Promote Bluehost Affiliate.
How to Make Money as a Bluehost Affiliate Without a Website
Most people advertise affiliate links on their website if it gets a lot of traffic. But do you really require a website or blog to promote your Bluehost affiliate links? Well, that is definitely not the case you can use Medium, Quora, or make youtube videos to promote your Bluehost affiliate links.
Create Content That Is Relevant for Medium
You can use Medium to post your articles with affiliate links. That's definitely great. But I don't encourage you to go overboard with affiliate links in your articles. Write high-quality articles that will give value to your readers.
You may promote your Bluehost affiliate links on Medium, which is a superb venue for publishing your work. Create material that's relevant to Bluehost. For instance, make
Tutorials on how to get your readers' websites up and running with Bluehost.
Comparative posts such as Bluehost versus Hostgator
In order to gain the trust of readers, the content you publish on Medium must be informative and truthful. Readers may not like being bombarded with your affiliate links. Medium is a place where you can make money with affiliate links if you publish your material while being careful about it. You should also create eye-catching Headlines
Adapt the Content for Quora
Boost your affiliate profits by getting traffic from Quora to your Medium articles about Bluehost. It's not simply a Q+A site, but a full-featured intelligent forum.
The only thing you'll need to do is repurpose your Medium article for Quora. It is completely free to receive referral traffic back to your Medium. Begin by creating a 'Quora Spaces for hosting your articles. Spaces are a great way to disseminate your own material while also improving off-page SEO by linking back to your Medium articles.
I'd like to offer a few strategies to gain momentum on Quora rapidly.
Make diverse material of all forms, such as articles, videos and infographics.
Provide readers with constant value on the platform.
Utilize Quora advertisements to effortlessly target your audience.
Respond to questions about Bluehost
Start earning affiliate commissions without a website. If so, use Medium. It's a great place to post affiliate material. But don't be overzealous in distributing your links.
YouTube
Regardless of whether you are aware of it or not, YouTube is the second-most-used search engine in the world, ranking just after Google. YouTube is a superb platform for creating tutorials and making sure you get lots of new visitors.
YouTube can be a very helpful promotional tool if you can create or record videos. For example in the comment section you can have a pinned comment with a shortened URL affiliate link. Including a brief description before inserting the link ensures that it does not appear spammy to viewers. You can also include an affiliate link in the video description.
How do I get paid for promoting BlueHost?
PayPal is the payment method used to receive payments from Bluehost affiliates. The minimum payout amount is one hundred dollars ($100). Once you have reached the minimum payout threshold (2 sales only since the minimum commission is $65), the money will be instantly transferred to your Paypal account for you. So make sure you have a paypal account if not check out this article How to Signup and Login to PayPal.
Summary of the Bluehost Affiliate Program
You too can earn money with the Bluehost affiliate program if you apply hard work, dedication, and a proper marketing strategy for your website or blog.
Use your expertise of Bluehost's tools to create a new blog and urge your visitors follow suit. A great many people go for Bluehost when they begin blogging.
Ready to make up to $65 per sale? Apply for the Bluehost affiliate program and launch your website today
Bluehost Affiliate FAQ
Can you be an affiliate without being a customer?
The affiliate program is open to everyone. You are not required to be a Bluehost customer.
Is there a minimum payout with Bluehost?
Bluehost has a $100 requirement for the first reward (just 2 purchases). There is no minimum compensation amount for affiliates, who will be paid out after the first payment is made.
How long till you receive payment for commissions?
After a purchase, Bluehost offers payment commissions to affiliates in 45-60 days. All payments from Bluehost are received by the last day of the month. Commission payments from April are likely to be distributed between the 16th and 30th of June.
How can someone become a Bluehost affiliate?
Anyone can apply to be a Bluehost affiliate.
How long do Bluehost affiliate tracking cookies stay in a visitor's browser?
Because Bluehost tracking cookies last 90 days, if someone clicks on your affiliate link and signs up within that time frame, you will get credit for the referral.
Where do I locate my banner and link?
You can locate your banner and affiliate links on your Affiliate Dashboard.
What are my promotion options?
You may share across all of your platforms! Content-based blog posts are recommended for the best conversions.
Am I permitted to market via social media?
Sharing your tracking link directly on social media is not recommended, since this will almost always result in a high volume of spam clicks, which will have a negative effect on your account.