We use affiliate links. If you purchase something using one of these links, we may receive compensation or commission.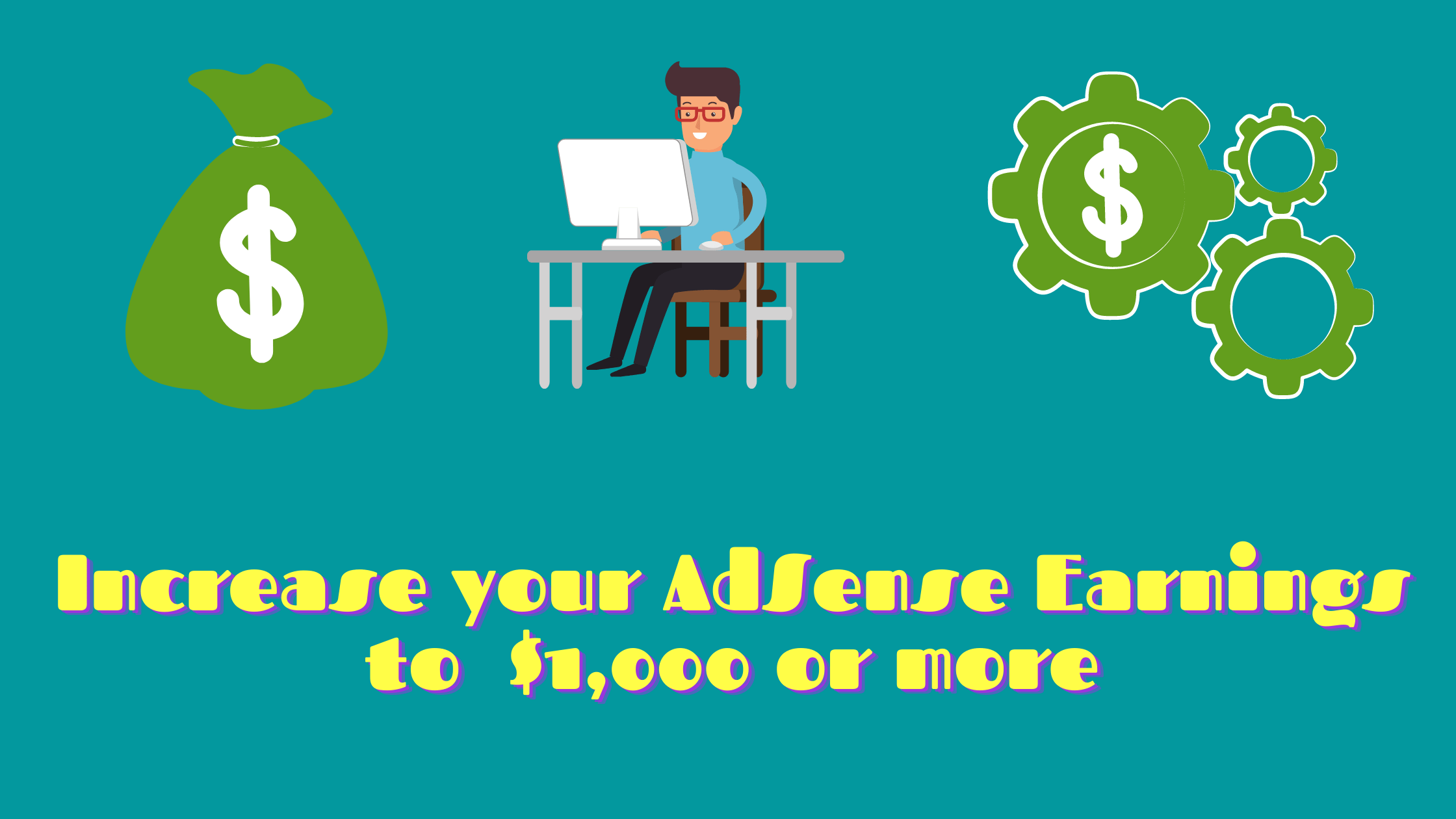 The fact that I can offer advice on how to make money blogging as a fellow blogger is beneficial. No matter how experienced you are as a blogger, you can benefit from what this article has to offer.
Most bloggers aspire to make over $1,000 per month through AdSense, but that goal is not always attained for many reasons, some of which will be discussed here.
A key factor in increasing AdSense earnings is knowing what works best for your specific target audience.
Let's jump in and look at how to increase your AdSense earnings.
Carefully Select Your Topic
It is imperative that you carefully select your blog's topic before implementing AdSense in order to make good money from it. When it comes to AdSense, I have found that topics like technology, loans, insurance, education, banking, health, and web hosting pay the best. In fact, I once made $100 per click from a single article I wrote about the top 10 help desk software.
In my opinion, bloggers should aim for high-paying keywords rather than just chasing after traffic. However, I've seen a lot of bloggers using SEMrush, which reveals the highest-paying keywords. I exclusively write on business, health, web hosting, technology, banking, and education. With these topics, I may earn $50 each day from 10,000 visitors, which translates to $1,500 in a single month. This is not bad for a start-up business. When bloggers ask me about the best-paying topics, I point them to those I've listed above. You should avoid those that are related to entertainment or politics if you do not have a site with a lot of traffic. Experienced bloggers know that entertainment-related ads pay between $0.01 and $0.05 per click. This means that even if your site attracts 10,000 visitors each day, you will only make about $13 or so in a single day.
You should also pick the right niche when starting your blog. Read this article How to Pick A Niche For Your Blog 
Traffic Source and Location 
Remember that the source of visitors to your site counts a great deal, so pay attention to this. Blog traffic from the United Kingdom, the United States, Canada, Australia, and UAE should be your primary goal as a blogger. These countries' advertisements pay at least $.20 for each click.
Numerous people lament the poor CPC and Adsense money they receive in spite of receiving millions of page views per month. To a large extent, this is attributable to CPC and the sources of traffic.
Finding out more about Different Types of SEO: What They Are & How to Use Them will be really beneficial to you.
Web Hosting
One thing is constant in my remarks. If your website's monthly traffic is increasing, be prepared to pay more for web hosting. Popular blogs shell out upwards of $100 or more per month for web hosting. If you spend say $5 a month on web hosting, you can't expect to make $5,000 a month in revenue. According to research, as traffic grows, so do AdSense earnings. You should therefore hunt for a more stable web hosting business to host your website in order for the revenue to continue flowing.
If, for example, your blog is hosted on a 3-dollar-per-month shared server, it will be difficult to handle traffic spikes. This becomes problematic especially if your blog gains popularity and this can be costly. When this happened to me  I switched to Bluehost one of the most popular hosting companies (you can see their plans here). For the time being, the only advice I can give to other bloggers is to look for reliable hosting companies if they hope to make more than $1,000 per month from their blogs.
Write High-Quality Content
Update your website on a daily or weekly basis with new, unique, high-quality content that your visitors will find engaging. The headers for your articles should be eye-catching as well. The more you have to give, the more probable it is that your visitors will return. High traffic will result in more page views and this will definitely result in an increase in your AdSense earnings.
Write longer articles. Positioning on search engines is much easier with articles that are 2,000 words long or longer! In addition, they're fantastic for packing in more ads but leaving enough space between them so as not to disrupt the user's experience.
You'll fail miserably if you plagiarize entire articles from well-known websites.
Adsense Ad Placements
Publishers that want to enhance their Adsense revenue should also pay attention to the placement of their ads. To determine which ad placements are most effective, try out a few different locations.
Put advertisements on top of the page. This is the part of your website that can be seen without having to scroll down the page. You may also enhance clicks by placing adverts within your articles, which are seen by readers while they read the content.
Try out different ad formats and placements to see which ones bring in the most money. Use common sizes (such as 300 x 250, 336 x 280, 728 x 90, and 160×600) to begin, and then experiment with different sizes to determine which generates the most interest.
The idea that image ads perform better in AdSense is a common misconception. Both forms of ads are OK to me. Enabling your ad units to show both text and image ads enhances the amount of advertising competing to appear on your website.
Search Engine Optimization (SEO)
You need to know what SEO is if you're going to be a successful blogger. SEO has a lot of clout among bloggers, and anyone who wants to become a blogger should be familiar with how it's used. You must aim for the first page of Google if you have a blog. Being on the first page of Google will bring you more organic traffic that will increase your Adsense revenue. To put it another way, if your content doesn't appear on the first page of Google, your blog may go out of business.
Readers rarely get past the first page of search engine results, Most readers only skim the first 5 articles before moving on to the next one.
I compiled a list of the best keyword research tools that will instantly improve your SEO performance.
Use video to your advantage when writing your articles. It's not uncommon for people to absorb content in a variety of methods. There are those who prefer to read articles while there are those who prefer to watch videos. To reach a larger audience and stand out from your competitors, you should consider adding YouTube videos to your textual material. Tools like InVideo can help you transform your blog content to videos. To learn more read our article Invideo Review: The Best Online Video Creator
You can create a YouTube channel and monetize it, therefore, increasing your Adsense revenue.
Conclusion: How to Increase your AdSense Earnings
Your blog's popularity and profits will skyrocket as long as it is consistently updated. For best results, post at least one article per day.  Also, make sure your website is responsive and add responsive AdSense units or ads.