We use affiliate links. If you purchase something using one of these links, we may receive compensation or commission.
How It Works
On the homepage of InVideo, you may begin with your video creation by signing up for the InVideo account.
To begin, pick a template that fits with your brand's narrative or concept. You can also utilize  InVideo's library of free stock media assets after that. Make adjustments such as color, timing, and font selections. It's also possible to begin with a blank template so that you can add whatever you like.
After you finish editing your video, export it. You may also share InVideo with your friends on social media, as well as with other users, without ever leaving the app.
So now, let's go over the features you can enjoy when using the platform in this InVideo review.
What are the features of InVideo?
For amateurs like you and me as well as professionals, InVideo provides lots of useful features. Now, let's check them out.
You can convert an article to a video
Ready-made templates
You can upload your own photos or videos
Audio tools
Media Library
Text overlay
Social Sharing
Speed adjustment
Collaboration Tools
Visual effects
Speed merge
Variety of Fonts
Mobile Screen Support
Voice-Over / Audio
Supports HD Resolution
They are quite a number of features some are not listed here. Because of its multitude of capabilities, InVideo is the industry's most capable video creation software.
Allow me to now walk you through the InVideo price structure.
InVideo Pricing
At the moment, InVideo offers free, business, and unlimited plans.
And, as is the case with any free plan offered by a video creator, it comes with a few restrictions that may be removed with plan upgrades.
InVideo Free Plan
There's so much you can obtain with the free plan; let's check out what's available. Up to 60 videos can be exported monthly, with a watermark
InVideo Watermark
4500+ Video Templates
3M+ Standard Media Library
Automated Text to Speech
15 min video duration per video
If you're just starting, I propose that you use the free option until you upgrade later. There are also the 'Business' and 'Unlimited' plans. Now, let's have a look at them.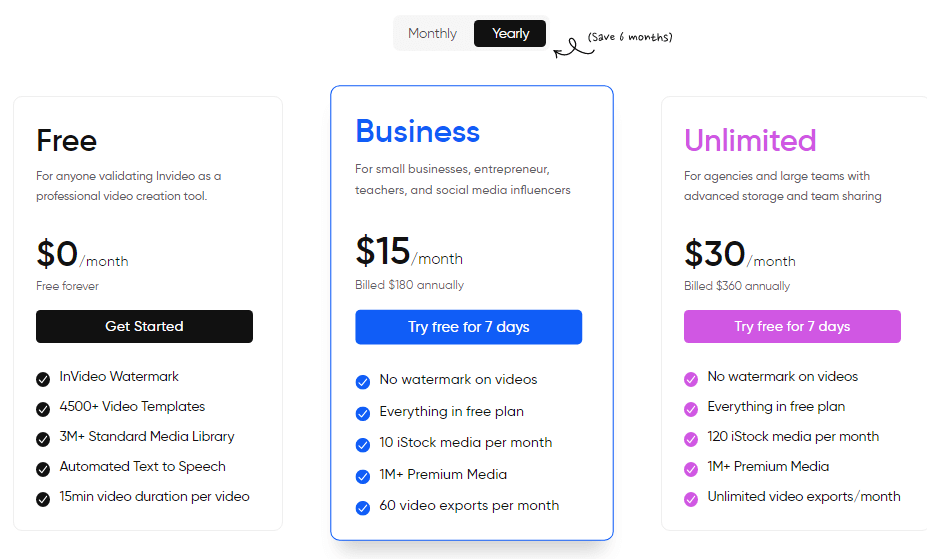 InVideo Business Plan
Users are limited to 60 exports per month and 300 Premium Videos per month with the Business plan. Business plan subscriptions cost $30 monthly and $15/Month (or $180 annually which comes to $15/month) if you pay in advance for at least a year. I recommend upgrading to the InVideo 'Business' plan only if your video creation business has grown significantly.
InVideo Unlimited plan
The Unlimited plan starts at $60/month if you pay on a monthly basis and $360/year if billed annually ( Equivalent to $30/Month).
InVideo's 'Unlimited' plan comes with unlimited premium videos, photos, and templates. And you can also export unlimited videos.
InVideo Pros and Cons
InVideo Pros
It is simple and easy to use
Online Support is available 24/7
You can upload your own media
Automated text to speech
A library of millions of stock videos, images, and music.
The monthly subscription fee for this program is really fair and far less than that of its competitors in the market.
Invideo's Facebook group is quite active and complaints or queries are answered on time.
Of course, there are numerous advantages to using InVideo to produce your movies. That being said, though, there are disadvantages or cons as well.
InVideo Cons
Needs a fast Internet connection to work properly.
Exporting is a time-consuming and lengthy operation.
Can't switch between templates
Even though none of these drawbacks are critical, they are all somewhat painful. And InVideo is still an incredible video editing website, no question.
Here are some of the first videos I created with InVideo
InVideo provides you with the tools to make videos for many platforms such as YouTube and Facebook.
InVideo Review: Summary
You can now make impressive videos within minutes, for as little as $15/month, thanks to InVideo, the world's easiest video creation platform. It's completely free to get started, so what do you have to lose by giving it a shot? if you like the application, you can upgrade. I value saving money, and the cost of this software is rather reasonable.
I hope this InVideo review was helpful to you.
InVideo Frequently Asked Questions
Q. Which languages does InVideo's product support?
A. English
Q. How does InVideo provide support?
A. InVideo provides support via live chat 24 hours a day.
Q. Does InVideo offer a free trial?
A. Yes, InVideo offers a free trial, and if you like it, you may extend your subscription for a low monthly fee.
Start Creating Awesome Videos