A2 Hosting is a web hosting company that was founded by Bryan Muthig in 2001, its original name was Iniquinet.
In the beginning, it was designed to handle a small number of customers. But by 2003, the company's clientele had increased tremendously than anticipated. The company name was changed to A2 Hosting, named after the town Ann Arbor, Michigan,  where it all started. The company has continued to grow ever since.
Performance was one of the key features that I mostly cared about when I started my first blog way back in 2015. I decided to switch to A2 Hosting in 2018 because of the high-performance claims in a number of A2 Hosting reviews on the Internet.
Now, after hosting with the vendor from 2018, I've gained enough experience to make a reliable review on their hosting services. I know it can be quite difficult to choose the right hosting provider from a number of options out there. I hope this A2 hosting review helps you make the right decision.
In this review, we will assess the provider based on the common hosting features below that everyone looks at when choosing a hosting provider:
Pricing: How much does it cost hosting on A2 Hosting for example how much are their WordPress plans? Will you get the best value for your money?
Performance: How reliable is the hosting provider? Will your users get the best experience when visiting your website?
Features: Are features such as Unlimited storage, SSL certificate, site transfers, and domain registration provided?
Customer Support: Is the support team available 24/7/365.
[rtoc_mokuji title="Table of Contents" heading="" list_h2_type="" list_h3_type="" display="" frame_design="" animation=""]
A number of people are familiar with popular hosting providers like Godaddy and Hostgator when it comes to WordPress hosting. However, A2 Hosting is a vendor that has been under the radar, however, it is one of the most reliable web hosting providers available. A2 has what it calls "Turbo Servers" (SSDs) that can load pages up to 20 times faster than standard hosting. Their tagline is "Our Speed, Your Success"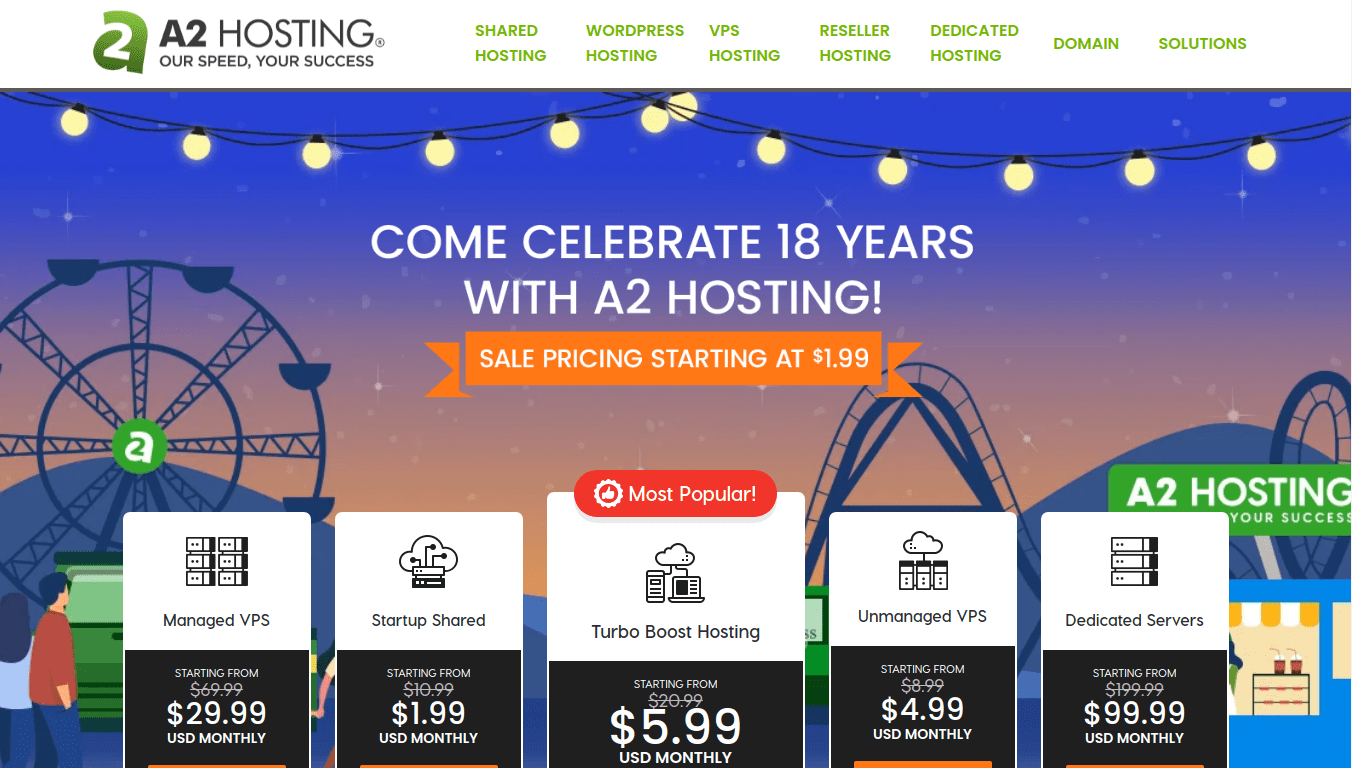 You will easily find A2 Hosting to be a robust and reliable hosting service, compared to other web hosting services you are with. The web host has very good developer tools, very fast loading times, 99.9% uptime, and a world-class, dedicated support team available 24/7/365, great security, plus a ton of other web hosting features. If you are searching for these features then you're in the right place. A2 Hosting is well known for its ultimate speed performance.
A2 Hosting offers quite a number of hosting plans so you can easily upgrade to a plan that suits your needs. They provide shared, Virtual Private Server (VPS), dedicated, reseller, and cloud hosting. All the plans are powered by servers with industry-leading features. They provide a wide range of plans to suit everyone from advanced corporate sites to small blog owners.
If performance is your top priority, then, this is a great option I'd readily recommend. A2 Hosting is like an all-in-one solution when it comes to hosting.
Pros and Cons of A2 Hosting
Pros
Unlimited Storage
Unlimited Websites
Unlimited Databases
Unlimited SSD storage
cPanel Interface
Free SSL certificate, automatic backups, and site migration
Optimized WordPress Environment
Turbo Server Option for Up to 20x Faster Speed
Attracta SEO Tools
Competitively priced hosting plans
99.9% Uptime Commitment
Anytime Money-Back Guarantee
Cons
Domain Name is Not Free
On-demand backups paid separately
Pricing
Apart from hosting plans, you can also purchase domain names at A2 Hosting, the prices are very fair. For instance, a .com domain name will cost you $14.95 per year.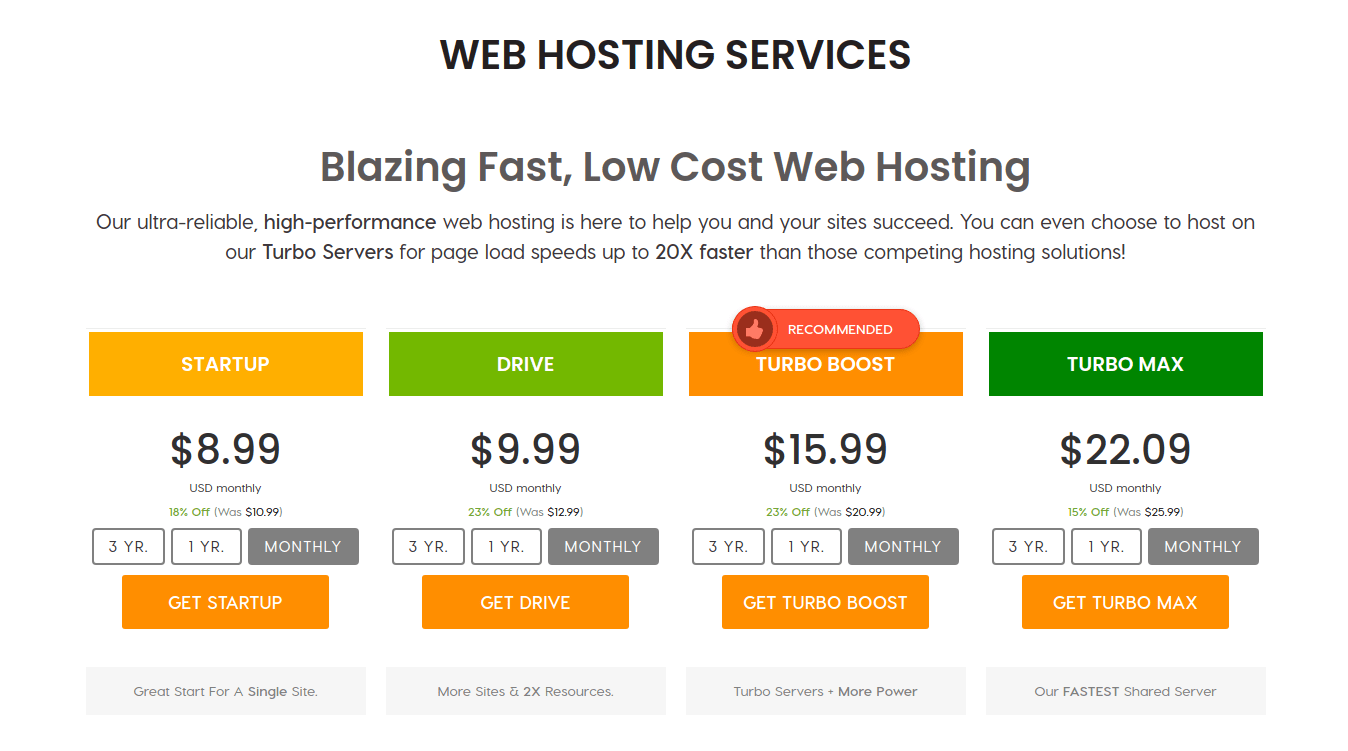 A2 Hosting has shared hosting plans and they are very popular. Their renewal cost goes from $8.99  to $22.09 per month. For most projects, the shared hosting plans are sufficient – unless you have a high traffic site in that case you will need to upgrade and have a special server setup.
Managed WordPress hosting plans are also offered. These are optimized for WordPress, they are also shared hosting packages and have some additional WordPress features (e.g. staging). Managed WordPress hosting starts at $14.99 a month for 1 site at A2 Hosting.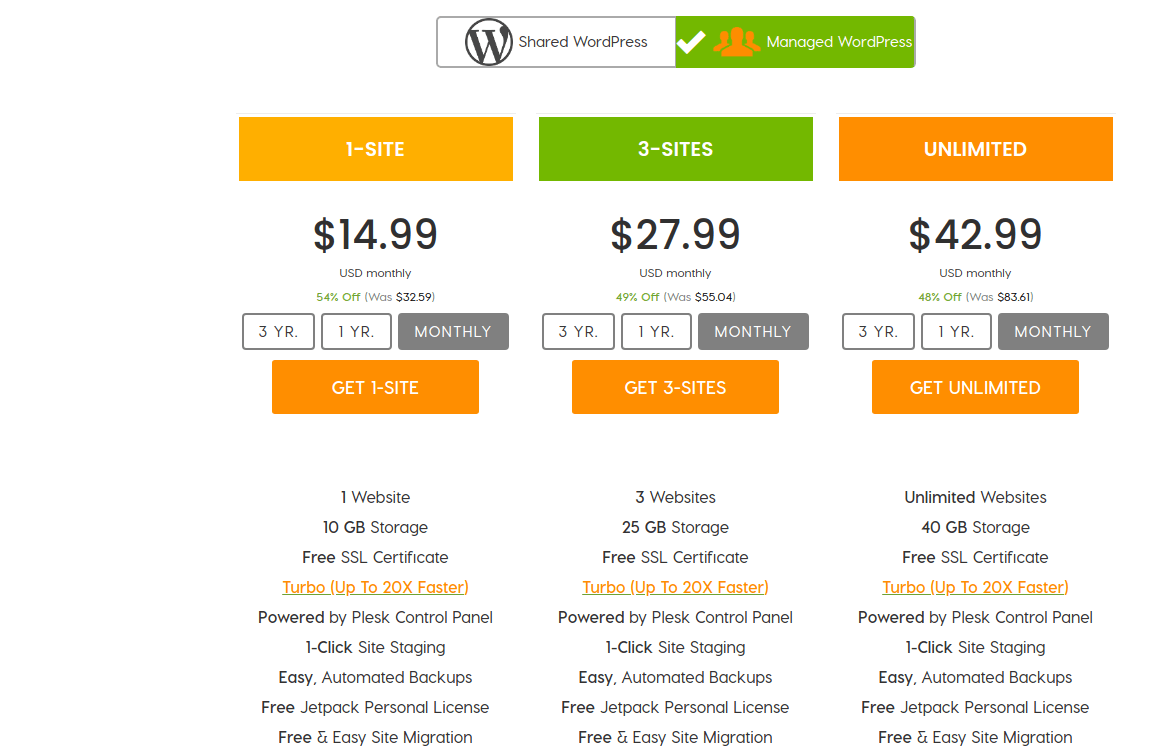 VPS servers are also available stands and VPS stands for Virtual Private Server. With a VPS you have complete control you can configure it to your needs and you won't have to share resources with other customers. They are two VPS management options;
Managed VPS Hosting: This is the most popular VPS solution. With this option all you need to do is to focus on your website, the rest to do with server infrastructures such as core server software, hardware, network, security configuration, updates/patches, and general troubleshooting assistance is provided to you.
Unmanaged VPS Hosting: This option is perfect for advanced users who want full administrative privileges to configure servers according to their exact needs and you can select an operating system of your choice.
A2 Hosting also provides dedicated hosting packages (They are two options Managed and Unmanaged). So, if your site receives hundreds of thousands of visitors per month, you should definitely go for this option. A dedicated server is like having a whole server exclusively to yourself for hosting purposes. These aren't cheap, they can cost over $120 a month.
If you have your own customers or you want to have your own hosting company, you can go for the reseller program. When you go for this plan you'll be able to sell hosting plans (without A2 Hosting branding) to your customers. These plans start at around $30 per month.
Performance
A2 Hosting pays great attention to performance and promises a 99.9% uptime guarantee but that is not always the case they can be problems beyond their control. We did carry out some tests over a period of 3 months using tools like Google's PageSpeed Insights, Pingdom and GTmetrix to see if A2 Hosting lived up to their promise. The results were quite impressive. The server speeds we recorded in our time of testing are clear proof of this!
| Test | Average Loading Time |
| --- | --- |
| 5 GTmetrix test | 2.68 s |
| 5 Pingdom test | 0.896 s |
| 5 PageSpeed Insights (Google) | 3.30 s |
Security Features of A2Hosting
A2Hosting also provides several security features. These features will help you in protecting your site from numerous attacks online. Mention Distributed Denial of Service (DDoS) protection, SSL certificates, two-factor authentication, and firewall? A2 Hosting has them all.
Most of these features fortunately are also available for free. Let's Encrypt powers the free SSL certificate on their hosting plans. For a majority of websites, the level of security offered for free is sufficient. They are also paid options do need them for complicated projects.
You can check this page for more details on security
Other A2 Hosting Features
A2 Hosting has a number of features that help to make your site faster. The most important of all these is probably the inclusion of SSD storage disks on all their servers. SSD is definitely a better performer than the older HDD in terms of energy consumption and server.
On their managed WordPress plans they have incorporated the newer NVMe discs. Most hosting providers are yet to adopt this technology that offers a lot of advantages. This is the reason why A2 Hosting mentions turbo server speeds in their marketing.
For developers, they are a lot of features they can work with. A2 Hosting supports almost all the programming languages, major Content Management System (CMS), and development framework available.
So, if on your next project you want to use Rails, Drupal, Ruby, PHP, or Python, the process is made easy even for new programmers.
They are a lot of features supported by this provider that i have not mentioned in this article you can take the time to visit there site and check them out.
Customer Support
With A2 Hosting there are four methods you can use when you want to contact support. You can either use phone support, email ticketing system, live chat, or consult the knowledge base. The knowledge base has an extensive collection of articles so I recommend you start from there.
A2 Hosting Review Conclusion
A2 Hosting is great if you want an independent solid hosting company with a focus on performance and support. However, performance is not their only strength. They also offer excellent security features and software solutions on all their hosting plans.  On the downside, if you are turned off by a higher price point then A2 hosting is not for you.