Welcome to the most comprehensive review of the WordPress Newspaper theme.
tagDiv's Newspaper WordPress theme is widely regarded as the company's most popular product. Users that want to build e-commerce, editorial, news, magazine, blogging, or multi-purpose websites have been using it for a long time.
If you want a fast-loading theme that is optimized for search engine optimization, tagDiv's Newspaper theme is the best option for you. You don't need any previous coding skills to use this theme. ' I guarantee you'll have a lot of fun with its simple drag-and-drop editor.
To learn more about the features, take a look at the promotional video on their youtube channel.
Using real-world examples from my own WordPress site, I'll show you how the Newspaper theme works and help you make an informed decision about whether it's the ideal theme for your own WordPress site.
Main Features of the Newspaper WordPress Theme?
tagDiv Cloud Library – Pre-made layouts, themes, and elements are available in the tagDiv library, ready for your use or customization.
Header & Footer builder– You can create your own headers and footers
One-click Install of Demo Sites – Using Newspaper's simple installation engine, you can get up and running straight away with an attractive, professionally-designed website.
eCommerce Support – The newspaper is completely compatible with WooCommerce, which enables for the sale of digital goods and items.
Bundled Plugins – Using the premium plugins included with Newspaper, you may build a feature-rich website.
Drag-and-Drop Visual Page Builder – All of the adjustments you need may be made without writing a single line of code thanks to tagDiv Composer – a front-end editor. Just select the parts you want, drag them into place, then tweak the stylistic options to personalize the builder's layout.
Built-in banner ad spots – AdSense and other banner ads can be easily added to your site. With the tagDiv Composer, you'll be able to insert your own ads.
Mobile-friendly– Google AMP compatibility, a mobile theme plugin, and responsive design are all included.
Demo sites – import demo content or just the demo theme settings if you choose. There are 90 plus demo websites available to select from
More than One Type of Post Template – Currently, the Newspaper features 30 plus post templates. As a result, whenever you post fresh content on your website, you can select from a library of modern article templates.
Newspaper Theme Demo Sites
The Newspaper theme comes with a plethora of pre-built importable demo sites (More than 50) for a variety of popular blogging and news niches.
Check out the demo sites below to get a sense of the variety of designs you get using Newspaper.
To develop a sports site, you can use the Sports template:
If you want to develop a site about the coronavirus or just a site on health you can utilize the template below;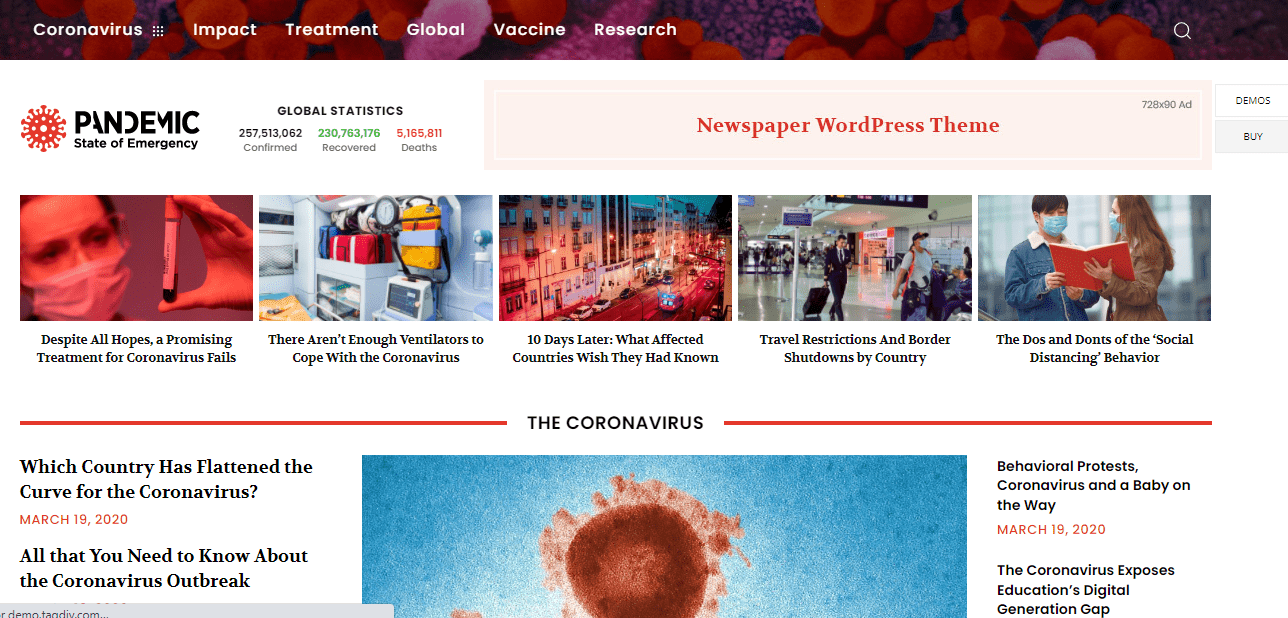 If you want to design a site with videos you can use the Video News Template below;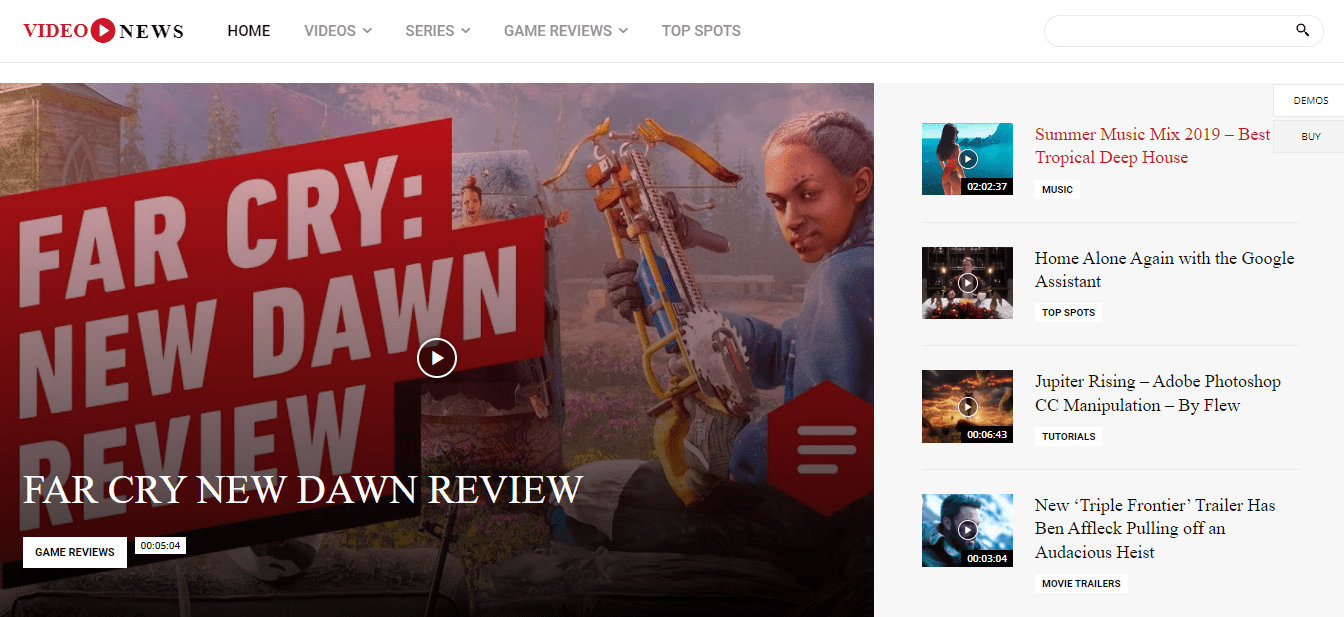 You need a site about lifestyle you can use the template like the one below;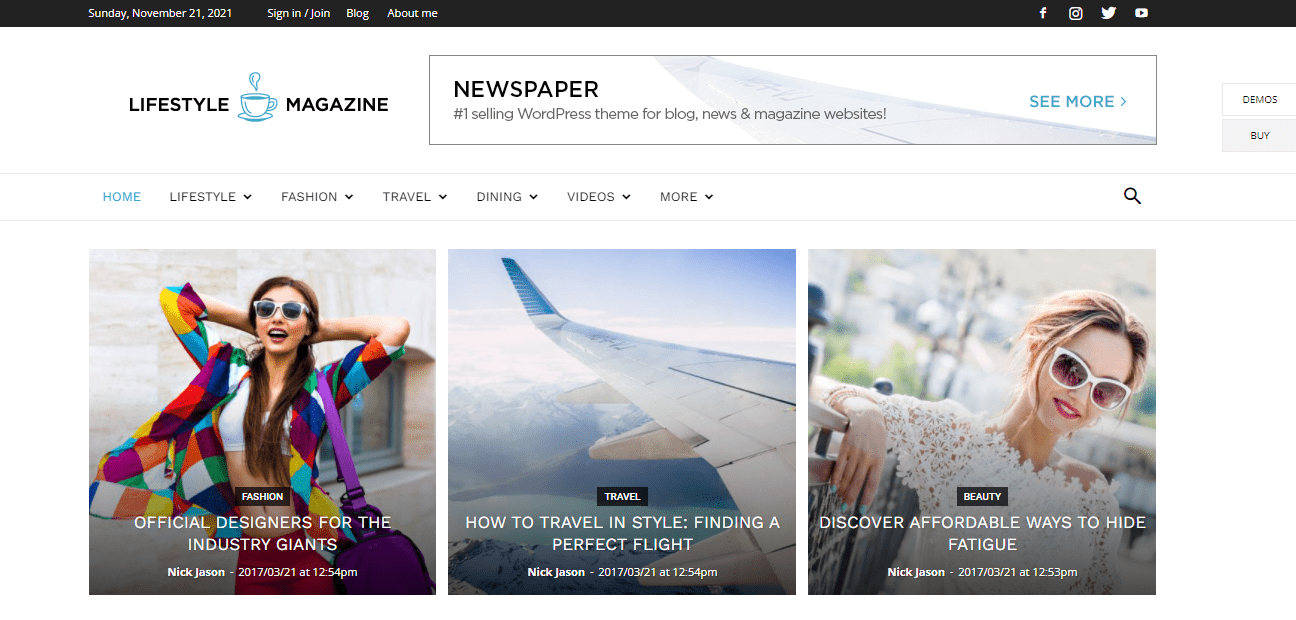 If you want to design a gossip blog, you can use the Gossip template below;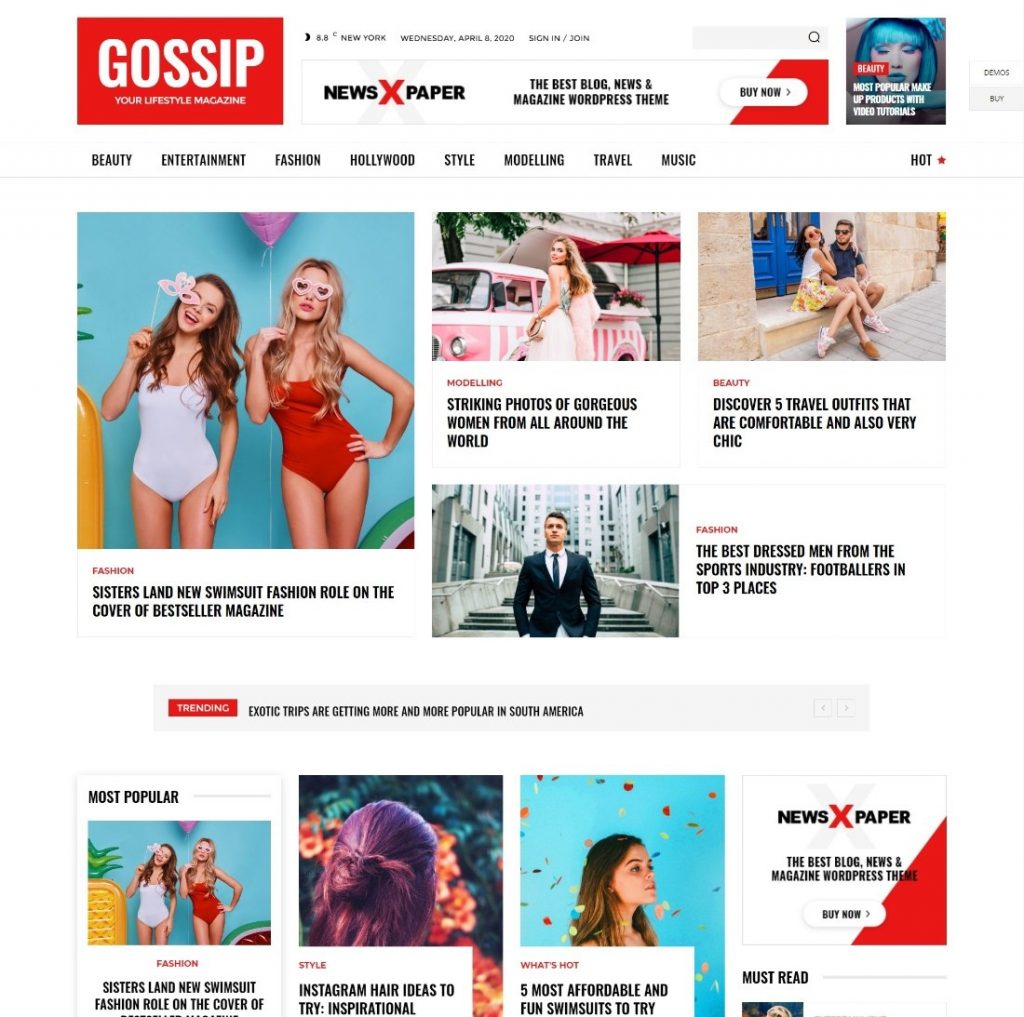 If you require a multipurpose template you can use a template like the one below;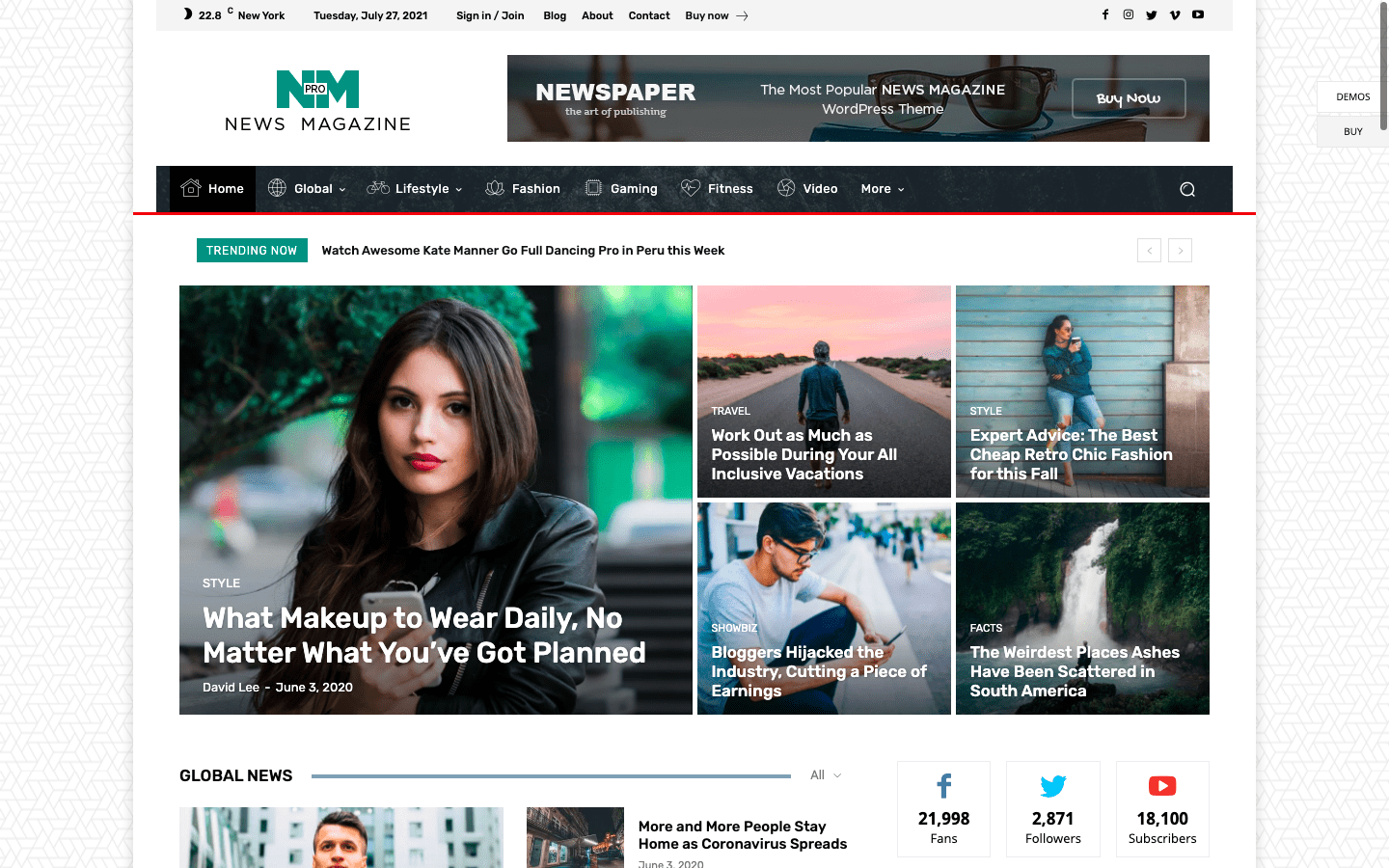 Check out the video below on how to install a demo site.
Newspaper 
can 
be 
used 
for 
a 
wide 
variety 
of 
purposes 
because 
of 
the 
large 
number 
of 
demo 
sites 
that 
can 
be 
imported.
Also included with Newspaper are more than 1,500 page and block templates, which you may use to build your own site.
Newspaper Theme Review: Pricing
Please visit the ThemeForest store for more information about this theme. All theme updates and support for six months are included with the $59 ordinary license. By paying an extra $17.63, the support period can be extended to a full year. For those who need help with their website after the six-month access period has expired, this option may be a good one.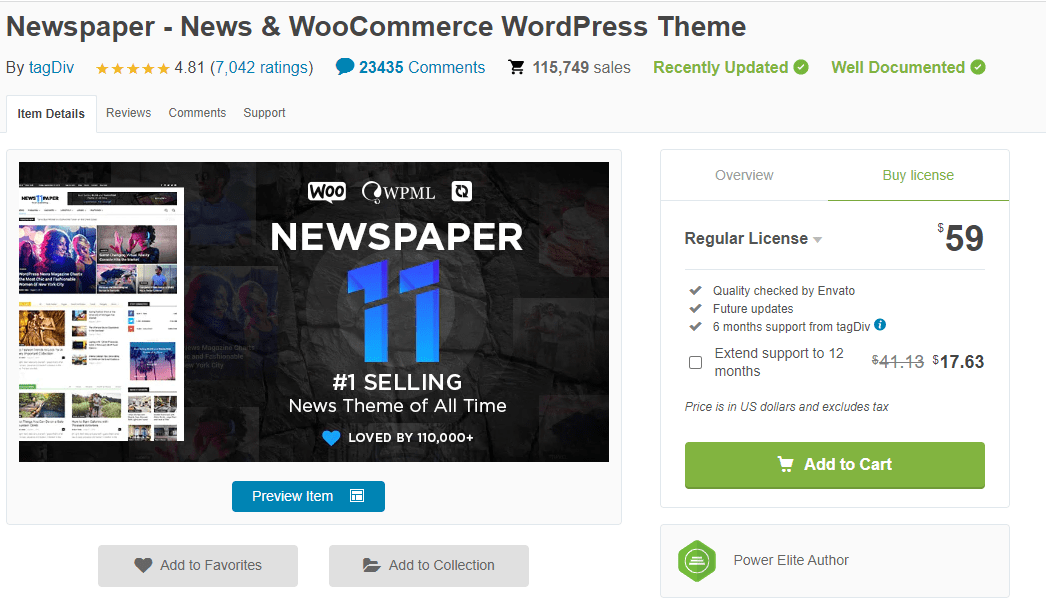 How to Install the Newspaper Theme
Upon purchase, you will be able to access the theme files in your member area. There is a choice between downloading simply the WordPress installation file or all of the files and documentation. You can also obtain the license certificate and the purchase code individually.

To install the Newspaper theme after you download it. Log into your WordPress and go to Appearance > Themes and click the "Add New" and "Upload Theme" buttons.
If you choose the "All files & documentation" option you need to extract the zip file downloaded first. The Newspaper.zip file is located in the root of the extracted folder. In the event that you chose the "Installable WordPress file only" option, you can simply navigate to the location where you saved the Newspaper.zip file.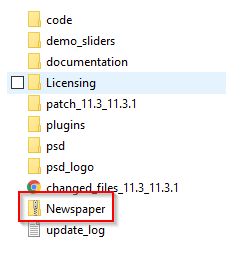 To install the theme, simply click the "Install Now" button after you've selected the zip file. After the installation is done activate the theme.
To make full use of the theme's functionality, you'll need to install a few plugins after activating it.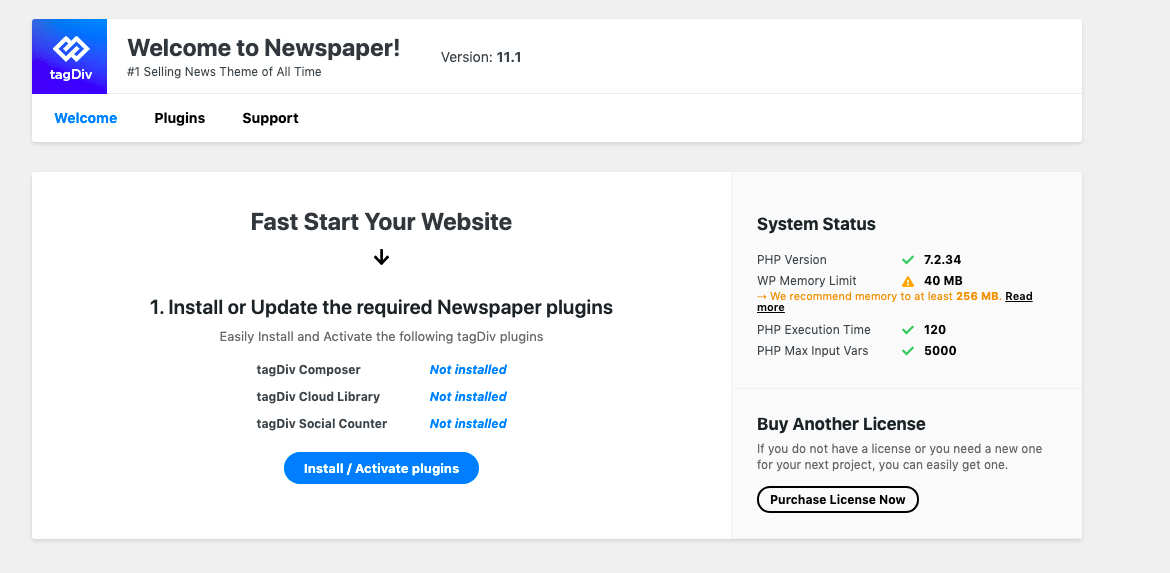 A full range of theme options will be available after the necessary plugins are installed. After activating your theme with your Envato code, the theme's documentation, video tutorials, and support will be available to you.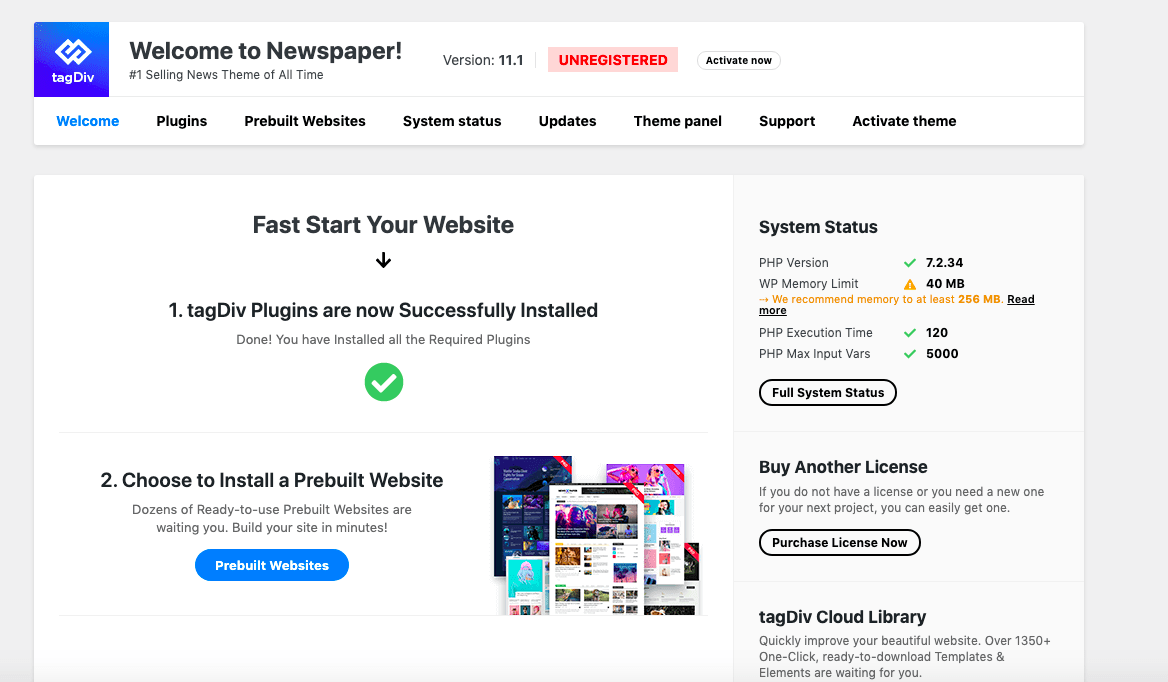 Newspaper Theme Review: Importing a Demo Site
Most users will begin by importing one of the pre-built demo sites, either as is or as a starting point for further adjustments. This is the quickest way to get started with Newspaper theme. To import a demo site simply click on "Prebuilt Websites" in the menu to access a collection of pre-made sites.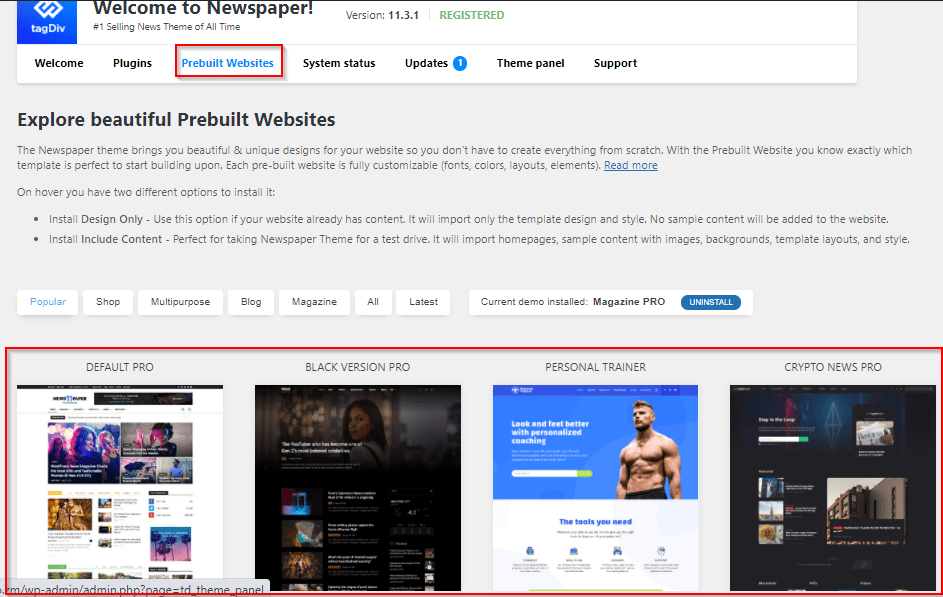 It is possible to choose one of two ways to import demo sites.
Import the whole demo site, with all of its content. Essentially, your site will look just like the demo site. This option great for  new websites to see how the theme works and looks.
You can also choose to Install the design only. The overall layout of your site will be similar to the demo site. This is appropriate if your website already contains content.
Once you've selected a design you like, simply hover your cursor over it and click the "install" button. Make sure to set the option for content on or off as you see fit before continuing. Also available is a full-screen preview of the designs prior to deciding on which ones to use.
The Theme Panel
The theme panel allows you to customize most of your global settings. In this section, you can make changes to your theme's settings to suit your needs.
Note: If You have a Pro Prebuilt Website, only some settings from the Theme Panel will apply to a Pro Prebuilt website, and you need to edit/add with tagDiv Composer the elements, for each viewport => https://i.imgur.com/rACF8HD.png -> https://www.youtube.com/watch?v=SoGQ0d5kIBg
Making Use of Cloud Templates
Cloud templates are used to customize a section of a page or theme. Templates for your header, footer, blog post or page design, for example, are available. The easy tagDiv Composer tool included in the Newspaper theme bundle may be used to change all of the templates. This means that with this theme, getting the layouts to look precisely how you want them is never a problem.
For example to change a template for a post you can use a new template from the cloud.
Open a post and click on cloud as shown below;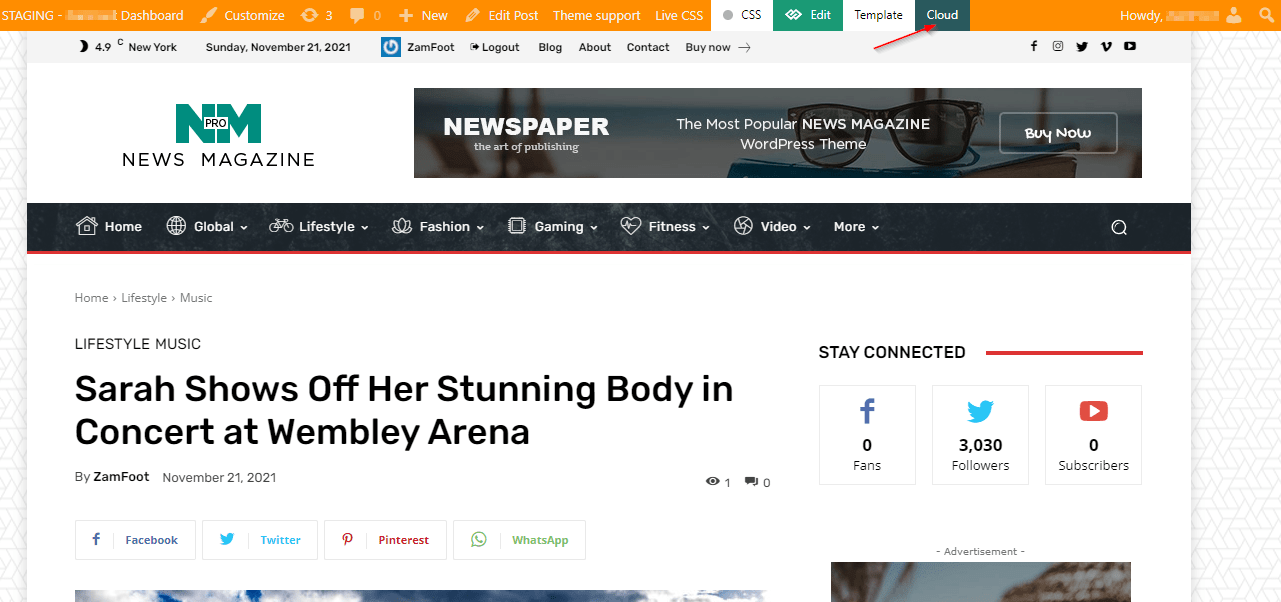 Pre-designed templates from the cloud library for single posts will appear like in the screenshot below. Choose the template you want and click on "Create Template".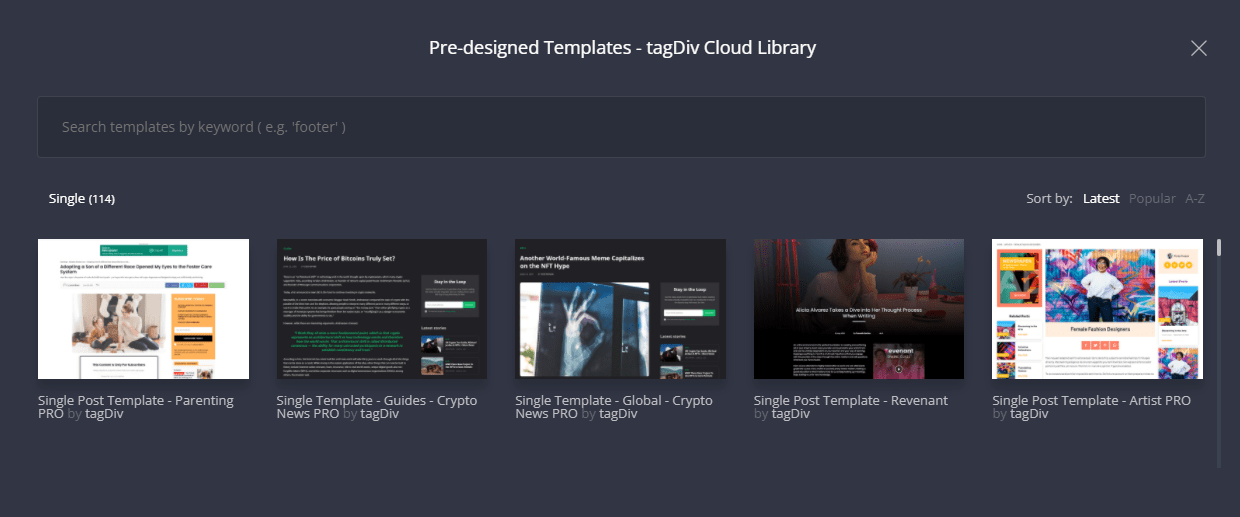 Pre-designed Templates – tagDiv Cloud Library
After its done installing you can go to "Templates" and select the newly installed template you want to change to. If you want the same single post template to be used on every post click on Global. You can also add a mobile template if you so wish.

With the tagDiv Composer, you can then modify your new page or post template.
Using tagDiv Composer to Edit Content
You can use the tagDiv Composer, a visual drag-and-drop page builder, to further customize the look of your site. To access the page builder, simply click on edit on top of the site while you're logged into WordPress.

The tagDiv Composer will open like shown in the screenshot below.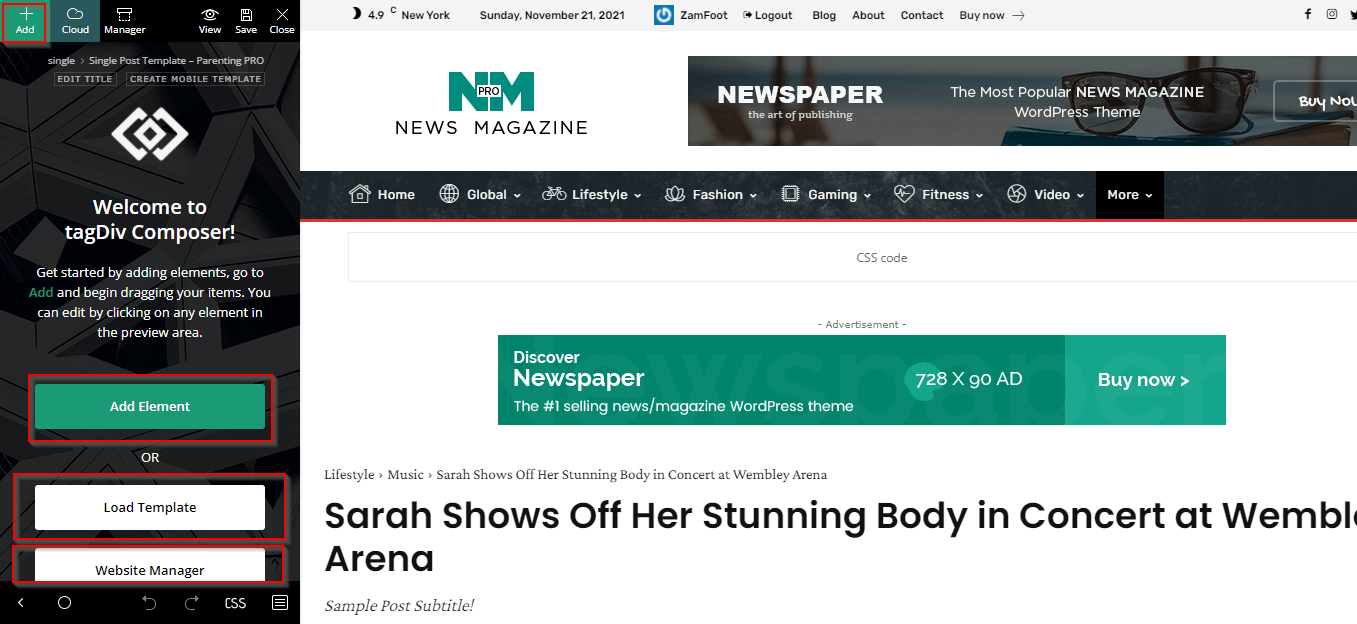 You can use this builder to tweak the website's Templates or create your own designs from scratch. You can access a variety of building modules by clicking on "Add" on the left.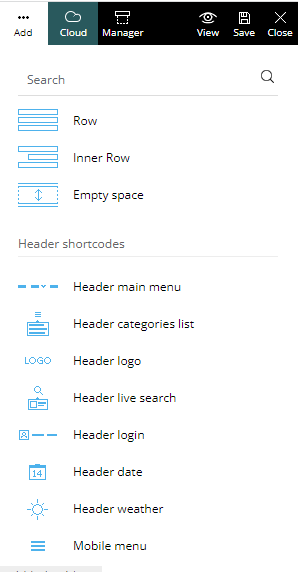 These modules can be dragged and dropped into your design. Existing modules can also be rearranged by dragging and dropping.
Simply drag and drop the element you want into place and tweak it according to your needs.
Any element of your website can be changed simply by a mouse click. After that, you can adjust the styling options, move it to a new position, or apply custom CSS if you like.
For example, if want to edit the module that displays your header (To edit just hover over the module and click on "element), you can do so by selecting a new menu that you want to use.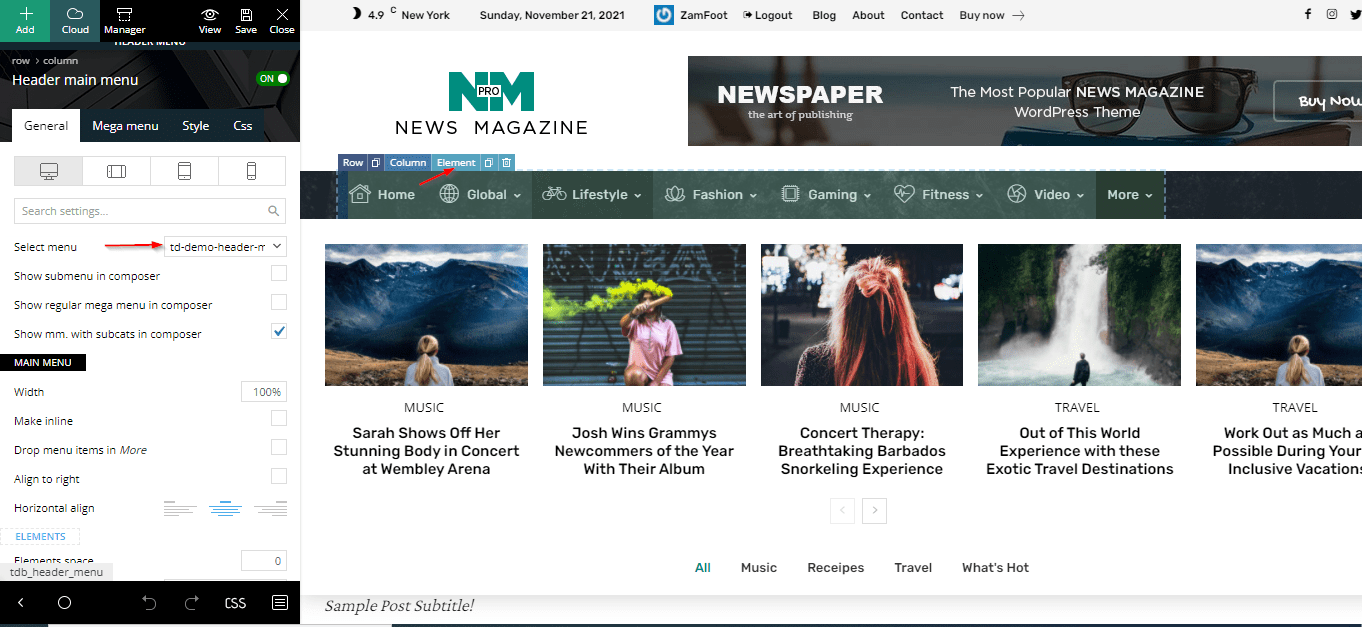 Newspaper Theme Website Manager
When you initially open the tagDiv Composer, you'll see three buttons: Add Element, Load Template (from the Cloud Library), and Website Manager. You can instantly access the configurable Header and Footer templates in the Website Manager and assign them to particular pages or the entire site.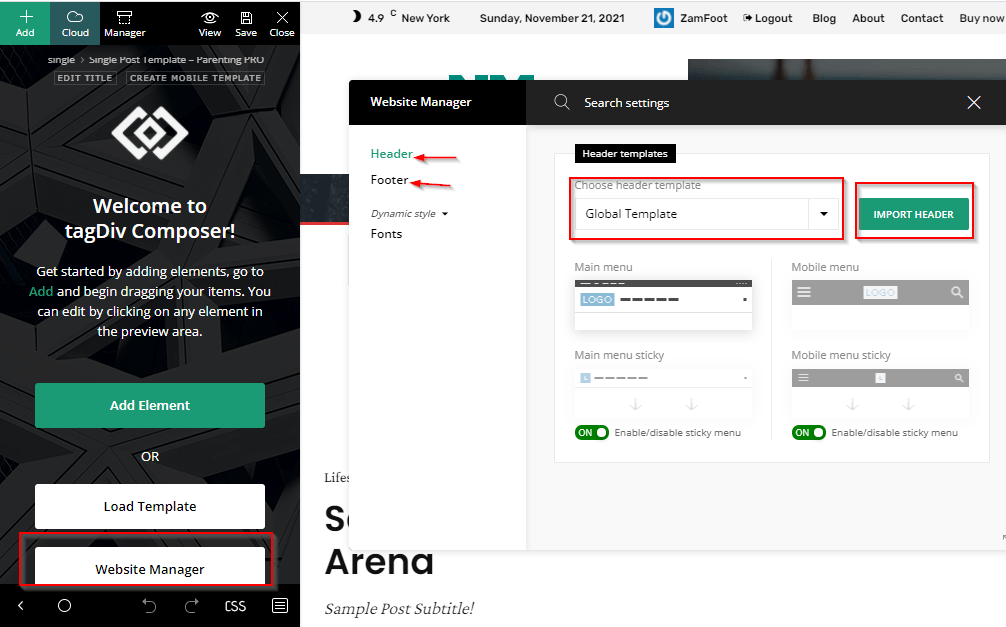 Newspaper Theme Review: Documentation and Support
A number of video lessons are available from the tagDiv team, and they cover a wide range of topics.
Additionally, the theme is included with a wealth of documentation that goes into great detail on the Theme Panel and each individual component.
Summary: Newspaper Theme Review
For those searching for an intuitive, adaptable, and highly adjustable theme for their websites, Newspaper is an excellent choice. In addition to a wide range of premium features, the Newspaper WordPress theme offers a wide range of customization options. Additionally, the monetization features, SEO optimization, and additional integrations make it simple to grow your website.
In Newspaper 11, WooCommerce features are the most intriguing update. This makes Newspaper a strong competitor for eCommerce sites and offers it an advantage over other versatile themes that don't have specialized shop features and templates.
The Newspaper theme is a great WordPress magazine theme if you publish a lot of posts and are looking for a theme for your blog.
If you want to create a free website you can check out our article on How to Create a Free Website with Blogger