We use affiliate links. If you purchase something using one of these links, we may receive compensation or commission.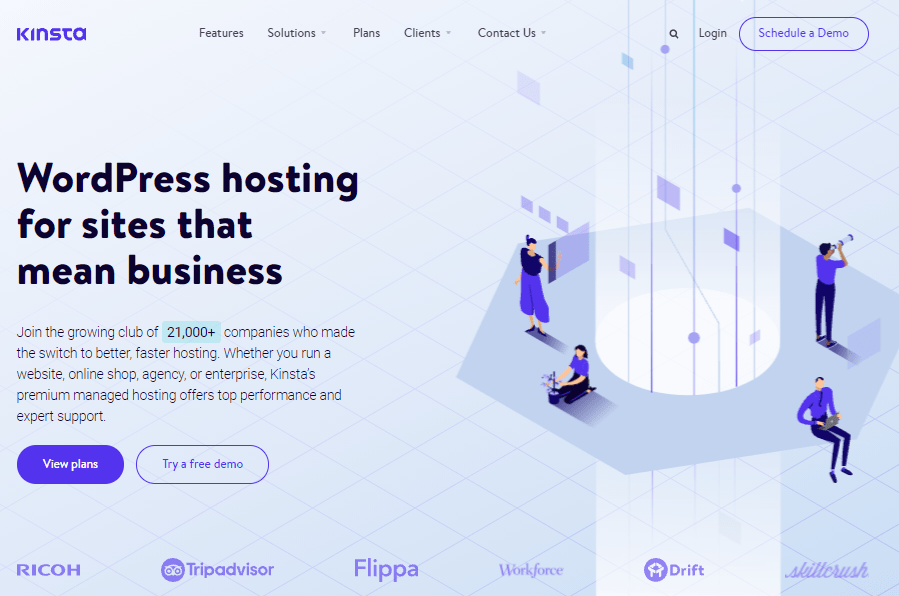 Looking for a managed WordPress web host that's safe, secure, and blazingly fast? Kinsta hosting is an outstanding option for WordPress users. In the field of Managed WordPress providers, Kinsta is one of the best. You should use it when your WordPress site has a lot of traffic or when it's growing quickly. Managed WordPress hosting means Kinsta not only manages various parts of your WordPress website for you, but also hosts it in a WordPress-optimized environment. Your website will be hosted on the Google Cloud Platform, a world-class infrastructure platform. This means your WordPress site will be housed on Google's infrastructure, which is utilized by world-class firms like Coca-Cola.
When you choose Kinsta to host your website, you can select from 25 plus data centers across the world.
Despite Kinsta's stellar reputation as a managed WordPress server, they aren't suitable for all types of WordPress sites. Kinsta isn't for those trying to cut costs at the expense of hosting quality. Kinsta's monthly fee starts at $30, so it's not exactly inexpensive. Hostinger, as an example for their startup plan, just charges you $1.39. Kinsta charges a hefty sum, therefore I'd expect first-rate WordPress hosting in return.
In this Kinsta review article, we'll go through some of the features that set Kinsta apart from the competition.
Kinsta Review: Pricing
To begin, let's talk about the pricing, as that's probably what you're most interested in. Kinsta price is based on traffic and resource allotment. Plans start at $30 per month and go up to $1500 per month at the high end. These are the pricing:
Starter starts at $30 per month | 1 WordPress Installs | 25,000 Monthly Visits
Pro starts at $60 per month | 2 WordPress Installs | 50,000 Monthly Visits
Business 1—$100 per month | 5 WordPress Installs | 100,000 Monthly Visits
Business 2—$200 per month | 10 WordPress Installs | 250,000 Monthly Visits
Business 3—$300 per month | 20 WordPress Installs | 400,000 Monthly Visits
Business 4—$400 per month | 40 WordPress Installs | 600,000 Monthly Visits
Enterprise 1—$600 per month | 60 WordPress Installs | 1000,000 Monthly Visits
Enterprise 2—$900 per month | 80 WordPress Installs | 1000,000 Monthly Visits
Enterprise 3—$ 1,200 per month | 120 WordPress Installs | 2000,000 Monthly Visits
Enterprise 4—$ 1,500 per month | 150 WordPress Installs | 3000,000 Monthly Visits
Watch your monthly visitor limit and upgrade when necessary. They provide different pricing solutions to fit your budget.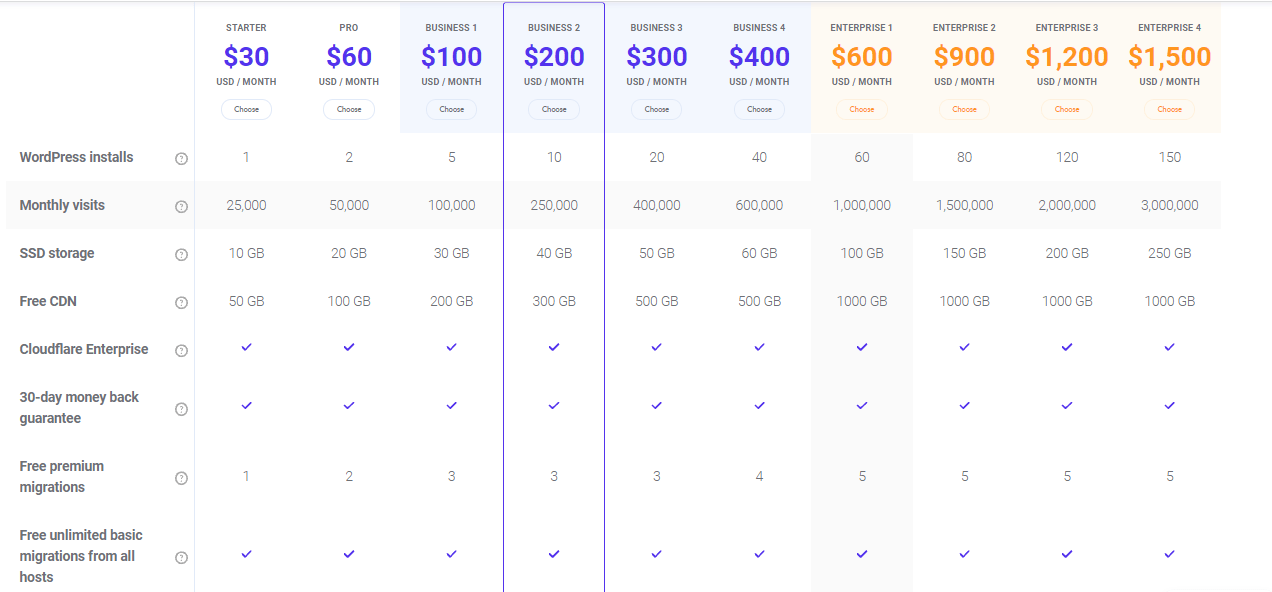 There are more tailored options available for sites that have more than 3 million monthly visitors. All plans include automatic daily backups and free migrations. Backups are very important in case something goes wrong and free migrations will be of great help if you already have a website and you need to transfer it to Kinsta.
There is also a 30-day money-back guarantee
What you see above are Kinsta's monthly prices but you can also pay annually. If you want to pay annually the prices drop by 20%.
Kinsta Review: Key Features
Kinsta had designed its own control panel which is particularly made for WordPress customers. The beautiful thing about Kinsta's interface is that it is really straightforward to use even for WordPress newcomers.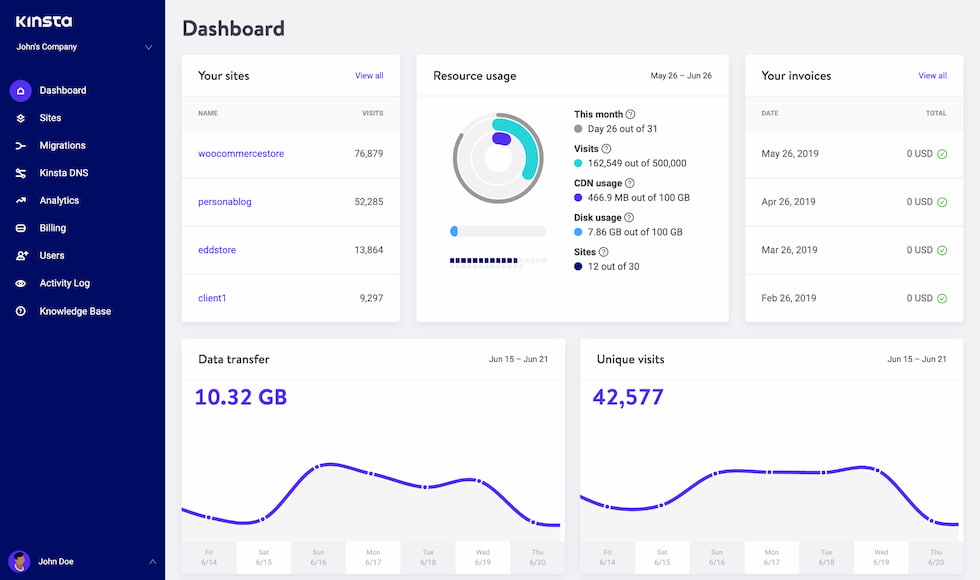 For those of you who are already familiar with the classic cPanel interface on your current host, Kinsta's dashboard will feel more natural and intuitive. As you can see from the dashboard above, you have a wide range of options to choose from, as well as the ability to handle all of your billing information, users, migrations, and view your website analytics data.
There is a Content Delivery Network (CDN) for Kinsta as well. A Content Delivery Network (CDN) is a system that distributes cached copies of your website to other data centers, allowing you to utilize many server locations simultaneously. Kinsta's CDN is fast and already included in the fee you're paying for the service unlike other hosting companies. Let's look at a list of key Kinsta features.
Free SSL certificates
CDN offered for free for all plans
Free Website Migrations
30-day money-back guarantee
Free unlimited basic migrations from other hosts
Google Cloud Platform
DDoS protection
Self-healing technology
Automatic daily backups
Manual backup points
Hack and malware removal
Staging area
Performance-monitoring tool
SSH access
SSD storage on all plans
Website checks for uptime every 2 minutes
Free hack fixes
Automatic MySQL database optimizations
24/7 customer support
Let me explain some of the features
Free SSL
Kinsta's free SSL is powered by LetsEncrypt and only takes a few minutes to set up. Instantly secure your site by turning on SSL. If necessary, you can also utilize a bespoke SSL certificate.
Free Website Migrations
WordPress users can use Kinsta's WordPress plugin to seamlessly transfer their existing site over to the platform. However, all plans include expert migrations performed by Kinsta's staff on your behalf.
Staging Area
If you use the staging option, you don't have to worry about your website being down because of defective plugins. You can test your website as you like and publish it once it's ready with Kinsta's free staging feature.
30-day money-back guarantee
Kinsta offers a 30-day money-back guarantee, which means that if you pay and start using their services and subsequently discover that they do not provide the kind of services they claim to offer, you can ask for a refund. However, the right to a refund is limited to 30 days from the date of payment. This feature is critical because it gives you peace of mind while making a purchase, knowing that you will be reimbursed if you need to make a claim.
Free Daily Backups
Daily backups are included in every Kinsta package. When using the entry-level plans, automatic backups are retained for a maximum of 14 days. In your control panel, you may also make a manual backup for any specific site at any time.
If you'd want more frequent backups, you can pay a monthly charge to get six-hour and hourly copies of your data. Making a backup and restoring it is also simple.
With Kinsta you can save money by not using a third-party backup provider.
Security
Using hardware firewalls with stringent software-based constraints, they constantly monitor for malware. In the event that your site is compromised, Kinsta will provide you with a free remedy. DDoS mitigation and protection are both available for free of charge.
24/7 Customer Support
When you spend so much money, you shouldn't have to put up with anything other than stellar service. You can get in touch with Kinsta via chatting with a representative on the company's website, calling, sending an email, or through social media. To help users, Kinsta's website includes a knowledge base with tutorials and answers to commonly asked questions (FAQs).
Kinsta Review: Cons of Kinsta Hosting
Basic plans such as Starter and Pro enable just a certain number of WordPress installations. One for the Starter plan and town for the Pro Plan.
No other content management system (CMS) can be installed on a Kinsta server besides WordPress.
Conclusion: Kinsta Review 
You can start your new WordPress site on Kinsta if you want a faster and more dependable host for your WordPress website or if you want to upgrade your current WordPress website to managed WordPress hosting.
Using Kinsta is a good idea if your site's traffic is increasing rapidly or constantly, or if it already has a large amount of it. Also, if your traffic increases frequently as a result of viral campaigns or anything else, think about switching to Kinsta.
With a wide range of hosting options to fit every budget, Kinsta is a perfect choice for everyone from small business owners to eCommerce sites to massive enterprise-level websites.
If you want a cheaper alternative take a look at our article What is the Best Bluehost Plan: A Guide for Beginners